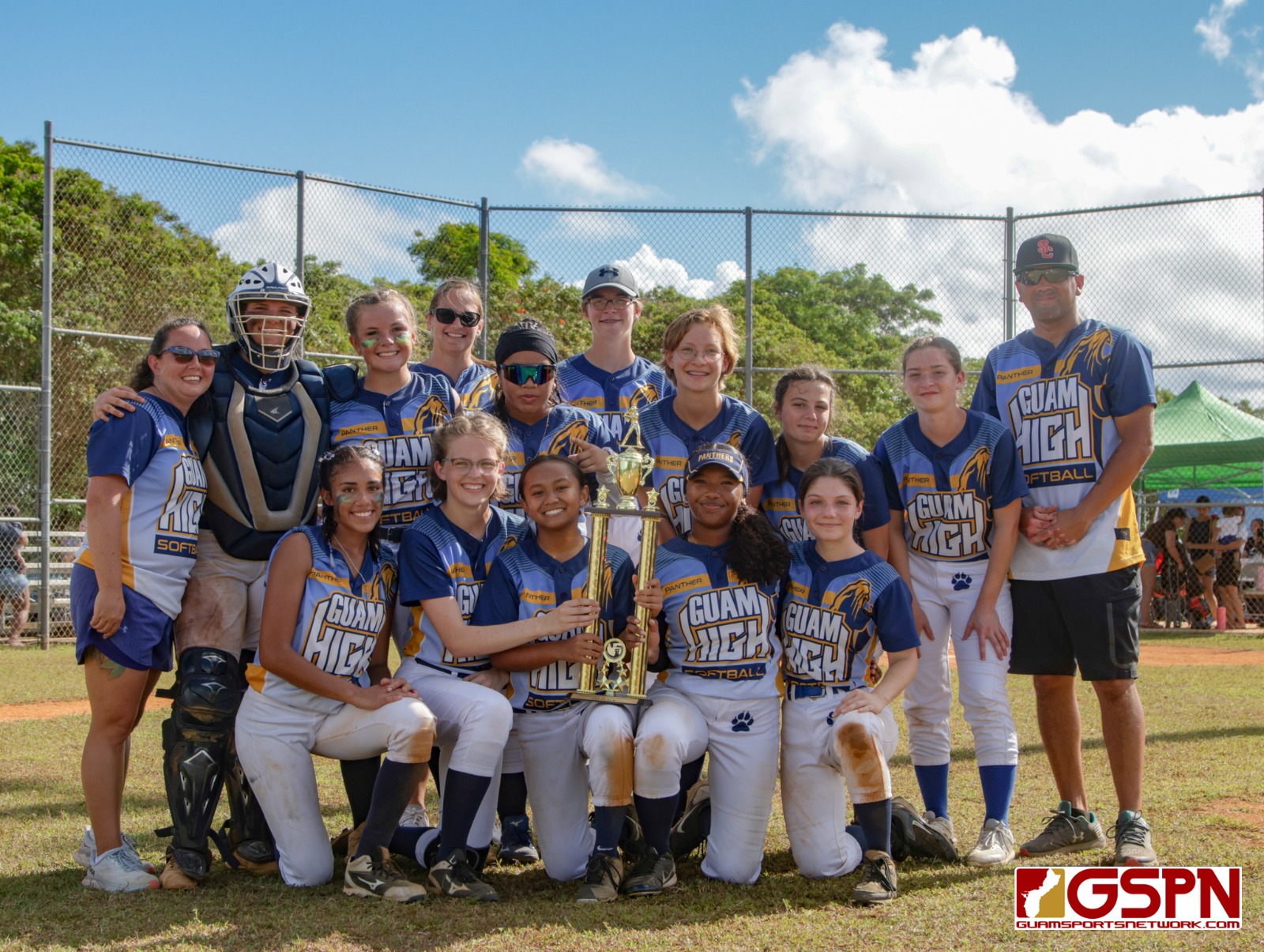 By Nick Akimoto
With a chance to repeat as ISA Softball League champions, the Guam High Panthers would not be denied. With the sun beaming down on Okkodo Field on Championship Saturday, the Panthers secured their repeat title over the Tiyan Titans with an irrefutable 12-0 victory. 
"We've all been working really hard to get to where we are, and it's just a great way to end the year off," said Panthers first baseman Morgen Piehl. 
Guam High played small ball, producing their runs on 17 hits. Sierra Connor, Brianni Soto and Riana Tominez all had three hits to lead the charge.
League MVP Brinnlyn Hardt led the Panther shutout with her arm, registering nine strikeouts in the season finale of her sophomore year. Hardt's pitching was crucial to Guam High's title defense, as she only gave up one hit all game, but her Panther teammates were integral to keeping the Titans scoreless. 
"It's a little sad because we have to say goodbye to our seniors. I'm really happy to have them as captains, but I think that this was a good way to send them off."

– Guam High pitcher Brinnlyn Hardt
Hardt's streak of 14 2/3 no-hit innings ended in the fourth when first-team All-Island shortstop Shanesse Aldan bunted her way on base.
TITLE DEFENSE
After a scoreless first inning, the Panthers kicked things up in their next at-bat, as Sierra Conner, Rya Castro and Madalyn Mansel brought in Guam High's first three runs. From there, the Panthers started to click.
In the fourth inning, the Panthers went through their entire batting lineup, racking up another five runs to make the score 8-0. 
In the Titans' first rotation through the lineup, the Panthers denied them from getting a single runner on base. It wasn't until Aldan's bunt where she beat out the throw to first, that the Titans were able to get their first hit and get their first runner on base. The Panthers were able to prevent a run, however, and bring in a run of their own in their following at-bat. 
The Panthers put things away in the sixth, bringing in three runs to make it 12-0, and clocking out the Titans' first three batters to win the game and hoist the trophy once again.
"It feels great. It feels like a lot of my work in the offseason has paid off, and I'm really happy about that," said MVP Hardt on winning two titles and collecting her first MVP in her sophomore year.
After winning the Girls Soccer Championship the day before, the Panthers have collected two titles in two days.
In the third place game, the JFK Islanders won over the Academy Cougars 27-22.
PHOTO GALLERY BROUGHT TO YOU BY:

COMING SOON …
GUAM SPORTS ON HOLD DUE TO SUPER TYPHOON MAWAR
QUICK HITS
Bishop Obispos beat Mt. Carmel for the IIAAG Middle School Girls Basketball championship 37-25.
—————————————-
The Benavente Roadrunners crushed the Agueda Pirates 17-1 to win the 76 PONY Middle School Baseball League. Rodney San Nicolas was a beat, striking out 13 batters in a complete game while going 4-for-4 at the plate, including a homer and 4 RBI.