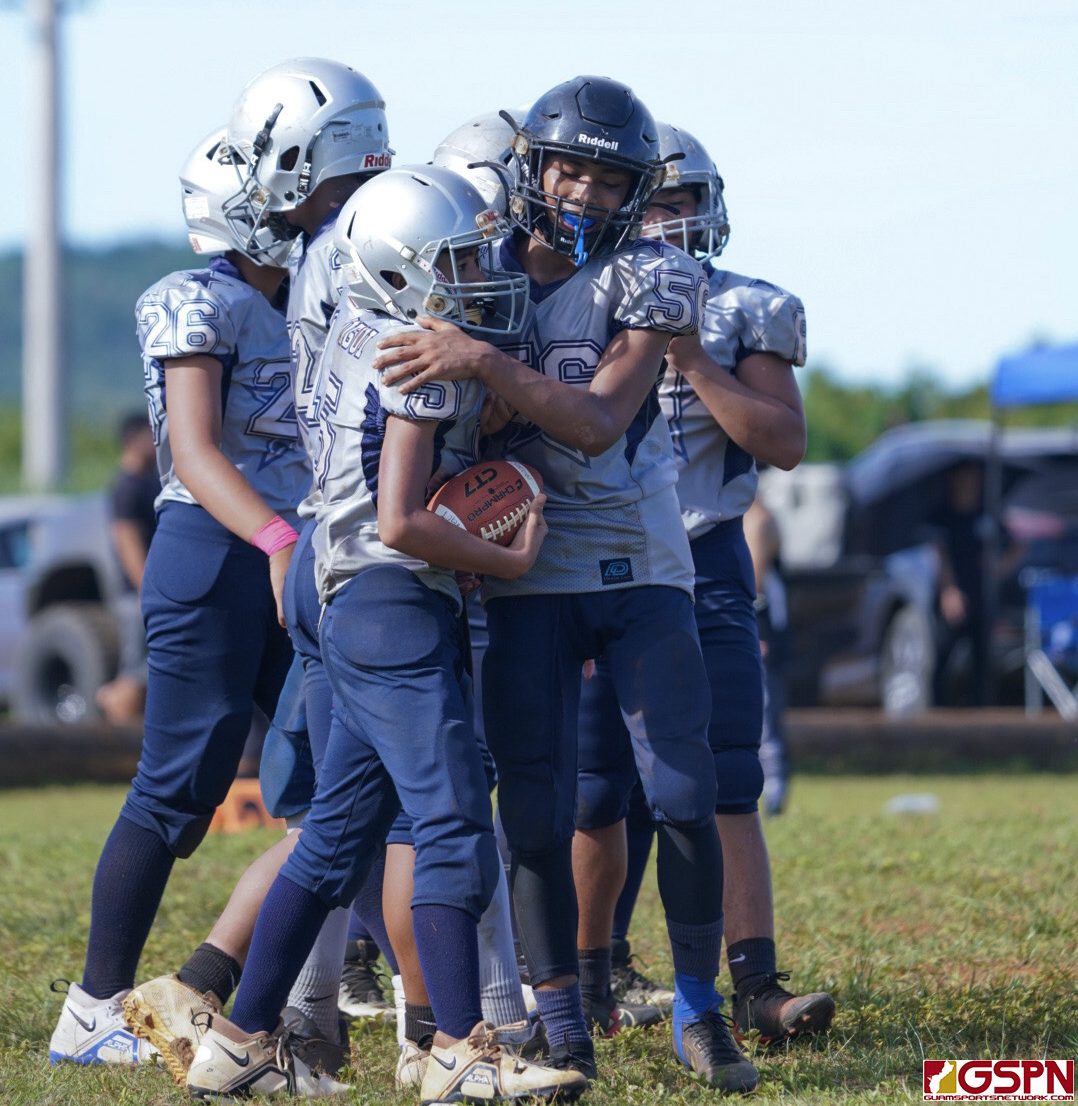 By Patrick Lujan
The 2023 Triple J GNYFF Football League playoff picture is starting to look a bit clearer.
The Southern Cowboys made a huge statement as they dominated the Guam Raiders 28-0 Sunday afternoon pitting two Matua Division teams with identical 2-3 marks coming into the game.
What was expected to be a much closer game turned out to be lopsided as the Cowboys opened its offensive playbook in a balanced attack while the defense stuffed possession after possession.
"Our defense was on point today," Cowboys defensive end Kaden Cruz said. "I really like how we were super aggressive."
After a quick and scoreless first quarter, Southern struck first when Cruz took a big punt return to the Raiders 23-yard line.
Three runs later, fullback Bennie Taimanglo bulldozed into the end zone off the wishbone for the first score of the game. Javin Meno punched in the PAT to make it 8-0.
After a three-and-out, the Cowboys quickly drove down for another score, capped off by a tough 15-yard run by Meno off right tackle running through two defenders to make it 14-0 heading into halftime.
"We practice how we play," Meno said. "Whatever we do at practice, we executed it here in the game."
In the third quarter, the Cowboys scored two more times. 1) Long catch-and-runs by Cruz and Meno set up an easy QB sneak from the 3-yard line by Nathan Esteves on a 4-wide formation; 2) Dreydin Aguigui made the most of his touches as he carried all three times on a short possession that finished with a twisting 14-yard score.
"Our O-line did good. They've been working on the sled. Our running backs did good, but we still have to do a lot of work and execute as one team," Meno said.
At 3-3, the Cowboys will need to pull off an upset over the 6-0 Eagles to have a chance of making it into the semis.
Final Weekend
Next week wraps up the final regular season weekend as the high-flying and unbeaten Guahan Eagles head south to Talofofo to take on the Cowboys.
"They'll be a challenge, but we'll come with the fight," Meno said about the big matchup next Saturday.
Playoff Picture
The playoffs will take place the following weekend with the top four teams from each division advancing to the semifinals.
WEEK 6 SCORES
MANHA
Eagles 12, Packers 0
Angels 39, Crusaders 6
Cowboys 27, Raiders 12
Outlaws 26, Broncos 0
METGOT
Eagles 19, Packers 6
Angels 46, Crusaders 0
Cowboys 31, Raiders 0
Outlaws 35, Broncos 0
MATUA
Eagles 32, Packers 8
Angels 35, Crusaders 7
Cowboys 28, Raiders 0
Outlaws 31, Broncos 0
PHOTO GALLERY BROUGHT TO YOU BY:

COMING SOON …
High School Football starts Sept. 29
Brawl 3: Oct 13
Guam's Strongest Man and Woman Competition October 29