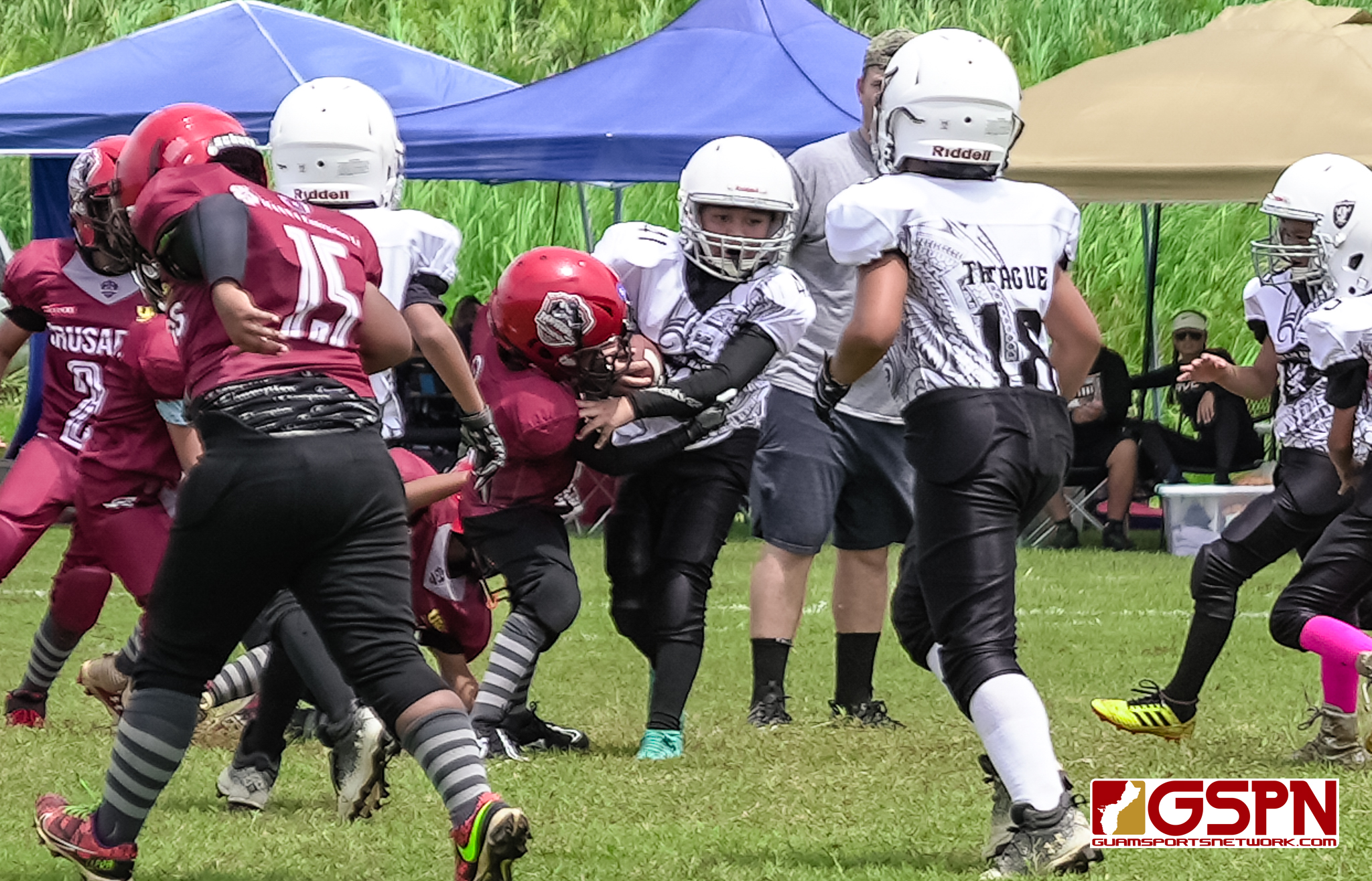 By Nick Akimoto
The Tiyan Football Field was scorching hot during the Sunday morning Manha matchup between the Guam Raiders and Barrigada Crusaders. As both teams did their best to endure the heat, it was the Guam Raiders that came away with a 19-7 victory during week 2 of the Triple J GNYFF Football League.
Coming off of a loss last week, the Raiders were quick to set the tone with an immediate touchdown on the first play of the game. The touchdown came off a 40-yard run by running back Ian-John Sarusal-Blas, who had a big day, collecting two touchdowns and 100 yards off of five runs.
"I think it was 80 degrees out there. [Our coaches] said at practice it's gonna be hotter in the game, so they were pushing us way harder," said the young Sarusal-Blas
Towards the latter half of the match, the Raiders had a comfortable 19-0 lead and began to slow down as the sun continued to beam down on the field. The Crusaders continued to push forward, however, as their defense would get a crucial goal line stop that would give them another chance to get on the board.
In their final drive, which spanned the entire fourth quarter, the Crusaders turned to Kyiou Dela Cruz to lead them to the endzone. The Crusaders coaching staff ran Dela Cruz on eight plays straight to barrel 56 yards down the field to collect a touchdown.
The final push from the Crusaders narrowed the margin, but the game would close as the Raiders took a knee to seal their win 19-7.
"I think we did very good. Our team got better at blocking. Our team got better at running and tackling," said Sarusal-Blas, whose favorite player in the NFL is AJ Brown for the Philadelphia Eagles.
GNYFF Football League Week 2
Manha
Angels 12, Packers 0
Cowboys 26, Broncos 12
Raiders 19, Crusaders 7
Eagles 27, Outlaws 13
Metgot
Angels 35, Packers 6
Cowboys 27, Broncos 0
Raiders 14, Crusaders 7
Eagles 40, Outlaws 18
Matua
Angels 39, Packers 13
Cowboys 32, Broncos 0
Raiders 26, Crusaders 7
Eagles 29, Outlaws 0
PHOTO GALLERY BROUGHT TO YOU BY:

QUICK HITS
The Figo Islanders 40s women's softball team took gold in the Senior Softball World Championship in Las Vegas. Figo came out of the loser's bracket and beat the Arizona Belles 17-3 in the AA division championship game Sunday afternoon.
Other Guam teams that played in the 40s tournament were: Team SOTTA (women's) and Bud Light Guam, Friars 671 and Sindalun Guahan (men's).
Sindalu finished a respectable 4th out of 24 AAA division teams.