By Patrick Lujan
Every successful athlete has a loving and supportive parent(s) pulling for them along the way.
For Diane Mandell, she's 4-for-4 in producing high school football All-Island stars, despite her continued fear for the safety of her sons.
Her first three sons were all products of the Sanchez Sharks with impressive accolades: Franklin Sojo (2009), Anthony Sojo (2011) and Matthew Sojo (2015). (Note: Sojo is pronounced so-joe)
Now it's her fourth and final round of sideline stress with her youngest Alex Sojo, the junior star quarterback for the record-setting Father Duenas Friars.
It all started in 2006 when her eldest Franklin took his first shot at the sport in his sophomore year.
"I was introduced to football and was one nervous wreck on the field," the mom recalls from the early exposure. "I never knew football was that scary."
Franklin went on to become the League Offensive MVP and First Team All-Island at running back in his senior year with the Sharks.
Right beside Franklin was brother Anthony, who was a First Team All-Island linebacker that same year. Anthony would repeat that status in his senior season in 2010.
Third son Matthew was a four-year All-Island selectee playing linebacker and offensive guard before graduating in 2015.
Now taking the spotlight is baby brother Alex, who happens to have had the most football experience out of them all, starting the sport at 7-years-old with the Hal's Angels. Alex has won a couple of Angels team MVPs before taking his talent to Tai, Mangilao (home of the Friars) as opposed to the Sanchez High campus in Yigo.
Alex's play at quarterback as well as his kicking skills (he's good from 40 yards out on field goals) has helped guide the well-oiled Friar machine to a current record of 57 straight wins. They get their season underway on Friday, March 24 against the Southern Dolphins at the GW Field.
"With my boys, they've all given everything and I'm proud of them all. They made a name for themselves. One thing is that when they won, it was a team effort. They never took the credit on their own."
Even with all the football accomplishments, Diane feels what makes her most proud of her four sons is that "all are humble and full of respect for their coaches and team mates."
ROUND 4
One would think that experiencing three high school careers would make the fourth one a little more bearable. It hasn't.
"Still the same (nervousness)," she explains. "Even though I've been through with it all with the older ones, I'm more afraid now with (Alex) playing all these sports (football and rugby), but I'm proud of him with his athletic skills."
And the fourth and final son may very well be on his way to accomplishing the most of the Sojo brothers – with one championship already under his belt.
"The Shiromas said he'll be the one to surpass his brothers. He picked up all the skills from his brothers. Alex had a lot of coaches (Shiroma's and his brothers)."
The next two seasons has yet to be written, but what has already been done is an impressive display of high school gridiron greatness from four Sojo brothers.

QUICK HITS
Guam MTB National Championship: Edward Oingerang and Jennifer Camacho are your 2023 MTB national champions. Oingerang finished the course in 1:13:24 while Camacho won her second straight title in 54:08.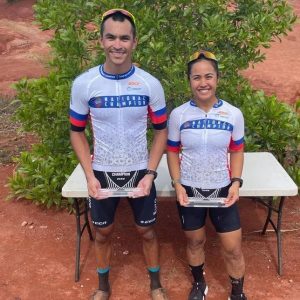 ——————————————
Kobe Miyashita, with St. John's coach Arvin Flores, was named the 2023 IIAAG Middle School Boys Volleyball MVP!