[sixcol_five_last]
PRESS RELEASE – Ricky Duenas ended the Labor Day Tournament right where he started off… in first place. Duenas reeled off eight strikes in a row in the rubber match to defeat Bruce Calip 254-224 as he recovered from the first game drubbing by the lower seed. Calip stayed within striking distance during the first half of the game but a 4-6-7 split in the sixth frame created the gap that Duenas needed to claim the title.
Calip kept Duenas at bay with a convincing 235-205 win in the beat top seed twice format setting the rubber match. Calip strung four strikes in a row which was more than enough to extend the match.
Bruce Calip opened the semi-final match with a missed split but recovered on the short oil pattern with a four bagger to jump ahead of 3rd seed Ray Manibusan and 4th seed Duane Camacho. Missed spares in by Manibusan and Camacho in the crucial foundation frame spelled their demise as Calip cruised to the championship match with a 212 game against Manibusan's 174 and Camacho's 157.
Camacho took early control of the quarter final match taking full advantage of missed spares by 4th seed Greg Borja and 5th seed Hank Borja to advance to the semi-finals bowling a 194 game against a 153 and 139 by the higher seeds respectively.
Duenas' 222 average topped the field as he opened the tournament with a 279 game and never looked back bettering Calip's 1340 total by 33 sticks. Manibusan jumped to third place with 1311 pinfall followed by 4th game leader Greg Borja 1275 and Hank Borja 1275. Camacho's 269 last game catapulted him to the final qualifying spot with a 1265 total ousting Brian Manibusan 1241, Joey Miranda III 1231, Jim Pinaula 1231 and JD Castro 1207 who were all in contention for the final.
[fbshare url="http://www.gspnlive.com/?p=15471 " type="button"]
[/sixcol_five_last][ubm_premium_banner_rotation banners=46, 44, 16 interval=9 width=120 height=600 orderby=rand]

QUICK HITS
3rd place: Big ups to the Para Todu Rugby Club for finishing 3rd out of 16 teams in the Manila 10's Rugby Tournament today. Biba Guam Rugby!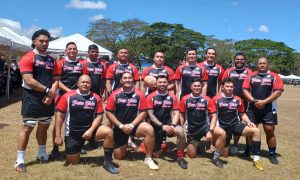 ——————————————
Guam MTB National Championship: Edward Oingerang and Jennifer Camacho are your 2023 MTB national champions. Oingerang finished the course in 1:13:24 while Camacho won her second straight title in 54:08.