[sixcol_five_last]
By Rob Leon Guerrero
When you see freshmen dominate a basketball game, you may think that it's a rare phenomenon. But when you watch St. John's dynamic freshmen Kali Benavente & Destiny Castro play basketball, you wouldn't believe that they were freshmen. The St. John's Knights stormed into Harmon Friday evening, and overwhelmed the St. Paul's Warriors, winning 77-52. The Knights' freshmen seized control of the game early on and dismantled their opponents, scoring 51 of their team's points .
The Warriors opened with the first bucket of the game courtesy of their freshman phenom, Joy Pangelinan, only to be answered with a three-pointer from Benavente. Both teams played fast and loose, pushing the ball up and down the court to the delight of the crowd on hand. From the start Benavente and Castro demonstrated the chemistry and abilities that have given teams problems all season, with one creating a turnover and quickly looking for the other in transition to convert the fast break basket. This play between the two proved to be the theme of the game, as they found each other play after play, picking apart the Warriors in the process. In the second quarter, the duo scored 21 points, while the Knights pulled away, taking a 40-23 lead at the half.
As the teams began the second half, the Knights seemed to prescribe to a simple strategy: 'If some is good, more is better.' Castro and Benavente continued their stellar teamwork to keep their opponents frustrated. The Warriors definitely adjusted their game plan in the second half, capitalizing in the post through Kindra Young. Pangelinan looked to the post, finding Young on consecutive baskets. The Knights kept out of reach throughout the game, as their freshmen left the game to a round of applause from their supporters.
Playing together for years, Benavente and Castro collectively deferred to their team as the source for the Knights success this season. "We play as a team," said Castro, "We always want to come out and play our best, and I think we played pretty good tonight."
When asked about excelling as underclassmen, Benavente commented, "Age doesn't matter really. We just want to play our best."
"(Destiny and Kali) are just natural talents," said St. Paul's coach Iona Evangelista. "They're always going to go out there and do their thing," she added, "we just want to try and come out and contain them as much as we can." Evangelista has been familiar with the two, as a member of Guam's senior women's basketball team, she has competed against them and is quick to recognize their abilities.
With the win, the Knights sit atop the Gadao Division, tied with Okkodo High School, while the Warriors fall to 6-7. Castro tallied 35 points, seven steals, 5 rebounds and four assists, while Benavente finished the game with 26 points, 13 assists and three steals. Pangelinan led St. Paul's with 22 points, four rebounds and five assists, and Young scored 10 points and grabbed six rebounds.
[/sixcol_five_last][useful_banner_manager_banner_rotation banners=53, 44, 38 interval=8 width=120 height=600 orderby=rand]
[fbshare url="http://www.gspnlive.com/?p=20264″ type="button"][fblike url="http://www.gspnlive.com/?p=20264″ style="standard" showfaces="false" width="450″ verb="like" font="arial"]

2022 GSPN I MÅS METGOT COMPETITION
2022 GSPN I Mås Metgot Competition Recap
2022 GSPN I MÅS METGOT COMPETITION
2022 GSPN I Mås Metgot Competition Recap
2022 GSPN I MÅS METGOT COMPETITION
2022 GSPN I Mås Metgot Competition Recap
COMING SOON …
Sat: Origin Power Lifting Meet 
ISA Girls Volleyball/Boys Soccer Finals
QUICK HITS
Guam runners complete London Marathon. Former Guam top runners Charlie Epperson and Aysha Perez Epperson along with Cameron ONeal completed the 42nd London Marathon.
Charlie 2:47:56
Cameron 2:59:49
Aysha 3:51:04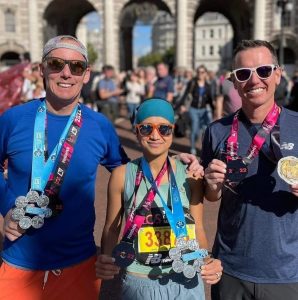 ———————————————–
Trevin Jones drops a unanimous decision 30-25, 30-27, 30-27 to Raoni Barcelos in UFC Fight Night 211 in Las Vegas.