PRESS RELEASE – Ray Manibusan and Nick Gutierrez seized their second title of the 2012 Budweiser King and Prince of the Lanes.
Manibusan strung strikes from the onset to take control of his matches early in the game and never looked back. The second seed established his on lane mastery of the short oil pattern by scorching the lanes against 9th seed Joey Miranda III 221-181 in the semi-final before dismantling top seed Bruce Calip in the monthly finale 266-203. Calip ousted 6th seed Brian Manibusan in the semi-final round sneaking past the lower seed with a 217-211 set.
In the quarter final rounds Manibusan threw eleven strikes as he cruised by 5th seed John John Ada 279-211 while Miranda outplayed 8th seed JD Castro 226-191.
Calip led the field with a blistering 1361 total bowling games of 213, 210, 183, 232, 258 and 265 to trump Manibusan's set of 1350 after throwing the highest game of the tournament registering a 290 score in the fifth game of the qualifying rounds. Early leader Josh Madrid dropped to third place with a 1291 total followed by Jonathan Duenas 1277, Ada 1265, Manibusan 1260, Jay Leon Guerrero 1258, Castro 1250, Miranda 1246 and Victor San Nicolas' 1223 rounded off the top ten.
Nick Gutierrez disposed of Matthew Cruz in the Prince division establishing his dominance of the younger foe with a 221-149 mauling of the top seed in the finals. Cruz who registered the highest six game series in the qualifying round edged 7th seed Von Cabral in 189+18 to 173+26 in the semi-final round while Gutierrez mangled 4th seed Zayne Zamora 204+27 to 133+24.
Cruz earned his top seed status with a 1302 grand total in the qualifying rounds on 108 pins of handicap with Gutierrez 32 pins adrift. Maddison Willis trailed in third with a 1251 total with 162 handicap followed by Zamora 1247 (144), Erwin Aguilar 1232 (144), Kennedy Robinson 1217 (144), Cabral 1215 (156), Edward Sabedra 1203 (186), Steve Esplana 1203 (102) and Shannon Bukikosa's 1186 (144) sneaking into the top ten knock off round.
The next Budweiser King and Prince of the Lanes will be held on Sunday, September 16, 2012 at 9:30 a.m.

2022 GSPN I MÅS METGOT COMPETITION
I Mås Metgot Athlete Spotlight: April Flores
2022 GSPN I MÅS METGOT COMPETITION
I Mås Metgot Athlete Spotlight: April Flores
2022 GSPN I MÅS METGOT COMPETITION
I Mås Metgot Athlete Spotlight: April Flores
QUICK HITS
Guam boys Kekoa Toves and Matias Calvo went head-to-head on the rugby pitch as American International College took on Dartmouth College, both top-ranked men's rugby programs in the country.
Calvo (FD) is the captain of Dartmouth and scored, but Toves (Sanchez) and his AIC squad came away with the win in Springfield, Mass.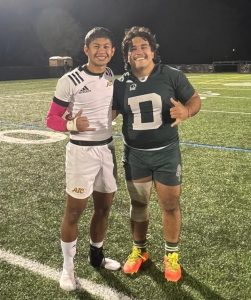 ———————————————–
1LT Belizabeth Nicole V. Rengiil is known to be the first female from Guam and Palau to make the All-Army Women's Rugby Team. She is an active duty Signal Officer with the US Army and is stationed at Joint Base Lewis-McChord in Washington.
Her team won the Armed Forces Women's Rugby Championship with a 4-0 record.
Belizabeth is the daughter of Edwin and Juliana Rengiil with siblings Johanna and Edwin-Isaiah Rengiil from Mangilao.