[sixcol_five_last]
By Rob Leon Guerrero
New team. New coach. New season. Same mission. Friday night, the Notre Dame Royals re-established their ambitions for a basketball championship, holding off a furious comeback from the Guam High Panthers. After a lopsided first half, the final quarter of the game had the Panthers rally from a 14-point deficit, only to fall short at the final buzzer, losing to the visiting Royals 33-30. Notre Dame's new coach Tony Chargualaf spoke about his new squad, emphasizing the new personnel.
"We have a lot of new players… they're not all used to this level so we made a lot of mistakes, but I think we'll be alright," said Chargualaf.
The game started off on a high note, as Taylor Crisostomo stole the tip-off from the Panthers and converted the fast break layup. From there both teams used most of the first quarter to get over their nerves; the Panthers didn't score their first basket of the game until midway through the opening period. A basket by Guam High guard Tessa Jaynes cut the Royals' lead to one point. Poor shooting from both teams resulted in a sloppy game, with turnovers coming on both ends. Although the Royals had trouble finding points early on in the first half, their defense was on point throughout, forcing several steals and causing more unforced errors by the Panthers. Leading the way for the Royals was senior forward Crisostomo whose dominating defense kept the Panthers from building any momentum.
"I think that our defense was really good tonight," Crisostomo commented, "This year we're more of a defensive team, so I think that we showed that in tonight's game."
Panthers center Alison Bowman converted an offensive rebound into a basket, and the Panthers would trail 17-10 at the half.
A relatively quiet third quarter by both teams gave way to the final period with the Royals leading 26-12. With Royals guards Demi-Rae Shimizu and Lia Naputi fouled out, the Royals offense stumbled into one mistake after another, leaving the door open for a Panther rally which the home team was more than happy to capitalize on. Asia Smith and Bowman led the late surge, scoring most of the Panthers' points down the final stretch, cutting the lead to 33-30. After a desperately needed Royals timeout with less than a minute left in the game, Panthers' forward Sabrina Sabel forced the Royals inbound passer into a five-second violation, giving the Panther's a chance to tie the game. Off of an inbounds play, Smith found herself with the ball but failed to convert a shot at the buzzer, leaving the score 33-30, and the win with the visiting Royals.
Crisostomo commented on the Royals' performance explaining, "I think we started off really well… but communication broke down [allowing the Panthers to rally back]. But we were able to recover, and we just had to encourage each other to pull together, and we got the win."
Gianni Toves led the Royals attack with 12 points, while Crisostomo poured in eight points, four assists, three blocks and five steals. Bowman led Guam High with 11 points and four blocks, and Smith chipped in with eight points. Sabel was the consummate competitor the entire game, hustling on both ends of the court, creating problems for her opponents and opportunities for her teammates. The Royals stand at 1-0, while the Panthers open their season with a loss.
In other matchups:
St. Paul's Warriors def. John F. Kennedy Islanders 47-46
Southern High Dolphins def. George Washington Geckos 59-40
[/sixcol_five_last][ubm_premium_banner_rotation banners=14, 51, 38 interval=8 width=120 height=600 orderby=rand]
[fbshare url="http://www.gspnlive.com/basketball/royals-win-season-opener/"][fblike url="http://www.gspnlive.com/basketball/royals-win-season-opener/" style="button_count" showfaces="false" width="450″ verb="like" font="arial"]

2022 GSPN I MÅS METGOT COMPETITION
2022 GSPN I Mås Metgot Competition Recap
2022 GSPN I MÅS METGOT COMPETITION
2022 GSPN I Mås Metgot Competition Recap
2022 GSPN I MÅS METGOT COMPETITION
2022 GSPN I Mås Metgot Competition Recap
COMING SOON …
Sat: Origin Power Lifting Meet 
ISA Girls Volleyball/Boys Soccer Finals
QUICK HITS
Guam runners complete London Marathon. Former Guam top runners Charlie Epperson and Aysha Perez Epperson along with Cameron ONeal completed the 42nd London Marathon.
Charlie 2:47:56
Cameron 2:59:49
Aysha 3:51:04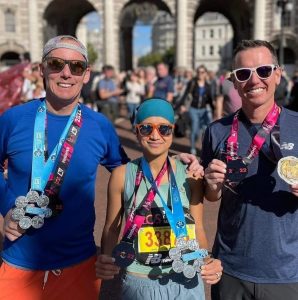 ———————————————–
Trevin Jones drops a unanimous decision 30-25, 30-27, 30-27 to Raoni Barcelos in UFC Fight Night 211 in Las Vegas.