[sixcol_five_last]
By Patrick Lujan
It's not only the fighters and fans that love the game of mixed martial arts. The men in black inside the cage have just as much passion for the sport as well.
Long–time PXC referee Tony D'Angelo got a chance to tag team with veteran Big John McCarthy on September 1 in PXC 33 in Manila.
It was an opportunity to have the two long-time referees share experiences and learn from one another.
One common ground between the two is command and presence in and out of the cage.
"During the fighter's briefing after the weigh-ins: I appreciate how he told everyone to shut up and listen and everyone did, so right away his presence was felt," D'Angelo said about McCarthy after the weigh-ins in Manila.
"I got a lot from this rules meeting to really make them understand. He said, 'you're from New York, let your presence be felt in the ring.' I got a lot out of his rules meeting, and that is to be assertive and aggressive."
D'Angelo, who has refereed over 500 fights, knows another commonality is the pure passion for the fight game.
"We both love it. I grew up fighting in Detroit on the streets and he teaches police officers and FBI agents about fighting and I respect that he is the name (for referees) of the UFC. He complemented me and he went on line to watch my fights. He appreciates that I'm an assertive referee, for example when I pulled Crisanto Pitpitunge off Justin Cruz (in PXC 31) for hitting him after he had already knocked him out."
High in Demand
Behing the face of the UFC officiating for many years, McCarthy is a busy man who is signed on to do MMA events every weekend through the end of the year somewhere in the world.
His relationship with former Guam resident and MMA manager Richard Chou connected the veteran referee with PXC.
"Rich is a good friend and he asked me if I was interested in going to Manila," Big John said. "I love doing shows like PXC."
"When I come to a place like this, I don't want to step on anyone at all. I want Tony to have the same respect for the sport he had before and feel comfortable in what he's doing. I look at things differently from guys who do local shows because they don't do it as often as I do. So if I can do anything to help them understand that this is a better way to help you referee and help the fighters, help the fans and help the show, those are the things I like to help out."
McCarthy, like many who have been around MMA since its infancy, can attest to the growth and improved level of competition.
"The young guys coming up in the sport are showing just how good they are and prepared, you take a look at guys who are 3-0, 3-2…they are so much better than the guys who were undefeated 10 years ago. There's so much talent out there and I love to be able to see the talent. If I see someone I know has talent, I'll tell people in higher places that they ought to look at this guy."
Both D'Angelo and McCarthy alternated most of the fights during PXC 33 at the Ynares Sports Arena in Pasig City, Manila, doing what they love to do in a sport that continues to grow and evolve.
"Anything to help the fighter out to get where he wants to get and help the sport out, that's what I'm willing to do," McCarthy said while fans eagerly awaited to take photos of the popular referee.
[fbshare url="http://www.gspnlive.com/?p=15501″ type="button"][fblike url="http://www.gspnlive.com/?p=15501″ style="standard" showfaces="false" width="450″ verb="like" font="arial"]
[/sixcol_five_last][ubm_premium_banner_rotation banners=44, 38, 14 interval=8 width=120 height=600 orderby=rand]

QUICK HITS
The Guam Smokin' Hot women's softball team captured first place in the Asia Cup Softball Championships 2023 in Bangkok, Thailand.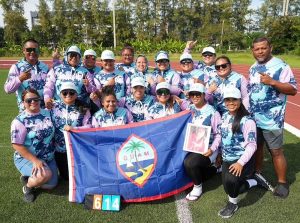 ——————————————————-
Roque Martinez gets the unanimous decision win Saturday night in his debut fight in South Korea's Black Combat promotions.
The 37-year-old controlled the tempo all three rounds and bloodied his opponent with some 3rd round ground and pound.