[sixcol_five_last]
By Robert Balajadia
When an unbeaten team plays a winless team deep into the season, nobody pays too much attention. However, the winless Bulldogs put the IIAAG football league on notice with a 3-0 statement win over the undefeated FD Friars in a thrilling overtime at the Bulldog home field.
"We have a new word for our team, which is 'nasty Bulldogs,' because we get down and dirty and play hard until the last whistle," stated Bulldogs team captain Justin Santos.
On a rainy and messy Friday night, the mood was set for a nasty upset.
"They are, so called, the 'best team', but how can you be the best team when an 0-4 team beats you?" stated Santos, who sent the game winning kick from 20 yards blazing through the uprights in the second set of overtime downs.
Santos followed up on the defensive end as well by sacking quarterback Tyler Okiyama on the Friars next offensive drive to force them into a 35-yard field goal for a possible tie.
Friars kicker Brian Leon Guerrero, who is as sure footed as they come, was staring down the longest kick of the season and just did not get enough force on the ball it as it appeared way short while splashing into a pile of mud along with the rest of the Bulldogs who stormed the field in celebration.
"It feels good to come in and lead the team to a win because we were struggling in the beginning of the season. Everyone doubted us but it shows that if you work hard from start to finish can be successful," explained Santos.
Okkodo Head coach Danny Cepeda ran on the field with his team and took a mud dive with the boys, celebrating the emotional win to what was a disappointing start to the season for the Bulldogs.
"It was an emotional game because we're playing at home and on our senior night. I told the boys to give it their all and play with their hearts. All their hard work pays off. A lot of teams may say FD was off because of the rain, but I saw it in my teams eyes that they wanted this win," stated Cepeda.
It was senior night for the Bulldogs and the win was well celebrated with the possibility of it being the last game the seniors play at the Okkodo field.
Santos is making a strong case for defensive player of the year with his outstanding performance, which the Okkodo Bulldogs coaching staff believes he got snubbed from last year by getting just one vote.
"No one talked about how close we were to beating Guam High. We got two touchdowns that were called back, if you tally those up then we win that game. My boys played six tough quarters tonight." Cepeda further explained.
First Overtime Drive
The battle through four quarters left both teams scoreless and staring at the season's first overtime game.
The beneficiary of the coin toss gets to choose if they want to get the ball first or second. They are given the ball at the 10-yard line and are given four downs to score. If they score first, the other team gets a chance to equal the scoring output or outscore the first team for the win from the same distance with the same amount of downs, much like overtime rules in the NCAA.
The Bulldogs chose to get the ball first. Quarterback Leeray Zapatos attempted to throw a pass to receiver Calvin Muna in the end zone, but it was broken up by Friars John Aguon. Zapatos then used his second down to keep the ball on an option play, sliding out of bounds just inches away from the pylon.
The Friar defense then came up big on a goal line stop on third down as Zapatos tried to quarterback sneak it in. The third down was a sneak as well which ultimately ended with Zapatos in the end zone, but the refs called a penalty on the Bulldogs for aiding the runner which pushed them five yards back.
Friars defender Nicholas DeSautels was able to strip Zapatos, forcing a fumble and turnover, giving FD a chance to win the game.
Friars quarterback Tyler Okiyama and running back Zavier Damian were able to get Leon Guerrero in comfortable range for a game winning 23-yard field goal. However, the line was broken soon after the snap which allowed three Bulldog defenders, led by Calvin Muna, to easily block the kick, forcing another overtime drive.
The Friar coaching staff lit up on the sideline in disappointment of the sloppy execution while the Bulldogs' fans were rocking the bleachers with cheers.
Second Overtime Drive
The Bulldogs hammered the running game with Zapatos on three straight downs which set up Santos for the lead changing field goal after a neutral zone infraction by the Friar defense.
As soon as Santos nailed the kick, he ran over to his sideline and called out his defense to make the final stand to end the game.
The first down for FD was a run of four yards.  Okiyama then looked to receiver Bryton Cepeda on second down as he laid out a pretty pass to the corner of the end zone which looked to be a difficult catch, as it slipped through the fingers of Cepeda which would have ended the game.
The third down was a pass that Santos read immediately as he shot through the line and pounced on Okiyama for the 7-yard loss.
Then the Friars turned to Leon Guerrero, who hit field goals from 30, 31, and 33 yards against the Guam High Panthers earlier in the week, but the kick had no chance as it was just high enough to get over the lineman.
The Bulldogs then proceeded to celebrate on the field.
Damian had 20 carries for 89 yards to lead the Friars while Muna had 10 carries for 47 yards for Okkodo.
Christopher Muna Aguon had two sacks and two forced fumbles for the Friar Defense while teammate Romeo Teodosio had seven tackles and a forced fumble.
Santos had five tackles for loss, including two sacks, while teammate Aiden Ferrara had six tackles.
The Friars drop to 4-1 while the Bulldogs get their first win at 1-4.
[fbshare url="http://www.gspnlive.com/football/bulldogs-stun-friars-in-ot/" type="button"] [fblike url="http://www.gspnlive.com/football/bulldogs-stun-friars-in-ot/" style="standard" showfaces="false" width="450″ verb="like" font="arial"]
[/sixcol_five_last][useful_banner_manager_banner_rotation banners=53, 38 interval=8 width=120 height=600 orderby=rand]

Athletes Birthdays by W5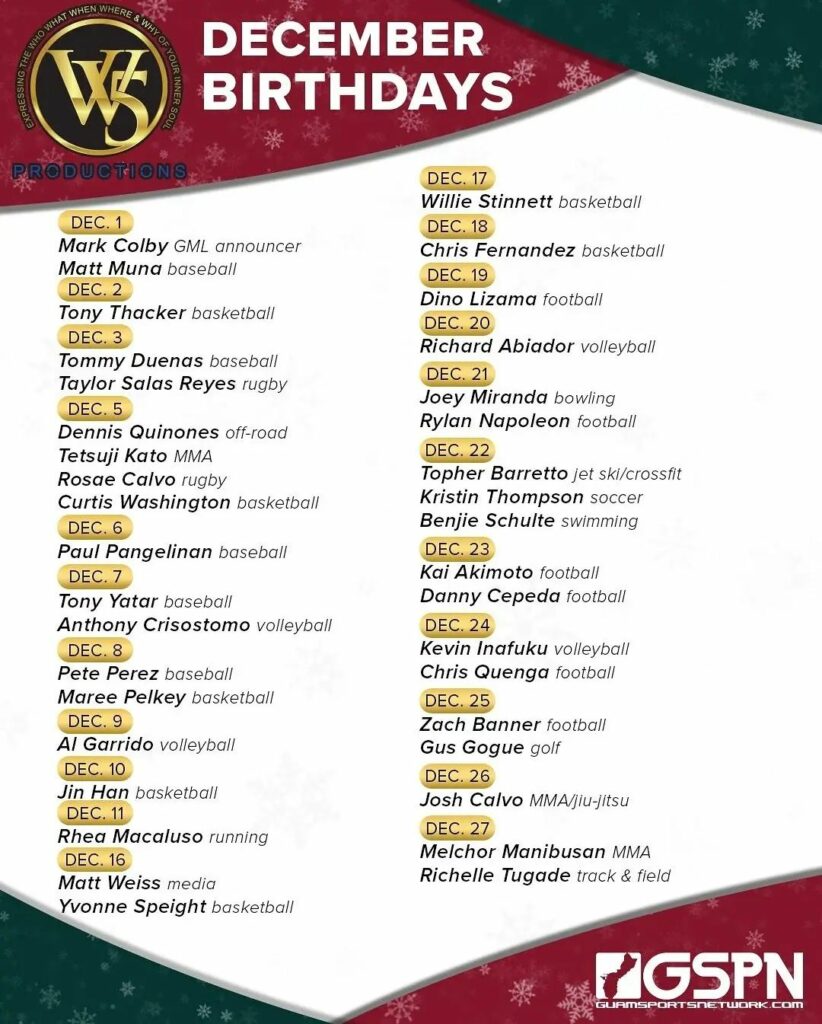 GPS Sports Calendar
SU

MO

TU

WE

TH

FR

SA
Events for December
5th
No Events
Events for December
6th
Events for December
7th
Events for December
8th
No Events
Events for December
9th
Events for December
10th
Events for December
11th
06:00 AM - 08:00 AM
Umatac
Events for December
12th
No Events
Events for December
13th
No Events
Events for December
14th
No Events
Events for December
15th
No Events
Events for December
16th
Events for December
17th
Events for December
18th
19

20

21

22

23

24

25
Events for December
19th
No Events
Events for December
20th
No Events
Events for December
21st
No Events
Events for December
22nd
No Events
Events for December
23rd
No Events
Events for December
24th
No Events
Events for December
25th
No Events
26

27

28

29

30

31

1
Events for December
26th
No Events
Events for December
27th
No Events
Events for December
28th
No Events
Events for December
29th
No Events
Events for December
30th
No Events
Events for December
31st
No Events
National Guard Athletes
Scott Eclavea
Scott Eclavea is a jiu-jitsu black belt and an accomplished MMA fighter. The Guard has given him an outlet in combatives to display his martial art skills, where he's become a head instructor for that program. Eclavea has served since coming out of high school and the Guard has only changed his life for the better.
COMING SOON …
LIVE FOOTBALL ON GSPN
Semifinals: #1 FD vs. #4 Southern (Friday 7 pm)
GSPN Preseason Basketball Tournament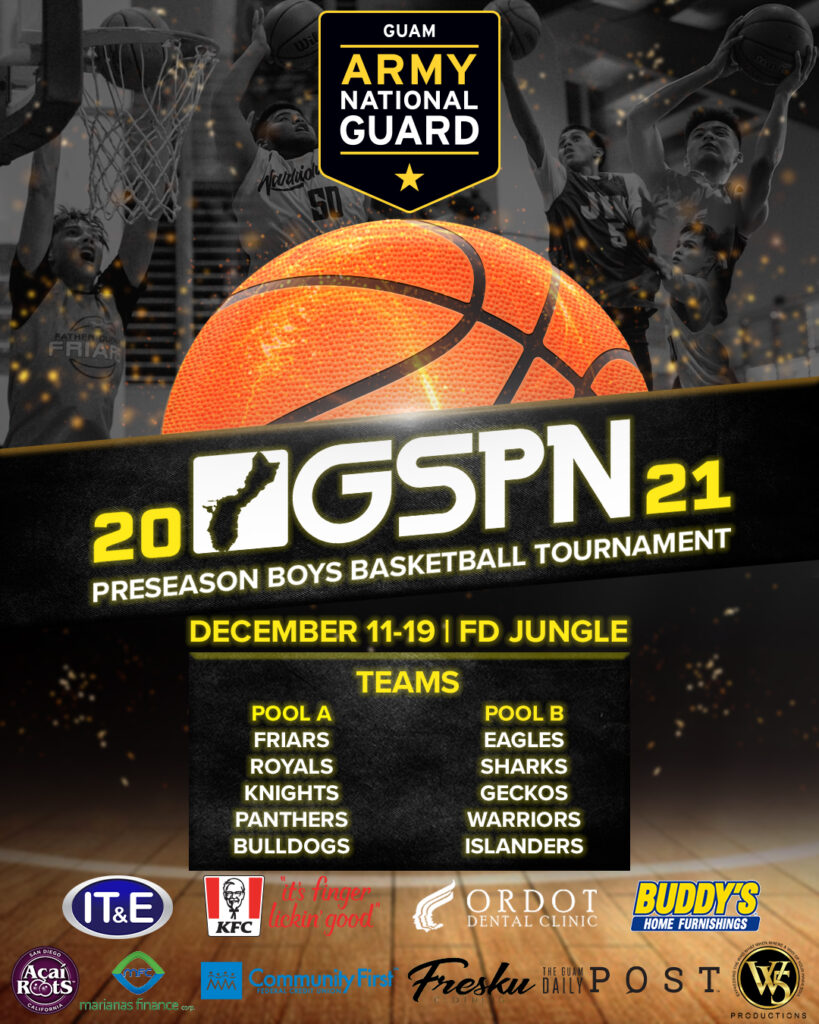 QUICK HITS
Robert Artero Maley recently captured the 182-lb. division of the Costa Mesa Classic, winning via pin in 4 out of 5 matches. Robert is a 4-year varsity wrestler at San Clemente HS (Tritons) and is currently ranked 15th in California's high school scene. He is the son of Jacque Artero Maley (AOLG 1991).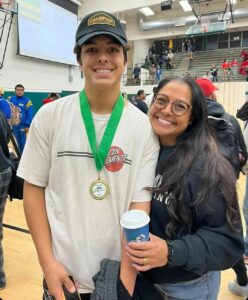 ——————————————–
Pat Taitano and Rich Abiador, teammates on the 1995 SPG volleyball team, have led their high school girls volleyball teams to the Washington State Championships in Yakima, Wa.
Taitano coaches Mt. Rainier High while Abiador leads North Creek High.
There for support is Dr. Mark Perez, a health professor at Central Washington University and a former UOG volleyball player.