[sixcol_five_last]
By Niko Bulaon
In front of a packed Okkodo gym, the undefeated Academy Cougars outran the Okkodo Bulldogs, 64-52, giving them their second loss of the season Saturday night.
With the Cougars' enormous lead of 38-16 going into the third quarter, it seemed Academy would cruise through the second half after a three-pointer from Gemilie Ilao. But with Bulldogs' top-scorer Felicia Borja back in after a tough first half, Okkodo gained slight momentum after a quick three-pointer that put the crowd on their feet.
As Okkodo's offense started to gain ground, a block from Cougars Kali Benavente stunned her opponents; a three-pointer from Alina "ICE" Bonto kept Academy's lead intact, 47-26. But with only a minute left in the quarter, the Bulldogs pushed the ball up to rack up six quick points from Borja and teammate Juls Taitano before the buzzer sounded, slowly cutting into their opponents' lead, 47-32.
At the start of the fourth, Academy grew their lead once again, going on a 12-0 run in the first three minutes, 59-32. Okkodo, however, didn't show one sign of letting up; another three-pointer from Borja lit up the Bulldogs' crowd to hope for a comeback.
With the hustle of Okkodo accelerating to put the game in their favor, the Cougars picked off weak passes, pushing the ball up for the easy twos. But back-to-back shots from Borja and Taitano, including another three from Borja, cut into the Cougars' lead, 62-46.
But time wasn't on Okkodo's side; as the clock dwindled into the final seconds, forcing Borja to shoot her last three-pointer of the game, ending it at 64-52.
"Don't let up and play to our potential," said Ilao about their goal for tonight's game.
The Academy Cougars put the game into their hands after multiple plays on offense and suffocating Borja on defense. A three-pointer from Ilao pushed her team passed the Bulldogs in the sixth minute.
With Borja on the run to lay in an uncontested basket, Benavente swooped in from behind to block her shot, putting the Cougars' fans on their feet in excitement. As the Bulldogs tried to keep up with their opponents, two consecutive two-pointers from Ilao started a small Academy run of 12-2, ending the quarter at 20-8.
Starting the second quarter the same way the ended the first, the Cougars pushed their lead further shot after shot. The offense of Academy clicked as the Bulldogs' defense slowly deteriorated with Borja out.
Going on a scoring frenzy from fast breaks and uncontested shots, the Cougars seemed to have the game in the bag, ending the second quarter with a huge margin lead of 38-16.
"We're never satisfied," stated Ilao about their undefeated record. "We're always going to push to be better, reach out potential, and play as a team."
Ilao lead her team with 16 points, two rebounds, four steals, and two assists. Teammate "ICE" Bonto contributed with 14 points, four rebounds, two steals, and an assist. Despite the loss, Borja led the Bulldogs with 17 points, five rebounds, three steals, and four assists.
[fbshare url="http://www.gspnlive.com/basketball/cougars-halt-bulldog-rally/" type="button"] [fblike url="http://www.gspnlive.com/basketball/cougars-halt-bulldog-rally/" style="standard" showfaces="false" width="450″ verb="like" font="arial"]
[/sixcol_five_last][useful_banner_manager_banner_rotation banners=53, 38, 83 interval=8 width=120 height=600 orderby=rand]

Foody's 5 Fun Facts
Harvest Eagle Trinity Terlaje
DID U KNOW?
After winning the title with ND in 2019, Tiyan Titan head coach Conrad Kerber has the Lady Titans sitting at 2nd place in the league with one week left in the season, the highest placement the Titans have ever been.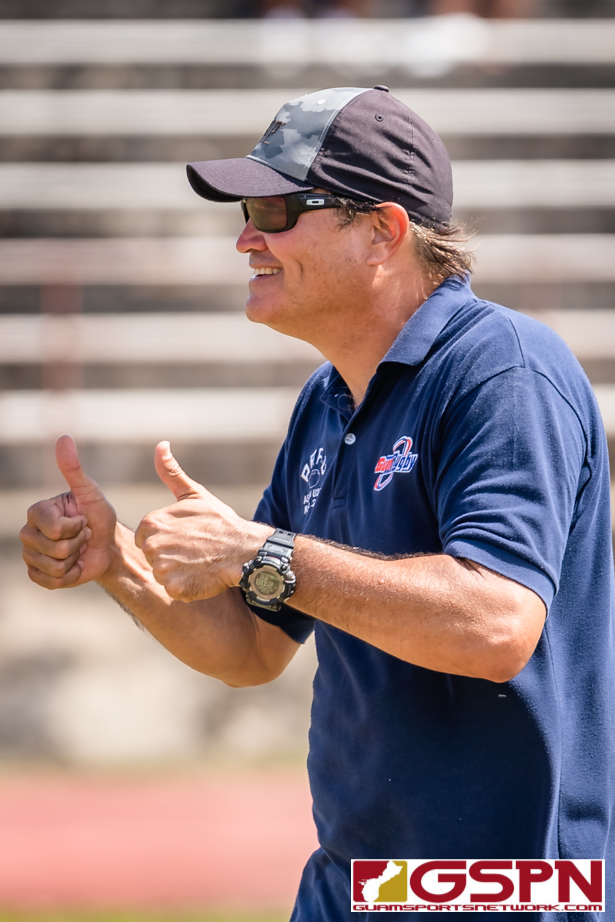 COMING SOON …
– Zach and Larry Return to Guam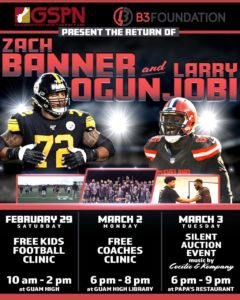 Brawl MMA March 13
QUICK HITS
Senior Night: Kali Benavente and Destiny Castro celebrated Senior Night at Chaminade University in Hawaii, culminating four years of college ball plus four years of high school ball together on Guam. Congratulations ladies!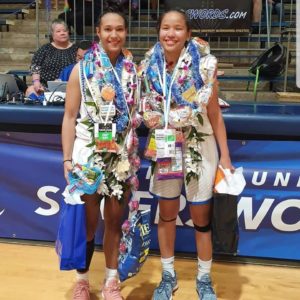 —————————————————-
One FC champion Brandon Vera and ambassador Miesha Tate visited the troops on Guam during a USO Tour.