[sixcol_five_last]
By Robert Balajadia
The 2013 VI East Asian Games are just a month away and the best of Guam's men behind the bat are ready to swing for the fences in their first East Asian Game's appearance. Inexperience at this level of competition might be a problem, but the talent level of the men on the team are good enough to earn the respect of Asia's best.
Teams Participating:
China
Chinese Taipei
Guam
Hong Kong
Japan
North Korea
South Korea
Macau
Mongolia
The Budweiser Baseball League ended in early August and the National Baseball Team, ready to compete with Asia's best, did not start practicing until the season was over, which means the team has a little more than a month's worth of practice.
Heavy hitter Rico Castro feels that the chemistry of the team will make up for lack of practice time saying, "Chemistry is not going to be a problem because we all know each other from the league. If anything, our chemistry gives us an advantage," stated Castro. "The teams that we are going to meet there are professionals, but probably have never practiced with each other before. We have been able to gel and we know how everyone here plays."
Since they are practicing outside, the national team has had less than five practices on the field due to rain. The weather has not been cooperative of late which only insists that more practice time was missed. Since the field time is an issue, the team shows their dedication by committing long hours of practice whenever they can suit up, usually from 6 p.m. to 9 p.m. or later.
Kin Fernandez is often relied on to lead the team in practice and he broke down how they are getting ready. "Everyday is a different schedule. We often flip-flop between offensive and defensive practices but we do quick drills every day. It's a long tournament so the recovery time and stamina are going to be an issue which is why we are committed to these long practices."
The team started out with over 50 committed baseball players but trickled down to 20 as the East Asian Games approached. Of those going, stars like Castro, Fernandez, B.J. Balajadia and Tony Yatar will be relied on to prove Guam has what it takes to roll with Asia's best.
Fernandez is both excited and nervous for the games and hopes that though this is the first team going out to compete, it is not the last.
"The East Asian quality of baseball is disciplined and hard nosed. We've been in Oceania for a while and this just gives us an opportunity to get more exposure and relations with the East Asian teams, which are known around the world as power houses. We're excited to be the first team to compete and lead the way for Guam."
The East Asian Games will begin in first week of October.
OTHER SPORTS COMPETING:
[fbshare url="http://www.gspnlive.com/baseball/mission-tianjin-baseball/" type="button"] [fblike url="http://www.gspnlive.com/baseball/mission-tianjin-baseball/" style="standard" showfaces="false" width="450″ verb="like" font="arial"]
[/sixcol_five_last][useful_banner_manager_banner_rotation banners=53, 38 interval=8 width=120 height=600 orderby=rand]

2022 GSPN I MÅS METGOT COMPETITION
2022 GSPN I Mås Metgot Competition Recap
2022 GSPN I MÅS METGOT COMPETITION
2022 GSPN I Mås Metgot Competition Recap
2022 GSPN I MÅS METGOT COMPETITION
2022 GSPN I Mås Metgot Competition Recap
COMING SOON …
Sat: Origin Power Lifting Meet 
ISA Girls Volleyball/Boys Soccer Finals
QUICK HITS
Guam runners complete London Marathon. Former Guam top runners Charlie Epperson and Aysha Perez Epperson along with Cameron ONeal completed the 42nd London Marathon.
Charlie 2:47:56
Cameron 2:59:49
Aysha 3:51:04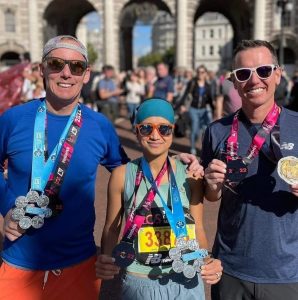 ———————————————–
Trevin Jones drops a unanimous decision 30-25, 30-27, 30-27 to Raoni Barcelos in UFC Fight Night 211 in Las Vegas.