PRESS RELEASE – Timothy Nauta made short work of the King of the Lanes opponents as he rode on the heels of his top seed post to his first victory of the 2013 Budweiser monthly tournament. Nauta took full advantage of a first frame miss by his opponent and continued his striking streak in the monthly finals to deny Joey Miranda III his second title of the year with a 234-182 drubbing of the January titlist.
Nauta's road to the finals included getting past Keith Guerrero in the semi-final match as both competitors jockeyed for position until an open on the ninth frame by Guerrero provided Nauta breathing room for a 189-174 win. Miranda enjoyed a comfortable lead throughout his semi-final match against second seed Ricky Duenas as the latter was unable to spare during the course of the match and fell 203-155.
The quarter final match provided the drama reel as 3rd seed Jay Leon Guerrero fell victim to a pin ten leave in the second ball of the last frame. 4th seed Miranda held on to win the match with a strike in the fill frame 224-223. Keith Guerrero outclassed Manny Tagle with neither bowler being able to take control of the match that saw the lead change hands in several occasions until the ninth frame where Guerrero found his range to beat Tagle 172-140.
Nauta led all qualifiers with a 1280 total followed by Duenas 1217, Leon Guerrero 1216, Miranda 1205, Guerrero 1172, Victor San Nicolas 1155, Tagle 1146, Howard Taylor 1142, Teliann San Nicolas 1142, and Rudy Palaganas 1123 who rounded off the top ten.
Jhun Viray erased an 11 pin handicap advantage from top seed Paul Kaneshiro in the finals of the Budweiser Prince of the Lanes monthly tournament to claim his first title of the year 161+15 to 147+26. Viray controlled the tempo of the game throughout the match but only led by a slim margin, nursing the lead from the onset to edge the younger foe by three pins.
Kaneshiro survived a close match against Maddison Willis in the semi-final with a 151+26 to 157+18 victory against the 6th seed while 4th seed Viray eliminated 2nd seed Jared Gutierrez 226+15 to 192+25 to set up the month finals.
Kaneshiro led all Prince Contestants with a 1221 total on 156 pins of handicap. Jared Gutierrez landed the number two spot with a 1204 series along with 150 pins of handicap followed by Bowen Olkerill 1187 (180), Jhun Viray 1181 (90), Leody Ersando 1151 (90), Willis 1147 (108), Ken Duenas 1144 (108), Elmie Pronoble 1134 (192), David Esplana 1121 (66) and Zayne Zamora 1114 (144) qualified for the top ten elimination spots.
The next Budweiser King and Prince of the Lanes will be held on Sunday, April 21, 2013 at 11:00 a.m. at Central Lanes.

Foody's 5 Fun Facts
Harvest Eagle Trinity Terlaje
DID U KNOW?
FD senior Matt Fegurgur first dunked a basketball in his freshman year when he was 6'4″. The now 6'9″ center looks to dominate high school hoops.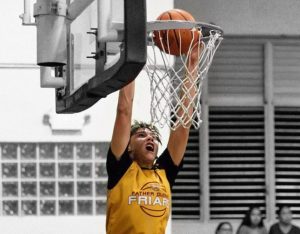 COMING SOON …
– FIBA Asia Cup: Guam vs. New Zealand, Feb 23
– Rizin 21: Aguon and Martinez
– Zach and Larry Return to Guam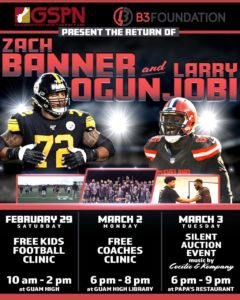 Brawl MMA March 13
QUICK HITS
190 runners took part in the 48th Hafa Marathon (half marathon).
Here are the top 5 finishers:
Ryan Matienzzo 1:13:17
Kris Lawrence 1:24:12
Taiga Sato 1:25:05
Chris Rasmussen 1:26:48
Carlos Leon Guerrero 1:28:46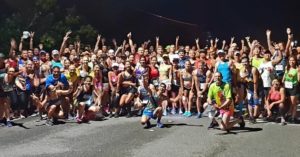 —————————————————-
Guam flags were waving in Clearwater, Florida in support of Bubba Nickles and Team USA in their Pre Olympics Softball Tour.