[sixcol_five_last]
By Niko Bulaon
Behind sophomore sensation, Destiny "Queen-B" Castro, the ND Royals prevailed in a head-to-head battle against the JFK Islanders, 55-51, at the JFK gym Tuesday night as Castro scored 36 points. The Royals advance to the semi-finals scheduled for Thursday night at the Phoenix Center.
"It feels really good," said Castro with a smile. "We came back and we got the win."
Five seconds into the game, the Islanders sunk a layup from Cianna Reyes. Putting pressure on Castro, the Royals couldn't connect any of their shots until Castro found an opening to put in a layup. With Castro finding the weaknesses in the JFK's tight defense, it wasn't long till JFK fouled Castro to put her on the line.
With various lead changes, a three-pointer from Cabrini Cruz and another layup from Castro put the Royals ahead of their opponents, 10-6. With 40 seconds left on the clock, Islanders' Rufina Royster put up a two-pointer to cut the Royals' lead to two.
The aggressiveness of both teams built at the start of the second, keeping each other away from the basket. Castro found another opening, laying in a basket for her team. But JFK wouldn't put their heads down as Islanders Anita Onedera shot a three-pointer to bring her team one point away from ND, 12-11.
With Castro under pressure from the Islander defense, Cruz and teammate Samantha Flores stepped up to build the Royals' lead, 16-11. As ND's man-to-man defense suffocated their opponents, Royster sliced through her opponents to lay in a basket and, 30 seconds later, hit an uncontested three-pointer to tie with the Royals, 16-16. But the excitement of the JFK fans were spoiled after Castro put it another two-pointer and teammate Murphy Kimberly laid it a second-chance shot to bring their team's lead back up to four, 20-16.
As the clock ticked away, Reyes stepped up to sink in a two-pointer with one minute to go. With only six seconds left on the clock, Reyes hit a buzzer beater at the top of the key to tie her opponents yet again, 20-20.
In the first minute of the third quarter, Royals Britney Blau hit a three-pointer to bring her team's lead back up. However, Onedera and Royster put in back-to-back two-pointers to put their team ahead of ND, 24-23.
Fouls from both teams gave each other the easy points, keeping the Islanders ahead of their opponents by two. With only two minutes left in the quarter, Castro pushed the ball up to sink in consecutive layups, ending the third with ND in front of the Islanders, 31-26.
Islanders Alison Bowman and Shaira Cortez put in two-pointers to bring ND's lead down to one. A three-point play from Castro grew her team's lead to four points, 34-30. But it didn't seem to faze JFK as Cortez shot a three-pointer to cut her opponents' lead again.
With JFK looking for a comeback, Castro took any chance she got to be fouled, going for 12-17 on the foul line in just the fourth quarter. After multiple shots taken by the Royals, Onedera sunk in a free throw and Bowman connected a three-point play to bring them within two points, 41-39.
The Islanders soon started to miss crucial free throws, giving Castro the chance for the easy two-pointers. Royster put in consecutive two-pointers to bring JFK within a point from their opponents. But with the Islanders constantly fouling Castro and her teammate Corina Dudkiewicz, the Royals grew their lead to four, 47-43.
Cortez again sunk in another three-pointer, but unable to stop Castro, ND stayed on top. Onedera and Royster pushed the ball up to connect for back-to-back plays, taking a one-point lead over the Royals, 51-50, with only 30 seconds left to go. But Castro knew JFK's defensive weakness, going in for the foul; Royster joined two other crucial players for the Islanders after being fouled out.
Castro sunk in one of her free throws to tie, 51-51. The Islanders soon lost possession of the ball after a violation, forcing them to foul. Castro connected both her free throws with 15 seconds left. Double teaming Castro, the Islanders tried to steal the ball, but a missed shot from the Royals gave Castro the rebound and a buzzer beating put-back to give the Royals the quarterfinal win.
"I think about me, the rim, and the ball," said Castro when asked how she is able to score no matter how hard the pressure is.
The ND Royals will be heading to the semi-finals against the Southern Dolphins, Thursday night at the Phoenix Center. When asked how she feels her team will do going in, Castro stated, "I think we'll do pretty well. We just need to work on minor things and just to play as a team."
Castro led the Royals with 36 points, 11 rebounds, seven steals, and three blocks. Despite the loss, Royster led the Islanders with 16 points, nine rebounds, three assists, three steals, and two blocks.
Other Scores
GW 60, Okkodo 57
Southern 54, Harvest 24
[fbshare url="http://www.gspnlive.com/basketball/royals-eliminate-islanders/" type="button"] [fblike url="http://www.gspnlive.com/basketball/royals-eliminate-islanders/" style="standard" showfaces="false" width="450″ verb="like" font="arial"]
[/sixcol_five_last][useful_banner_manager_banner_rotation banners=53, 38, 83, 86 interval=8 width=120 height=600 orderby=rand]

Foody's 5 Fun Facts
Harvest Eagle Trinity Terlaje
DID U KNOW?
After winning the title with ND in 2019, Tiyan Titan head coach Conrad Kerber has the Lady Titans sitting at 2nd place in the league with one week left in the season, the highest placement the Titans have ever been.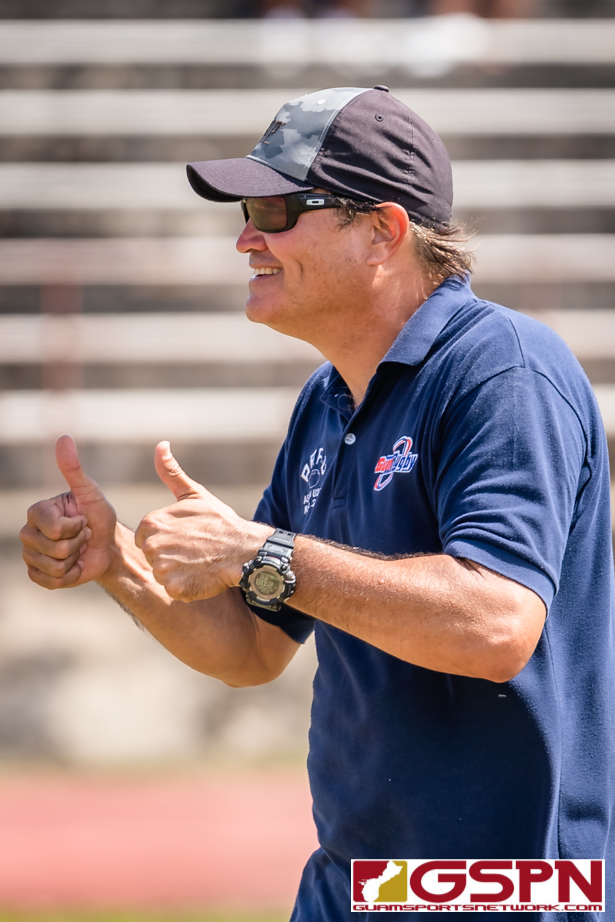 COMING SOON …
– FIBA Asia Cup: Guam vs. New Zealand, Feb 23
– Zach and Larry Return to Guam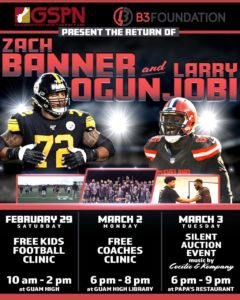 Brawl MMA March 13
QUICK HITS
190 runners took part in the 48th Hafa Marathon (half marathon).
Here are the top 5 finishers:
Ryan Matienzzo 1:13:17
Kris Lawrence 1:24:12
Taiga Sato 1:25:05
Chris Rasmussen 1:26:48
Carlos Leon Guerrero 1:28:46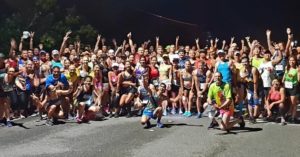 —————————————————-
Guam flags were waving in Clearwater, Florida in support of Bubba Nickles and Team USA in their Pre Olympics Softball Tour.