[sixcol_five_last]
By Florence Blas
The skating is fast and purposeful, as the Sgro brothers, JT, Josiah and Jayden play a sport relatively unfamiliar to their Guam roots!  Dressed in layers of protective gear and helmet the boys skillfully glide across the ice dodging opponents in their quest for a goal.  The three Sgro brothers all play hockey in San Jose, California, home to the National Hockey League's San Jose Sharks.
JT, age 12 played on the PeeWee Yellow Hornet in-house team.  He recalls that his interest in hockey began after a couple of years of "street hockey" with neighborhood friends.  He traded in his roller skates for ice skates and the rest is history.
JT patiently explained his favorite moves on the ice. He loves the deke which is a technique where the player uses the stick to move the puck back and forth on the ice. "This is also a fake-out.  It helps confuse the other team, so that a player can get the puck as close to the goal as possible."
He further commented that "hockey is a great sport and my favorite sport. It is fast paced and you have to take some hits."
The goalie in the group, Josiah, age 9, has continued to practice and improve his goalie position. He plays for the Mites Yellow Jackets, San Jose Sharks in-house league.  He guards the goal and aims to prevent the other team from scoring. Keeping an eye on that little black disk requires keen concentration and quick responses.  Josiah explained that his favorite move as a goalie is called the "butterfly".  "It's when you drop down on your knees and utilize the goal pads to stop the puck."
Josiah understands the importance of protecting the goal and has no hesitation about using every part of his body to do that! During one of Josiah's game, he was scouted by one of the San Jose Jr. Sharks coaches and was invited to try out for the Junior Seals, coached by former NHL Sharks player Curtis Brown.
After his first tryout he was invited to join the team and will play in a spring tournament.   At the end of April, this spirited 9-year-old will be heading to Vancouver, Canada.    Josiah said, "I practice a lot and work hard".  At the end of a game, the entire team rallies around the goalie, shouting, hugging and simply saying good job. How does that make him feel? "Happy!"
Look out for Jayden, age 7.  He is daring and fast on the ice. He practices hard and gets up every Saturday morning for a 7:30 am game. Clearly hockey has its own lingo.  When asked about favorite moves, Jayden said, "I like the top shelf. That's when you hit the puck with your hockey stick in a way that makes it hit off of the top of the net".
Jayden is pretty proud that he has good control on the ice.  "Stopping good and skating fast are two things I like". He also likes checking opposing players.  Jayden explains with a grin, "Checking is when you push a player on the other team against the wall."
So who is left?  Little sister Juliana is 4 and has started basic ice skating.  The next big decision is will it be figure skating or hockey?  The pressure is on, three whispers can be heard in the background, as her brothers all vote for "hockey".  Let's wait and see what is in store for this spirited little girl.
John Sgro, FD Class of '91 and former All-Island volleyball setter and basketball point guard,  enjoys taking his boys to their games on Saturdays and Sundays. "I never imagined my kids playing hockey, but it is a great experience that I enjoy each time I watch them."
From experience, if you plan to visit them over a weekend, be prepared to be watching hockey in Shark country and dress warm. Brrrr!
[fbshare url="http://www.gspnlive.com/gspn/sgro-kids-shaving-the-ice/" type="button"] [fblike url="http://www.gspnlive.com/gspn/sgro-kids-shaving-the-ice/" style="standard" showfaces="false" width="450″ verb="like" font="arial"]
[/sixcol_five_last][useful_banner_manager_banner_rotation banners=69, 38, 53 interval=8 width=120 height=600 orderby=rand]

QUICK HITS
Guam MTB National Championship: Edward Oingerang and Jennifer Camacho are your 2023 MTB national champions. Oingerang finished the course in 1:13:24 while Camacho won her second straight title in 54:08.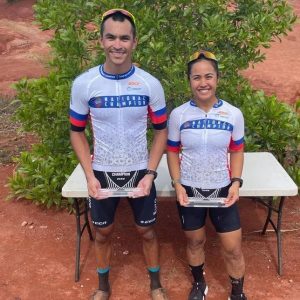 ——————————————
Kobe Miyashita, with St. John's coach Arvin Flores, was named the 2023 IIAAG Middle School Boys Volleyball MVP!