PRESS RELEASE – Guam Football Association will be embarking on a mission to continue its efforts to go green with Micronesia's largest solar energy project to date, beginning with an official contract signing ceremony 11 a.m. Wednesday at the GFA National Training Center conference room. The solar energy project, with a price tag of over $750,000, is the first of GFA's Income Generating Program projects with FIFA, and will entail the installation and maintenance of solar panels along the rooftop of the GFA headquarters in Harmon.
Once the project is complete, the solar energy collected from the panels will be used to effectively roll back the facility's electrical meter during the day and help power day-to-day operations in the GFA main office, as well as lights for nighttime games and activities. The GFA is expected to save much-needed funds through the initiative, as well as help protect Guam's natural resources through this environmentally friendly project. The project will be funded through a joint partnership with FIFA, the Government of Guam and GFA, said GFA president Richard Lai.
FIFA Development Officer Domeka Garamendi, as well as representatives from Green Energy Solutions, Inc., a local company, will join GFA executives at the contract-signing ceremony. The Green Energy Solutions, Inc. team also will be providing detailed information including specifics on the solar panels, artist rendered images of the project, and total cost breakdown.

2022 GSPN I MÅS METGOT COMPETITION
I Mås Metgot Athlete Spotlight: April Flores
2022 GSPN I MÅS METGOT COMPETITION
I Mås Metgot Athlete Spotlight: April Flores
2022 GSPN I MÅS METGOT COMPETITION
I Mås Metgot Athlete Spotlight: April Flores
QUICK HITS
Guam boys Kekoa Toves and Matias Calvo went head-to-head on the rugby pitch as American International College took on Dartmouth College, both top-ranked men's rugby programs in the country.
Calvo (FD) is the captain of Dartmouth and scored, but Toves (Sanchez) and his AIC squad came away with the win in Springfield, Mass.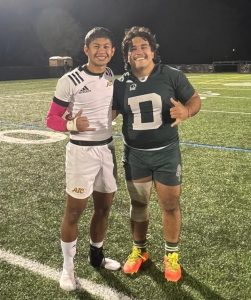 ———————————————–
1LT Belizabeth Nicole V. Rengiil is known to be the first female from Guam and Palau to make the All-Army Women's Rugby Team. She is an active duty Signal Officer with the US Army and is stationed at Joint Base Lewis-McChord in Washington.
Her team won the Armed Forces Women's Rugby Championship with a 4-0 record.
Belizabeth is the daughter of Edwin and Juliana Rengiil with siblings Johanna and Edwin-Isaiah Rengiil from Mangilao.