PRESS RELEASE – Saturday morning officially will be go-time for thousands of Guam's youth soccer players eager to play on the pitch with the start of the spring 2013 season of the Chevrolet Robbie Webber Youth League at the Guam Football Association National Training Center.
"Parents can expect controlled chaos this Saturday," said youth league administrator Robby De Guzman, speaking from experience. "This season, the games will definitely be longer, so for the kids, they can expect a lot more of the same fun they had last season.
"The Robbie Webber Youth League has always been a great place for friends to get together. I like seeing all the old friendships spark up and the kids start hanging out with their friends (from soccer) again for the next 10 weeks. There's always new friends made every season, too," added De Guzman, who had played in the Robbie Webber Youth League in the early 90s.
The format for the matches has slightly changed, with the U14 age group going back to an 11-a-side format. Additionally, the start of the U17 competition will be delayed pending the completion of construction on the upper field. The U17 teams will be among the first on island to play matches on GFA's newest turf pitch.
The official schedule, league rules, field layout, a soccer club contact listing, and other pertinent information about the league will be available for download on GuamFootball.com or from GFA's Facebook page, facebook.com/GuamFootball by Wednesday. A field map will be posted at GFA and game times will be announced through a PA system on Saturday, De Guzman said. Food and beverage concession stands will be on-site each Saturday during the league. The Guam U14 Boys National Team also will be selling drinks to help raise funds for the team's upcoming tournament in China in April.
As with previous seasons, all players must have a current GFA registration card in order to play in league matches. The registration fee for new and returning youth players is $40. Those who wish to play in both the adult and youth leagues and meet eligibility requirements to play in both must register for an adult player card with GFA. The fee to play in the men's and women's leagues is $60. For new players in particular, a birth certificate must be presented at the time of registration as proof of age.
The GFA office is open Monday to Friday from 10 a.m. to 6 p.m. and also on Saturdays from 8 a.m. to 5 p.m. during the youth league season. Although the main office will be open Saturday, parents are urged to register their children before then to avoid delays and also to ensure their children are able to play during their respective teams' scheduled game times.
Additionally, players must be wearing their team uniform, shin guards and soccer cleats in order to play.
"I'd also like to remind parents and players to apply sunblock throughout the day and to stay hydrated," De Guzman said.
New to this season will be the GFA Chevrolet Sonic Sweepstakes, a fundraising effort for GFA and the youth clubs. During the season, tickets will be sold for a chance to win a 2013 Chevrolet Sonic vehicle, as well as other prizes in a lucky draw scheduled on Jamboree day in April. Clubs will receive one-third of the funds raised through their respective ticket sales.
For information about the promotion or about the youth league, contact the GFA Main Office during office hours at 637-4321 or send an E-mail to [email protected]

QUICK HITS
Guam MTB National Championship: Edward Oingerang and Jennifer Camacho are your 2023 MTB national champions. Oingerang finished the course in 1:13:24 while Camacho won her second straight title in 54:08.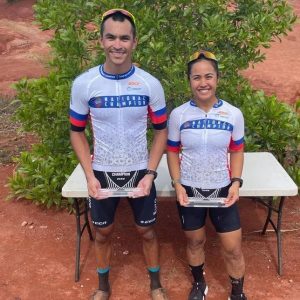 ——————————————
Kobe Miyashita, with St. John's coach Arvin Flores, was named the 2023 IIAAG Middle School Boys Volleyball MVP!