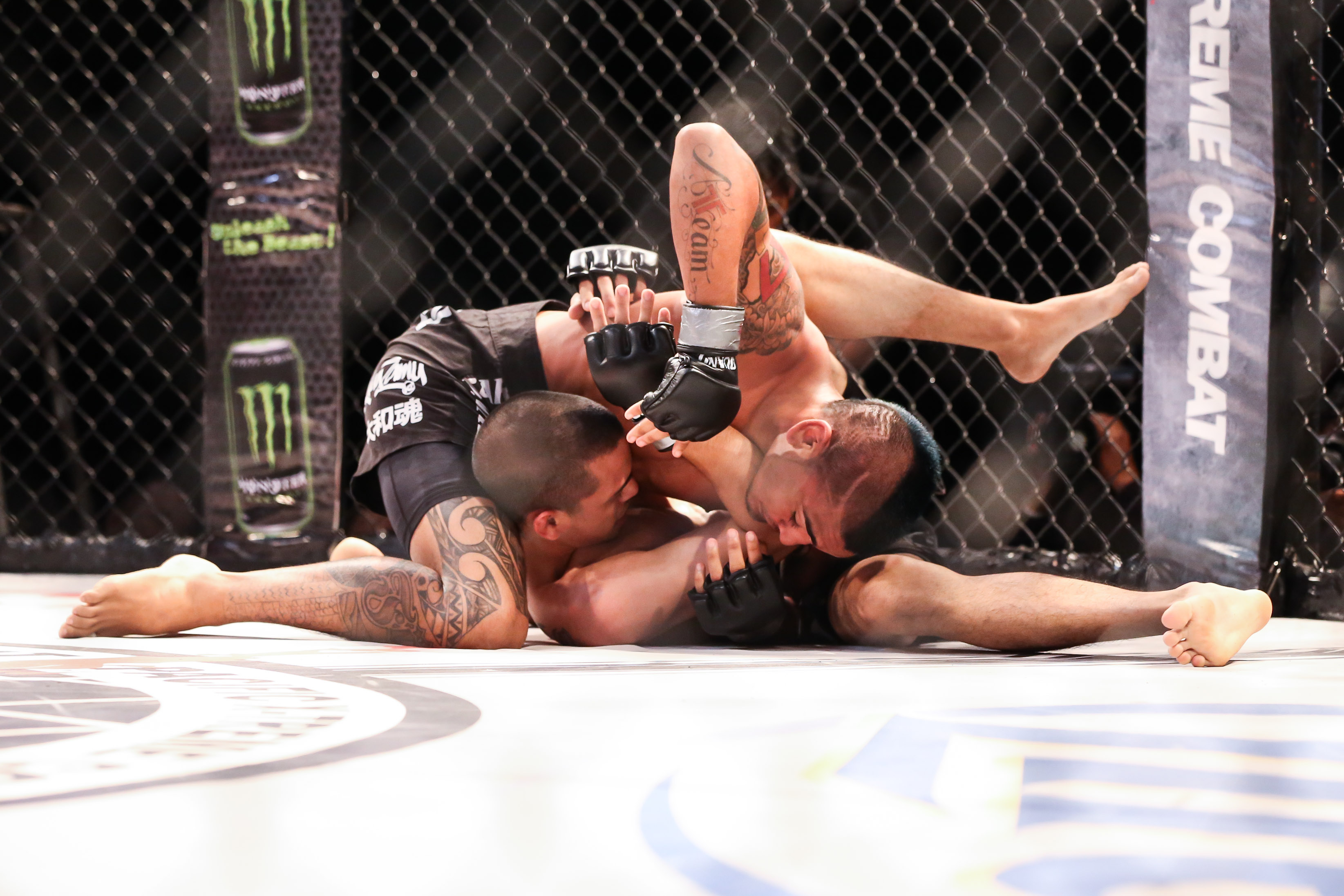 [useful_banner_manager_banner_rotation banners=49 interval=5 width=120 height=600 orderby=rand]
By Patrick Lujan
Shane 'Pikaboo' Alvarez is Saipan's young top gun with an impressive 3-0 start to his PXC career. Just turned 21 last month, Alvarez has gained the confidence of the PXC brass that they've set him up with a huge fight against former UFC fighter Darren Uyenoyama, who turns 35 this week.
Uyenoyama, who is making his PXC debut, is coming off a training camp with top UFC contender Chris Cariaso, who just lost in the championship fight against Demetrious Johnson in UFC 179.
GSPN caught up with Alvarez less that two weeks out from his big fight on Oct. 24.
1) Do you consider this fight your biggest one so far?
Alvarez: Yes this is the biggest fight of my career, he's a UFC veteran; this is the big league and this is where I wanna be.
2) You're taking on a UFC veteran and BJJ black belt. What did you think when the fight was first offered to you?
Alvarez: At first when I got the name Darren Uyenoyama (8-5) I searched him up and the first thing that popped up was UFC and that he's a black belt, I was like "dad (Cuki Alvarez), you sure this is the right guy? (laughing)," he responded, "That's the guy". I was in shock for a few seconds but then I saw and looked at the bigger picture. This is my chance to beat a guy that's been in the UFC and that would mean I belong there! This is what we do and we need to face the top guns. It'll only better my game overall and it will be a great experience for me and fight to have under my belt, it's a win-win situation.
3) Do you know much about his fighting style?
Alvarez: I know he's not only a black belt but a great one, so of course, that's his game but I know he is down for the stand and bang as well. I'm glad he is because that's my game and that's where I should be able to beat him.
4) What does it say about the confidence PXC has in you to take on a fighter like Darren?
Alvarez: PXC knows the Saipan boys got heart, so most of the time they give us the top guns right off the back, it's good to face tough opponents but it's not always smart. I had three good fights already so now I'm ready for a huge one and I know PXC believes I have what it takes so I'm glad they gave me this opportunity.
5) Fighters like Tuck, BJT and Frank the Crank have left the Marianas to take their game to the next level. You're still training in Saipan. You're pretty confident in your approach and satisfied with your camp there? Why?
Alvarez:  It's always best to go out and train with the real deal gyms, but honestly it's not always about who you train with but how you train! I know I'm a very hard worker and I worked very hard to get where I'm at. When I found out I was facing Darren though, I had to up the training level therefore, I came to train with Frank the Crank because he knows the fight game very well and he can show me all the things I need to know.
6) You walk around at around 155 lbs. Is the weight cut to 125 and diet affecting your training at all?
Alvarez: I'm getting really good at weight cutting actually this cut is going GREAT! I'm at 133 with two more weeks to go so I feel really good and still have a lot of energy, Of course, very hungry though… haha!
7) You have the whole CNMI and Guam and the Marianas on your side for this match up, does that put any added pressure on you or you think the pressure is on your opponent?
Alvarez: The more the fans and people believe in me the harder I will fight! Darren is OG and super tough so I know there's a lot of people who think he will beat me easily but I'm a hard person for anyone to fight and I will do my very best come fight night. I know Darren isn't nervous he is very experienced but I'm not nervous either, I'm ready for this.
8) If you beat Darren on Oct 24th, where do you think this places you in the PXC rankings?
Alvarez: If I beat Darren I believe I deserve a title fight, he is no joke and a win over him would be very impressive, I can almost guarantee a win over him would get me a shot at the flyweight title which is the main goal for my PXC career! It's not going to be easy, but I never liked the easy stuff.
9) Who is your favorite fighter? Favorite food? Techno music or Disco?
Alvarez: My very first favorite fighter was Vitor Belfort, he was amazing in his prime…he still is, but my favorite opponent now would be Demetrius Johnson the flyweight champ! He is very active and intense when he fights and that's the main goal in life to be like him, the UFC flyweight champion! My favorite food is everything and anything. I love eating but I'm good and disciplined when it comes to diet, and I like all kinds of music if the lyrics are good!
10) You're MMA record on Sherdog is 10-1. You are 3-0 in the PXC. Is your goal to make it to the UFC one day?
Alvarez: UFC is the main goal and the reason I fight, but not only do I wanna get there I want to become the champ! I will make it to the UFC and when I do I will be extremely proud of myself, so long as I get to fight in the big show and put the Marianas on the map for fighting then my life will be pretty much complete, but of course, I will do everything I can to be the best!
NOTES: Uyenoyama has fought in Deep, Shooto, Strikeforce and UFC…he handed Rambaa Somdet his first loss in 2002…he's no stranger to Guam, visiting and training BJJ at Universal Alliance; Alvarez's lone loss was to Robert Wusstig in 2011…his first eight fights were held in Saipan.

COMING SOON …
High School Football starts Sept. 29
Brawl 3: Oct 13
Guam's Strongest Man and Woman Competition October 29
QUICK HITS
The Figo Islanders 40s women's softball team took gold in the Senior Softball World Championship in Las Vegas. Figo came out of the loser's bracket and beat the Arizona Belles 17-3 in the AA division championship game Sunday afternoon.
Other Guam teams that played in the 40s tournament were: Team SOTTA (women's) and Bud Light Guam, Friars 671 and Sindalun Guahan (men's).
Sindalu finished a respectable 4th out of 24 AAA division teams.