By Robert Balajadia
It's playoff time in the Budweiser Baseball League and the top four teams are ready to swing into action as the opening round of the playoffs begin Friday May 23.
The undefeated AM Insurance Orioles (12-0) will take on the five-time defending champion Braves (6-6) while the Paradise Fitness Jr. Nationals (7-5) will meet the Bank of Guam A's (6-6), who just got in the playoffs by beating the Smokies in their final meeting of the season.
The opening round of the playoffs are scheduled for these dates.
Friday 5-23-14: Game 1 – O's vs Braves
Sunday 5-25-14: Game 1 – Jr Nationals vs BOG
Tuesday 5-27-14: Game 2 – Braves vs O's
Friday 5-30-14: Game 2 – BOG vs Jr Nationals
Sunday 6-1-14: Game 3 – O's vs Braves
Tuesday 6-3-14: Game 3 – Jr Nationals vs BOG
ORIOLES PUTTING UNBEATEN RECORD BEHIND
The five-time defending champion Braves will have to go through the best team in the league in the AM Insurance Orioles. A well put together defense with former pro JR Hattig at third base and standout Jathan Muna-Barnes rotating between second base and shortstop has the Orioles making all the clutch plays to close out their opponents.
"It's a new ball game and it all depends how you finish. These guys remember who the champs are. This is what it's about and what we've been working hard for. We expect nothing but the best from the Braves and we're going to give our 110% and I expect nothing but a great series. We're throwing out the 12-0 record," said manager Pat Leon Guerrero.
The Orioles are also strong at bat behind power houses Matt Muna, Hattig, Muna-Barnes, and JR Mariano, it could be a long night for any teams' opposing defense.
"We're all on the same page and we as a team sat down in a meeting at the beginning of the season to determine roles. We told these guys that come playoff time, just know you're role. That's one recipe outside of our good pitching core. It's hard with the adults to make practice because of work and other family duties but we've had really good turnouts at practice," added Leon Guerrero.
The pitching rotation of Freddy Cepeda, RJ Joe and Eric Cepeda could be the difference in the entire playoffs.
BRAVES IN UNFAMILIAR TERRITORY 
Will the streak end at five? After being the first ever to bring home five straight titles, the Braves find themselves in unfamiliar territory in being the underdogs to the league's top team. The Braves have owned the decade winning four titles in the 2000's before winning the last five so the confidence of the team is hard to shake.
"The guys have the confidence," said manager Derrick Santos. "When you talk to 5-time champs you get nothing but confidence. They will bring the fight and bring intensity. The Orioles know what to expect against us."
Leon Guerrero and the Orioles aren't taking the Braves lightly due to the Braves' championship pedigree.
The Braves finished the season with the most losses in the teams history. Although winning a sixth straight title is their ultimate goal, they seem hungrier than ever since the odds are not in their favor.
"I can say that these guys are eager right now because this is when their backs are pushed against the wall. This is the first time we ever lost six games in one season so they are trying to find themselves again. This is a very humbling experience I can tell from the weeks practice and the guys are putting in extra hours so you can see how bad they want this," said Santos.
The Braves get a steady flow of offense behind sluggers Jared Palomo, Rico Castro, and Carl Quintanilla, but the issue for the Braves might be having a healthy squad throughout the playoffs. Veterans Tony Yatar and Cliff Raphael will shoulder the pitching load with Glen Palomo on deck.
"We're not 100% but we're better than we were than at the beginning of the season," laughed Santos.
JUNIOR NATIONALS BACK ON TRACK
The young guns Junior Nationals started the season out going 5-1 but went 2-4 in the second half of the season. The sudden loss of games did not go unnoticed by manager Shon Muna, but he is ready for the clean start in the opening round of the playoffs.
"We're looking forward to the playoffs and I'm expecting better baseball from both us and the Bank. If we can just minimize on our errors then I feel we can overcome them," stated Muna.
Experience is what a lot of teams rely on in the playoffs and it's no secret the youngest team in the Jr. Nationals have the least amount of BBL playoff experience, but that won't be an excuse Muna or the boys will be using.
"Being that these guys are young I'm not worried about experience. I've always emphasized that fundamental baseball is most important," expressed Muna.
Being younger does have its advantages and the Jr. Nationals are ready to exploit that advantage.
"We rely on speed and in being young, we've got a lot of speed. We just have to settle down and play our game," ended Muna.
The Jr. Nationals will get behind the arms of Javen Delgado and Julian Flores while relying on top batters Pollycard Luther and Billy Quenga.
BOG A's EARN FINAL SPOT
The A's were in control of their own fate against the Smokey's and the hard earned win got them an opening round match against the always dangerous Jr. Nationals.
"We picked up momentum from that win over the Smokey's and winning three in a row does a lot for our momentum. Last year we peaked too early and it looks like we're peaking at the right time. We're in a good position playoff-wise. I'm hoping our experience will prevail and I think we have a little more experience than the Jr. Nationals," said team manager Todd Gillan.
The A's still have the reigning MVP in Mike Bautista, but the A's have gotten a big lift from many other players during the season namely pitchers Paul Pangelinan and Roke Alcantara.
"Where we are at now is because of a lot of other contributors. We've got two aces in Roke and Paul and we've got good performances from many other players people don't know about. In the end I think the biggest thing for us is finding the chemistry and we always knew our potential and we started gelling in the end," stated Gillan
Like all teams in the playoffs, the A's are expecting the Jr. Nationals to kick the level of competition up so the only thing they have drawn from playing them in the regular season are their tendencies.
"The caliber of plays is going to change and if we look back at anything then it's only going to be looking at tendencies. They are young players and we're expecting them to come out firing and we're looking at this as a new season. We're excited and our fans are excited," ended Gillan.

Athletes Birthdays by W5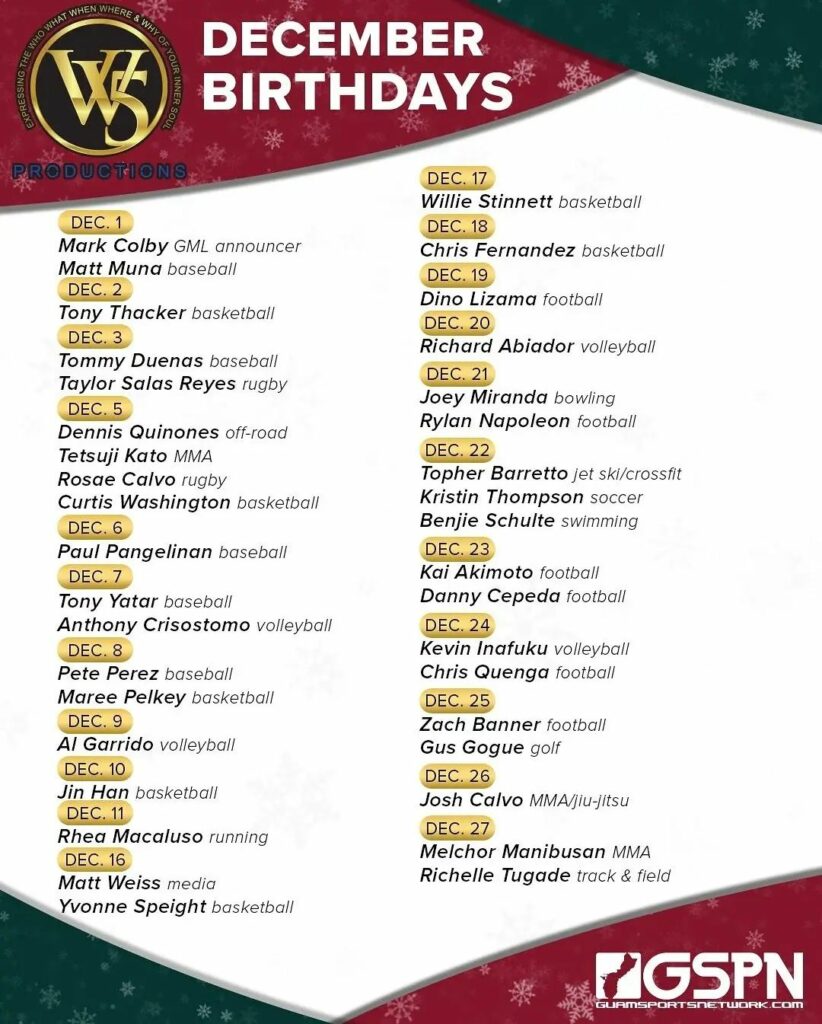 GPS Sports Calendar
SU

MO

TU

WE

TH

FR

SA
Events for December
5th
No Events
Events for December
6th
Events for December
7th
Events for December
8th
No Events
Events for December
9th
Events for December
10th
Events for December
11th
06:00 AM - 08:00 AM
Umatac
Events for December
12th
No Events
Events for December
13th
No Events
Events for December
14th
No Events
Events for December
15th
No Events
Events for December
16th
Events for December
17th
Events for December
18th
19

20

21

22

23

24

25
Events for December
19th
No Events
Events for December
20th
No Events
Events for December
21st
No Events
Events for December
22nd
No Events
Events for December
23rd
No Events
Events for December
24th
No Events
Events for December
25th
No Events
26

27

28

29

30

31

1
Events for December
26th
No Events
Events for December
27th
No Events
Events for December
28th
No Events
Events for December
29th
No Events
Events for December
30th
No Events
Events for December
31st
No Events
National Guard Athletes
Scott Eclavea
Scott Eclavea is a jiu-jitsu black belt and an accomplished MMA fighter. The Guard has given him an outlet in combatives to display his martial art skills, where he's become a head instructor for that program. Eclavea has served since coming out of high school and the Guard has only changed his life for the better.
COMING SOON …
LIVE FOOTBALL ON GSPN
Championship Game – FD vs Guam High @ 7 pm
GSPN Preseason Basketball Tournament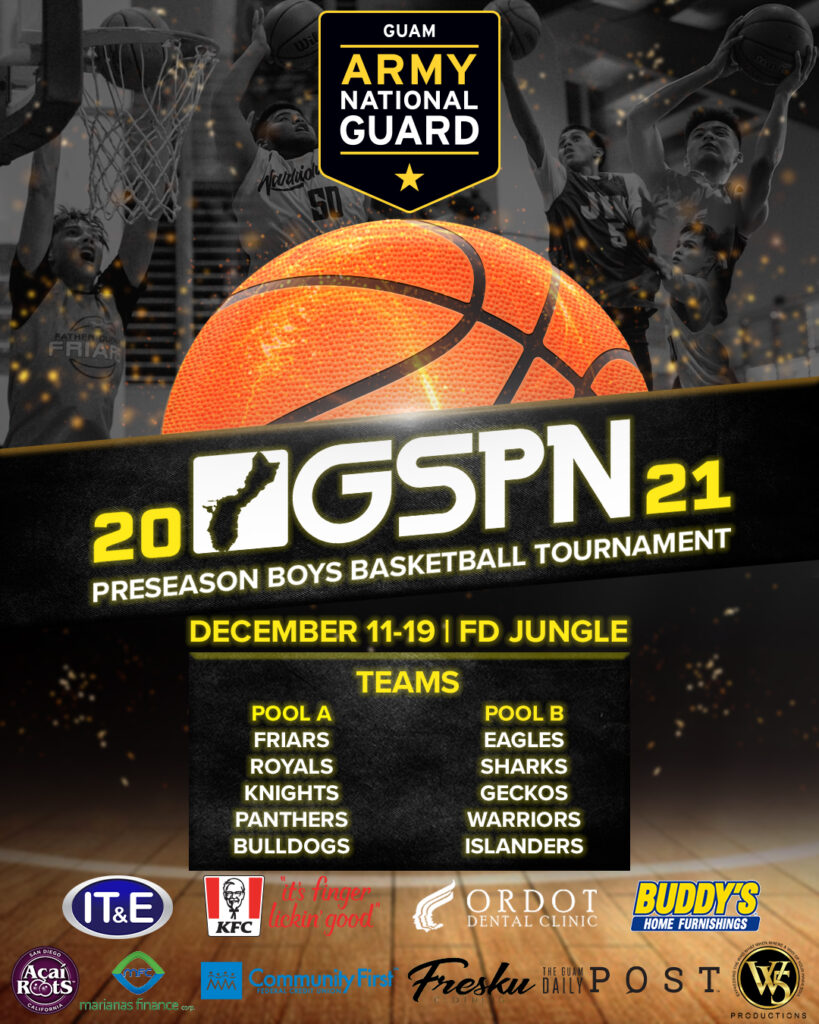 QUICK HITS
Robert Artero Maley recently captured the 182-lb. division of the Costa Mesa Classic, winning via pin in 4 out of 5 matches. Robert is a 4-year varsity wrestler at San Clemente HS (Tritons) and is currently ranked 15th in California's high school scene. He is the son of Jacque Artero Maley (AOLG 1991).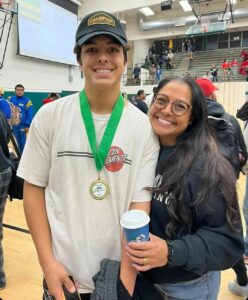 ——————————————–
Pat Taitano and Rich Abiador, teammates on the 1995 SPG volleyball team, have led their high school girls volleyball teams to the Washington State Championships in Yakima, Wa.
Taitano coaches Mt. Rainier High while Abiador leads North Creek High.
There for support is Dr. Mark Perez, a health professor at Central Washington University and a former UOG volleyball player.