PRESS RELEASE – The organizers of the Guam Cal Ripken Baseball League, a division of Babe Ruth Baseball Program are pleased to announce its season opening with a ceremony and parade of teams starting at 10:00am, Saturday, March 8, 2014 at the Paseo Baseball Stadium in Hagatna, Guam. The organizers of the league coordinate five (5) divisions of youth baseball players ranging from 4 – 15 years of age.
Teams that advance to local play-offs will have the opportunity to represent Guam Cal Ripken Rookie League in the Pacific Southwest Regional Tournament held every summer off-island.
The Guam Cal Ripken/Babe Ruth program promotes the use of regulation competitive baseball, teaches skills, mental and physical development, a respect for the rules of the game, and basic ideals of sportsmanship and fair play. In all aspects, the program is committed to providing participants the very best educational, sports experience possible.  It is our fundamental belief that every child with a desire to play baseball be afforded that opportunity.
Jr Rookie League (4 – 6 years old = 12 teams)
Cobras Black
Cobras Grey
Sumay Braves
Barrigada Dodgers
Northern Yankees
Yona RedHawks
Talofofo Rangers
Agana Heights Blues
Mangilao Tigers
Mangilao Red Sox
Mangilao Cubs
Tatuha Twins
Rookie League (7 – 9 years old = 14)
Cobras #1
Cobras #2
Rangers #1
Northern Sons Bears
Stars
Northern Yankees
Mangilao Red Sox
Yona RedHawks
Barrigada Dodgers
Talofofo Rangers
Mangilao Tigers
Agana Heights Blues
Agana Heights Heart Breakers
Tatuha Twins
Cal Ripken Minor League (9 – 10 years old = 7 teams)
Yona RedHawks
Mangilao Cubs #1
Mangilao Tigers
Cobras
Barrigada Dodgers
Sumay Braves
Talofofo Rangers
Major League (11 – 12 years old = 10 teams)
Sumay Braves
Sinajana Giants
Jaguars
Tatuha Twins
Rangers A
Cobras
Mangilao Cubs
Yona RedHawks
Agana Heights Blues
Halu'u
Major League (13 – 15 years old = 10 teams)
Yigo Nationals
Sumay Braves
Sinajana Giants 1
Crusaders
Sinajana
AXE Stars
Northern Mariners
Sinajana Giants – 2
Cobras
Halu'u

National Guard Athletes
Scott Eclavea
Scott Eclavea is a jiu-jitsu black belt and an accomplished MMA fighter. The Guard has given him an outlet in combatives to display his martial art skills, where he's become a head instructor for that program. Eclavea has served since coming out of high school and the Guard has only changed his life for the better.
COMING SOON …
LIVE FOOTBALL ON GSPN
FD vs. JFK (Saturday 7 pm)
GSPN Preseason Basketball Tournament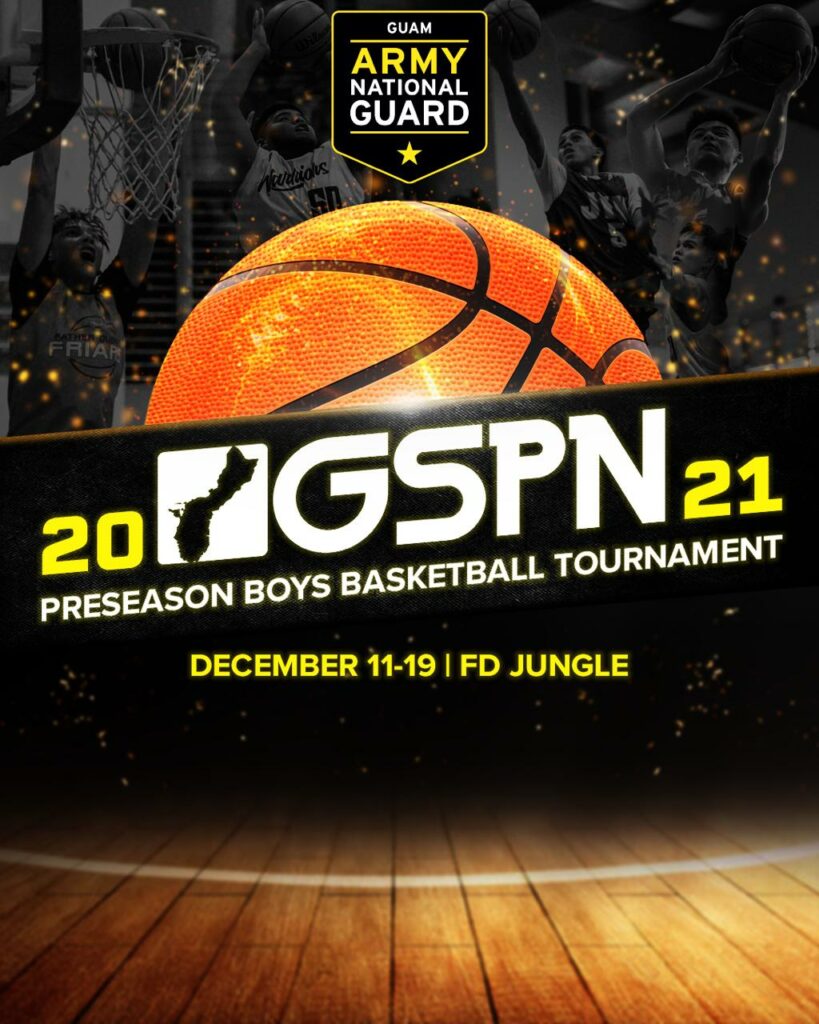 QUICK HITS
Pat Taitano and Rich Abiador, teammates on the 1995 SPG volleyball team, have led their high school girls volleyball teams to the Washington State Championships in Yakima, Wa.
Taitano coaches Mt. Rainier High while Abiador leads North Creek High.
There for support is Dr. Mark Perez, a health professor at Central Washington University and a former UOG volleyball player.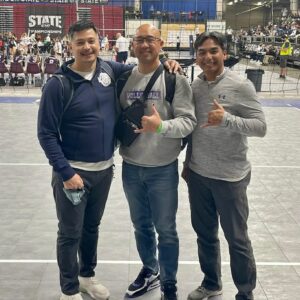 ——————————————–
Guam has recently lost two former star athletes.
– former national volleyball player Larry Gamboa
– former GW Geckos running back Joe 'Pit Bull' Leon Guerrero
May they both rest in peace.