[useful_banner_manager_banner_rotation banners=55 interval=5 width=200 height=200 orderby=rand]
By Robert Balajadia
The Southern Dolphins are headed back to the girls basketball championship with a chance to defend their title after guard April "Speedy" Talledo poured in a 29-point performance in front of her home crowd Tuesday night.
Southern overcame a shaky first half, where they trailed 28-20, to defeat the JFK Islanders 55-48 in the girls basketball semifinals.
The Dolphins took control immediately in the 3rd period, using a 12-2 run to take a definitive lead. The pace for Southern didn't slow down in the 4th quarter as they outscored JFK 15-11 to give them a 35-20 edge in the second half alone.
"We just started to play harder defense on the inside and a lot of JFK's points came in from there, so we had to work to shutdown their bigs inside," said Talledo, All-Island 1st team guard. "We just kept running our offensive plays correctly and fell back on our defense."
Aiding in the 12-2 run was All-Island 2nd team center Marlisah Tenorio, who scored the team's first two buckets. Talledo used an and-one play to get within one, but it was teammate Kim Malalis who gave the Dolphins the lead. Malalis hit two shots, one to tie and another to take a 32-30 lead, the Dolphins first of the half.
The Islanders managed to get inside the two-shot bonus at the beginning of the 4th quarter so every foul the Dolphins committed would end up in free throws for JFK. Though, the Islanders had difficulty converting from the stripe going 7-14 in the final period.
Dolphins Nadine Calceta capped off a 9-2 midway through the 4th quarter where the Dolphins would make a strong defensive stand to hold on for the win.
Leading 53-45 with under two minutes left, Talledo had misfired on a jump shot as Islanders Rufina Royster had corralled the rebound. Royster turned up the court with intentions to fire off a pass to her streaking teammates, but Talledo stripped Royster before the ball could touch the floor while spinning into a difficult reverse layup to go up 55-46.
JFK trailed 55-48 with nearly 30 seconds left to play when Talledo put on a show that exemplified her "Speedy" nickname. The entire Islanders squad was aiming to foul Talledo to stop the clock, but she weaved her way through the JFK traffic with crossovers and dribble hesitation moves that ignited the crowd.
"That's just how I play my game," said Talledo with a smile on her fancy footwork.
The Islanders closed the 2nd quarter on a 6-0 run to go up 28-20 with Talledo making up for 14 of the Dolphin points. JFK struggled offensively to open the second half only scoring nine points in the 3rd while Southern poured in 20.
Alison "E-Racer" Bowman led JFK with 14 points in the loss and teammate Royster had 13.
On To Okkodo
The Dolphins had not lost a game in exactly one year before losing to the Okkodo Bulldogs midway through the season. Southern has been to the finals before and know what type of game they need to play to win the season's most important contest. First order of business, neutralize the other team's best players.
"We need to shutout their star players. Their whole team is good, and we just have to play strong defense on them," said Talledo.
Other Score
PHOTO GALLERY:

Foody's 5 Fun Facts
Harvest Eagle Trinity Terlaje
DID U KNOW?
FD senior Matt Fegurgur first dunked a basketball in his freshman year when he was 6'4″. The now 6'9″ center looks to dominate high school hoops.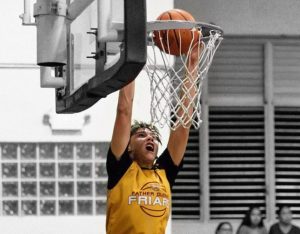 COMING SOON …
– FIBA Asia Cup: Guam vs. New Zealand, Feb 23
– Rizin 21: Aguon and Martinez
– Zach and Larry Return to Guam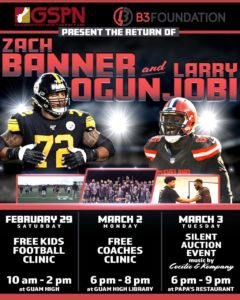 Brawl MMA March 13
QUICK HITS
190 runners took part in the 48th Hafa Marathon (half marathon).
Here are the top 5 finishers:
Ryan Matienzzo 1:13:17
Kris Lawrence 1:24:12
Taiga Sato 1:25:05
Chris Rasmussen 1:26:48
Carlos Leon Guerrero 1:28:46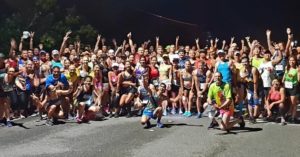 —————————————————-
Guam flags were waving in Clearwater, Florida in support of Bubba Nickles and Team USA in their Pre Olympics Softball Tour.