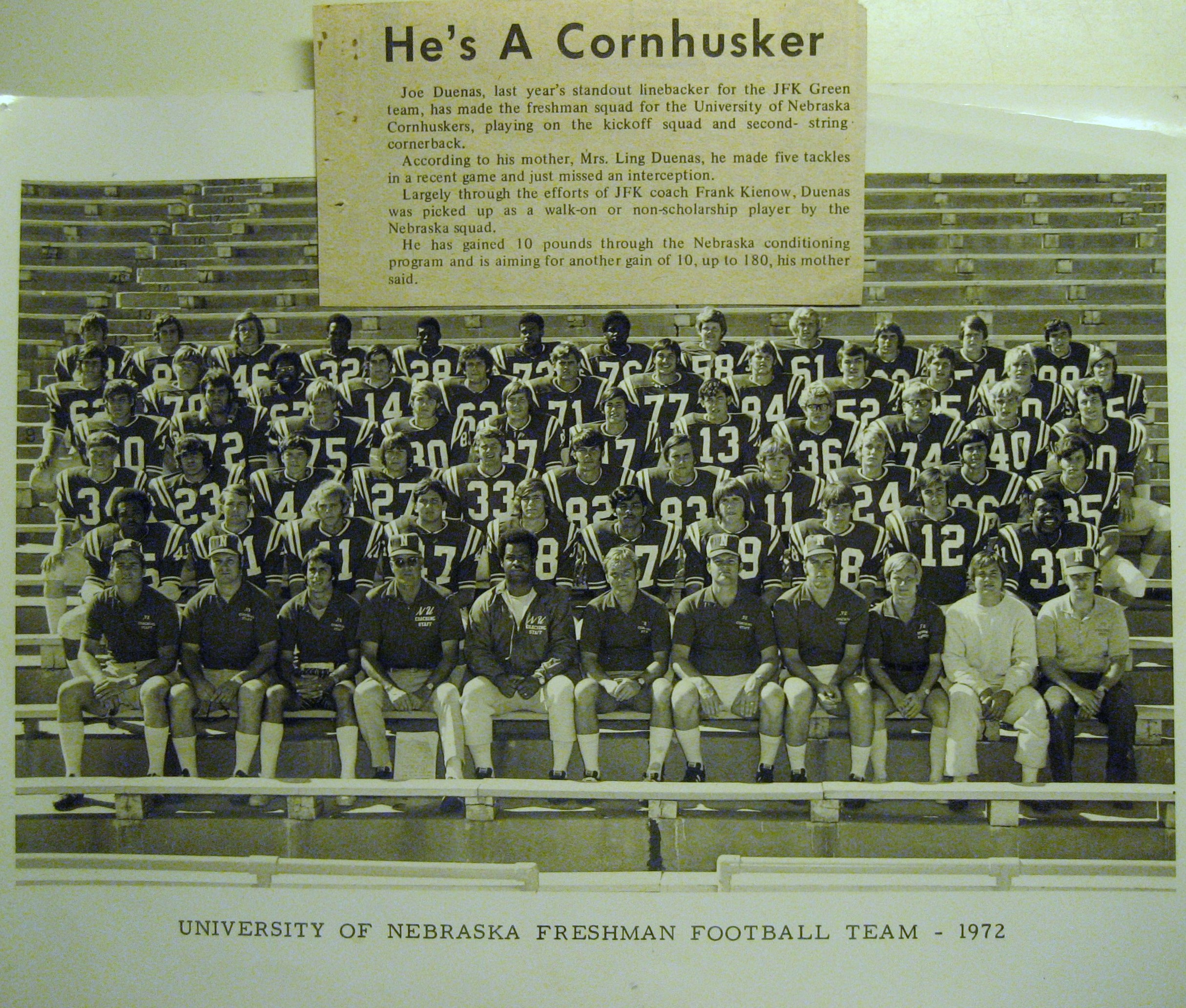 By Michael Cruz
Joe Duenas did not make the list of Guam's all-time great football players back in 2011 however, he does have the distinction of being Guam's first homegrown collegiate football player.
The 1970's was Guam's first decade of high school football and it produced many gridiron legends for the local league. Duenas had a relatively short football career, but he made it count.
He took some time out to discuss his unique experience playing football in Guam and Nebraska. I would like to thank Loring Cruz for enlightening me on what Joe accomplished, Desmond Mandell III for getting me in contact with his uncle Joe, and Joe Duenas for the interview.
Name: Joe Duenas
Age:  59
Village:  Dededo
High School:  JFK Class of '72
College:  University of Nebraska-Lincoln
Football Position:  Linebacker in high school; defensive cornerback in college
Occupation:  Medical Technologist/Clinical Laboratory Scientist by profession, currently Assistant Technical Director for Proficiency Testing Service
Favorite Chamorro Dish:  This is a tough one because I like all kinds of Chamorro food.  I like any kind of kadu and anything to do with fish caught off the Guam waters.
GSPN: When did you start playing football and what team?
JD:  I started playing organized football my junior year in high school and played for the JFK Islanders, but the school split into two teams my senior year to add more teams to the league.  I played for the Islanders Green team and the other team was the Islanders Gold.
Back then the military bases fielded their own high school football team from kids that lived on the military bases, but were going to the local high schools. That pitted the military kids against the local kids.  The military bases discontinued fielding their own teams my senior year, and that significantly reduced the number of teams available to foot a decent league. The high school teams then became comprised of military and local kids on the same team.  That was a good move because it gave us a chance to create better friendships with the military kids.
GSPN: How did you end up at the University of Nebraska and what was your experience playing with the Huskers?
JD:  My high school head coach, Frank Kienow, is a Nebraska native who coached Nebraska high school football prior to coming to Guam.  I owe him a lot for believing in me.  He felt I had the talent to play with the Huskers and lobbied the Husker coaches to accept me as a walk-on.  I had a great experience playing ball for the Huskers.
I played in the four freshman games (back then, the NCAA did not allow freshmen to play on varsity teams) on the kick off team and subbed as the left cornerback.  I started one game at the left cornerback position.  I had my share of big hits, but it took its toll on me because I was much smaller than the guys I was hitting.  I eventually quit the team (I was never cut) just before the spring game because my grades were suffering and I needed to focus on school to qualify for a full scholastic scholarship that I was in line for, and I eventually got.  I was not going to get an athletic scholarship from them.
GSPN: Were you aware that Guam High School senior Tegan Brown was accepted to Nebraska and will walk-on this Fall.
JD:  No, this is the first I've heard of this.  I wish him the best and hope he represents the island well.  What position does he play? (Brown was an All-Island HB and LB).
GSPN: What are you doing now these days and where are you residing?
JD:  I am living in Katy, TX with my wife of 37 years and counting, Marsha (Mace) who was a former JFK cheerleader for the JFK Islanders Gold team.  I have four children and four grandchildren.  I work for a medical laboratory service company in Houston.  I took up long distance running again several years ago and do that to stay in shape and keep healthy.
GSPN: Guam is still a football unknown off island to the general public. What can Guamanians do to let the mainland know about our passion and skill for football?
JD:  The toughest obstacle for Guam is the distance from the mainland US and its remote location in the Pacific.  It is costly for college teams to scout the island high schools and the talent pool is relatively small.  But I know we have many athletes currently and in the past that could make it if given a chance.  All it takes is one player to draw attention to Guam Athletics.  To paraphrase a saying, "If you show them, they will come."  The Samoans have done a great job at showcasing their talents and skills.  We need something like that to start the wildfire.
GSPN: We have yet to have a breakthrough Chamorro or Guamanian player at the professional level. Currently, our best hope is Zach Banner (part Chamorro) current USC Offensive Tackle. Do you think he is the athlete that can put Guam on the professional football map?
JD:  I hope so. I really have no knowledge of the kid, but playing tackle for USC means he's a big dude (Banner is 6'9, 345 lbs).  Did he play high school football on Guam, or stateside? (Banner played high school ball in Tacoma, Washington). You know, one possible way for Chamorros to be recognized is for some talented kids to play high school football stateside and bring attention to the island when they are being recruited.
GSPN: What has football taught you with life? Any advice for the Guam youth?
JD:  There were so many life lessons that I learned from football.
Hard work pays off, laziness doesn't.
Teamwork requires give and take, but mostly give.
Respect for authority and your peers.
You learn a lot when you win, but even more when you lose.
As for the Guam youth, I would say never forget your roots, but do not let that become a reason for not reaching for the stars.  You can do both.  Believe in yourself, your talent and your abilities and don't let anyone tell you that you can't make it from a small island in the Pacific.
Writer's notes: Joe Duenas was on the 1972 Nebraska freshman team that had 56 players (in the team photo). Nebraska recruited 38 players on football scholarship that were freshman in 1972. Joe had to of been one of at least 18 players who made the cut as a walk-on. Only 22 of the 38 recruits received varsity letters, 3 became all-america, 5 all-conference, and only 1 walk-on became all-conference.
http://www.huskermax.com/recruits/1972.html

COMING SOON …
High school girls volleyball playoffs
Brawl 3: Oct 13
Guam's Strongest Man and Woman Competition October 29
QUICK HITS
The Figo Islanders 40s women's softball team took gold in the Senior Softball World Championship in Las Vegas. Figo came out of the loser's bracket and beat the Arizona Belles 17-3 in the AA division championship game Sunday afternoon.
Other Guam teams that played in the 40s tournament were: Team SOTTA (women's) and Bud Light Guam, Friars 671 and Sindalun Guahan (men's).
Sindalu finished a respectable 4th out of 24 AAA division teams.