By Patrick Lujan
Taking a chapter out of the Guam Soccer master plan, the Guam Men's National Basketball Team has just added former Missouri Tigers shooting guard Earnest Ross as an eligible player under FIBA rules.
How is this possible?
Ross was born on Guam on January 27, 1991.
Under FIBA rules, he is eligible to play on the Guam team.
Head coach E.J. Calvo said it was Ross' agent who reached out to the national program to see the possibilities of the 6'5″, 231-lb. playing where he was born. Ross recently signed with the Perth Wildcats in Australia's National Basketball League.
This is the latest in the men's basketball program's efforts to reach new heights. Former Guam resident Mekeli Wesley already dawned the Guam uniform last year and his younger brother Tai Wesley, who also plays pro ball in Australia, is also officially eligible to play for Guam and has shown great interest in joining the team when his pro career permits.
"That makes two active professionals and one retired," Calvo said. "This may open more opportunities for Guam players to tryout for pro teams as we develop.
"We also have  four current college players with Michael Sakazaki, Kyle Husslein, Daniel del Carmen, and possibly Morgan Aiken & new recruit, Jonathan Galloway….Ben Borja in two years! Incredible how things have changed," said the excited coach.
He also mentioned three young prospects that he's eyeing: recent graduates Jeddou Antonio, Kurtis Silva and Christian Chang.
Things are certainly going in the right direction for our men's national basketball team and will allow veteran Jin Han to gracefully retire into the sunset.

2022 GSPN I MÅS METGOT COMPETITION
2022 GSPN I Mås Metgot Competition Recap
2022 GSPN I MÅS METGOT COMPETITION
2022 GSPN I Mås Metgot Competition Recap
2022 GSPN I MÅS METGOT COMPETITION
2022 GSPN I Mås Metgot Competition Recap
COMING SOON …
Sat: Origin Power Lifting Meet 
ISA Girls Volleyball/Boys Soccer Finals
QUICK HITS
Guam runners complete London Marathon. Former Guam top runners Charlie Epperson and Aysha Perez Epperson along with Cameron ONeal completed the 42nd London Marathon.
Charlie 2:47:56
Cameron 2:59:49
Aysha 3:51:04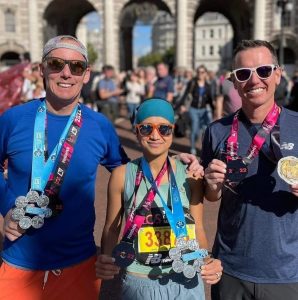 ———————————————–
Trevin Jones drops a unanimous decision 30-25, 30-27, 30-27 to Raoni Barcelos in UFC Fight Night 211 in Las Vegas.