By Robert Balajadia
The GW Geckos had just one thing on their mind all 2014 season long, which was to avenge their back-to-back championship losses in 2012 and 2013.
Going undefeated into playoffs gave the Geckos a lot of confidence, but their display of grit on both sides of the ball propelled them as the top dogs of 2014 as they blanked the FD Friars 12-0 in the championship Saturday night at the packed Gecko field in Mangilao.
For GW, the undefeated season only proved to them what they still needed to prove to everyone else, which was that they are the best team in 2014. Now, the Geckos couldn't have asked for a more perfect ending.
"The toughest part of this season was keeping the players mind level with all the school work, practice, and outside activity because they would think this is a 'gimme.' When you're winning, it's really hard to maintain this level of play as to where you're losing, you would have everything to gain," said Geckos head coach Rios about 2014's biggest struggle just moments before getting an ice bath from his players.
"I don't know how to explain how it feels, but it sure does feel good to come out a champion. I got tired of losing," said defensive MVP and GW defenses leader Kelvin Hocog who finished with 14 total tackles.
The Geckos had a much tougher time against the Friars in the finals than in their regular season meeting, as they expected, but their top ranked defense proved everything Saturday as the shutout was well orchestrated by a band of stingy Geckos.
GW got their biggest play on defense early in the third quarter while up 6-0. FD came out of the half charging down the field after Friars quarterback Jujuan King hit receiver Leon Shimizu for a 46-yard catch and run to get FD in the red zone.
The Friars then ran their way to the six yard line, knocking on the door for a game-tying and possible lead changing score with a full set of downs to work with. FD then tried to catch the Geckos off guard with a pass that Geckos defensive back Raymond Macias read all the way.
Macias cut off the pass intended for Shimizu on the fade route on the goal line where he then brought the ball to the 30-yard line sucking the life out of the Friar crowd and shifting momentum entirely back to the Geckos.
"Their quarterback kept looking to that one receiver," said Macias prior to the snap. "I already knew where the ball was going so I just made my cut after the throw. It feels really good and I can't truly explain how it feels right now. We never give up and we fight to the end," said Macias.
The Friar defense responded by getting the Geckos into a 4th and 4 near midfield hoping to get the ball back to their offense to get back into the game. Instead of punting, GW instead ran a direct snap to Hocog who ran right up the middle for 12 yards and a first down.
GW's offensive MVP Hank Sablan then took over by breaking loose for a 15-yard run to get to the Friars 30-yard line to give the Geckos a big 3rd down conversion. Sablan then followed up the big gain a play later with a 27-yard back breaking touchdown run up the left side of the field, juking two Friar defenders in the process to put the Geckos up 12-0 after a failed PAT.
Sablan finished with 114 yards on the ground off 17 carries.
"I was just trying to make up for all my mistakes I have made this past season. I've been here twice before and we lost it, and I couldn't lose it a third time. I gave today more than I have ever before and I feel good about myself and without my linemen I wouldn't have been able to do what I did. It's a brother hood thing out there and I love it," admitted Sablan on his big play. "
FD tried to corral a comeback in the 4th quarter, but a stout GW front seven prevented the dangerous Friars running backs from making a factor late in the game.
GW has always considered themselves a fourth quarter team by getting clutch points when they needed. This time, they knew that the game was in their hands and they needed to play mistake free football for the duration of the period and Rios called upon one of his most trusted players to get the job done.
"I told Hank, 'boy, you're going to run hard for us,' and in that fourth quarter that's exactly what he did," said Rios.
"I had to respond to that, he's like a father to me and I owed it to him," stated Sablan.
Defensive First Half 
Both teams opened up the first quarter with strong defensive outings with neither team able to get past midfield without punting the ball away.
The Friars were then hit with a costly penalty on special teams towards the end of the quarter as Noah Argallon got tagged for a roughing the kicker penalty, appearing to knock down the Geckos punter which garnered a 15-yard penalty to give GW great field position from 33 yards out.
Gecko quarterback Brendan Santos then hit Sablan for a 19-yard gain to end the quarter putting GW inside the red zone for the first time.
Santos wasted no time as the second quarter began by hitting receiver Adrian Cruz on a fade route to the outside for a 4-yard touchdown. Cruz got past the entire Friar secondary on the route as Santos put the ball in a spot where only Cruz could make a play on it, also getting both feet inbounds.
The Geckos didn't allow the Friars to get past their 35-yard line for the entire second quarter.
The Friars appeared to find their offense coming out of the break, but the Gecko defense never lost faith that their defense would break despite FD knocking on the door for the possible score in the third.
"My defense doesn't break under pressure," said Hocog. "No matter how close the other team gets, we're going to bust out [butts] until we stop them."
"I tell my guys that we don't give up touchdowns. From outside the 20 to 20 it's give or take, but inside the 20 we don't give up anything," said Rios of his defense.
The Geckos now own seven of the last 15 titles with FD owning three. Six of the seven titles have come from wins over the Friars in the finals with the 2007/08 and 2001/02 Friars the only FD team able to beat the Geckos in the finals for the past 15 years as GW holds a 6-2 finals record over FD.
Geckos Brendan Santos went 4-10 for 47 yards and one score.
Friars running back De'Aundre Cruz had 14 carries for 69 yards while King went 6-17 for 108 net yards. Leon Shimizu led the Friars in receiving yards hauling in three catches for 64 yards.
The Friars defense was plenty busy with Frankie Tenorio and Reynold Rokop leading the team with seven tackles each with Joaqin Mesa and Jean-Pierre Aflague collecting five each.
PHOTO GALLERY BROUGHT TO YOU BY:

Foody's Fun Facts
Foody's Fun Facts with Makayla Atoigue
ND Royals Rugby Player Makayla Atoigue lays down her Foody's Fun Facts and shares her dream vacation spot
Foody's Fun Facts
Foody's Fun Facts with Makayla Atoigue
ND Royals Rugby Player Makayla Atoigue lays down her Foody's Fun Facts and shares her dream vacation spot
Foody's Fun Facts
Foody's Fun Facts with Makayla Atoigue
ND Royals Rugby Player Makayla Atoigue lays down her Foody's Fun Facts and shares her dream vacation spot
COMING SOON …
Asia Pacific Little League
National Triathlon Championships
GML Makeup Games
FD Alumni Basketball Tournament (ongoing)
QUICK HITS
UOG hired Tatiana Sablan as the new volleyball coach. Sablan served as the original volleyball coach for UOG back in 2016 and she has been rehired to lead the more "beach" oriented program in 2022-23.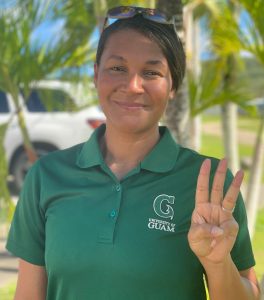 ———————————————–
Palau history: Outfielder Bligh Madris was called up by the Pittsburgh Pirates today to become the first Palauan to make it to the major leagues. The lefty Madris was batting .304 with five home runs and 20 RBI at Triple A before getting the Call Up!