By Robert Balajadia
The girls are at it again!
The 2014 girls basketball regular season is in its final week of play and this season, like the last, has been taken over by a very talented group of young female basketball stars. The top three seniors of the 2014 class have played extremely well and has given their schools the top three spots in the standings.
The top three juniors have also elevated their game from their impressive sophomore campaign, leaving a lot to be excited for come their senior year.
SENIOR STARS
Felicia "Fearless" Borja – Okkodo Bulldogs (8-1)
Borja has had an MVP-type season and could be well on her way to receiving the award. Her scoring performances against the Southern Dolphins (33 points), ND Royals (35 points), and comeback win over the JFK Islanders proved that she has primetime ability, meaning that she doesn't shy away in big games.
Borja has had the sweet touch from downtown this season becoming the league's most lethal lady from behind the line. Her game has always been built around her ability to get to the rim, but Borja has flourished as the teams main facilitator while also knowing when to assert herself when her team needs points.
In her final year, Borja has led the Bulldogs to their best record ever in girls basketball, though she will be first to credit her teammates and their chemistry together, namely her partner in crime Keann Castro. Okkodo lost its season opener against the Cougars, though they haven't looked back since.
April "Speedy" Talledo – Southern Dolphins (8-1)
The defending champion Dolphins have not shown many weaknesses this season and Talledo does a great job at covering for any mistakes. The senior guard is the fastest player in the league and no one gets to the rim quicker.
Talledo has played big in every game for Southern and is right up there as a heavy favorite in the MVP conversation. Talledo is among the league's best at filling up the stat sheet, but the box score doesn't show how hard she works for baskets.
April is good to shoot the ball from any range and at any angle. Despite being double teamed or up against taller defenders, Talledo still manages to get off jumpers and layups that are just as effective and efficient as if she were open. Her speed alone makes her almost an impossible cover, but her shot creating ability is of the best in the league.
The Dolphins had one slip-up this season against the Bulldogs where they fell 29-0 in the first quarter without Talledo on the court. She still managed to put in 22 points through three quarters and almost made a game out of the initial blowout.
Alison "E-Racer" Bowman – JFK Islanders (8-2)
Bowman is one of the league's taller basketball players and her height alone is very intimidating to girls attempting to get a shot over her. Bowman has great athletic ability  and her rare combination of speed and height allows her to disrupt the game on both offense and defense, like finishing fast break layups after blocking shots and grabbing rebounds.
The Islanders have a dominant and suffocating defense and Bowman is standing at the center of it all. With dominating defensive performances against the Academy Cougars and St. Paul Warriors, the Islanders are proving to be a difficult matchup for anyone in the league. They fell to the Bulldogs and Dolphins, though their defense gave them great chances to win.
Bowman's chemistry with teammate Rufina Royster has made the Islanders the most dangerous pick-and-roll squad in the league getting easy scores, or at least free throw attempts nearly after every play. Although, the only chink in Bowman's armor is her free throw shooting. If she can find success at the line, the Islanders are a favorite to win every time.
JUNIOR STARS
Destiny "Queen-B" Castro – ND Royals (6-3)
Castro started out her junior campaign scoring 36 points against the St. Paul Warriors. She then proceeded to hit the 30-point mark over four times in the Royals now (6-3) record. Castro can fill up the scoreboard, but the newest edition to her game is being a lockdown defender.
Royals head coach Dom Sablan has entrusted Castro to be as much of a defensive leader as an offensive one and Castro has risen to the challenge. A season ago, Castro and fellow junior Joy Pangilinan went for 30+ points as sophomores. In their second meeting, Castro exploded for 36 and held the dangerous Pangilinan to just 20.
Destiny has dialed down her long distance shooting and has played to her strength in creating her own shot, whether it be off a screen or a crafty unblockable floater. Castro excels at getting to the rim and the free throw line where she is money more often than not. The Royals have fallen to the league's top three teams, but Castro put them in positions to win each time.
Her junior campaign has been fun to watch as the Royals rely on her often, but she has more than enough confidence in her teammates too. Castro is not a selfish player as she often tries to get her teammates into games, but she admitted the confidence level for her squad is not "there" yet, but they will be working just fine when it does settle in.
Castro is currently in Fiji representing Guam as part of the U19 girls basketball team.
Kali "Special K" Benavente  – AOLG Cougars (6-3)
Benavente is a rare talent who is able to make her team better by just being on the court. She is as unselfish as they come and gets into better groves when her teammates are heavily involved in the game. Kali has the ability to score almost at will, but she is more comfortable getting her girls great looks before trying to takeover and score.
An injury against the JFK Islanders sidelined Benavente for the remainder of the girls season as she, too, is in Fiji for the U19 tournament. She did not play in their first game against Papua New Guinea.
Despite the winning record, the Academy Cougars find themselves with an unfamiliar loss record by tallying three losses in the regular season. Benavente was greatly missed against the Royals and Dolphins where the Cougars struggled offensively. It's never fair to credit one person for making up an entire team, but the Cougars look like a completely different team without Kali on the court.
If Benavente will be ready to go come playoff time you've got to like the Cougars chances. If not, Academy will be ready as a team to elevate their play. Head coach Eddie Pelkey won't be looking for excuses, and these girls will play like they've got none either.
Joy "Nova" Pangilinan – St. Paul Warriors (3-6)
The Warriors find themselves on the wrong side of a losing record, but Pangilinan has still put together a handful of great performances hitting the 20-point mark on multiple occasions. The Warriors gave the Dolphins a good run where Joy scored 29 points and nearly toppled the Royals in the final quarter where scored 20.
Pangilinan has been recognized as one of the league's most dangerous scorers so teams have put forth their best defensive efforts against her. It's rare to see Pangilinan have any breathing space as teams usually opt to have a defender stick to her hip every second of the game. It's safe to assume that each point Pangilinan has scored this season is over a defender.
Joy took a nasty spill against the JFK Islanders that prevented her from returning to action. The crowd was electrified by the play of point guard Chloe Miranda, but the team still struggled offensively without Pangilinan on the court. Pangilinan is accustomed to taking hard hits as she is often on the bad end of contact, hitting the deck harder than most.
If the opposing team can shut down Pangilinan then they have a great chance at defeating the Warriors. A healthy Joy will be a definite must if the Warriors have long-term playoff goals as the season ends this week.

QUICK HITS
3rd place: Big ups to the Para Todu Rugby Club for finishing 3rd out of 16 teams in the Manila 10's Rugby Tournament today. Biba Guam Rugby!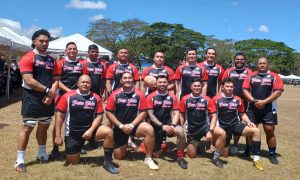 ——————————————
Guam MTB National Championship: Edward Oingerang and Jennifer Camacho are your 2023 MTB national champions. Oingerang finished the course in 1:13:24 while Camacho won her second straight title in 54:08.