By Robert Balajadia
The JFK Islanders girls basketball team proved Tuesday night just how dangerous their defense can be after shutting down the Academy Cougars 42-22 at the Islander gym.
The Islanders were efficient off the pick-and-roll and prevented Cougar guard Kali "Special K" Benavente from getting her teammates involved, which hurt the Cougars' offensive rhythm.
"We had to cut off Kali's inside passes. When she didn't have the inside pass, the outside was open and we forced them to make outside shots," said Royster on the Islanders defensive scheme.
Academy lost the game, though their biggest loss came in the final three minutes of the 4th quarter down 36-18 as Benavente came down hard on her already injured foot. Benavente had to be carried off the court, eventually being carried out of the gym as she explained to the attending staff that she couldn't walk off on her own power.
The Islanders forced plenty Cougar turnovers from tip-off and their tone-setting first quarter played heavy through the course of the game.
Islanders Anita Onedera finished off a dish from Royster to go up 9-7 and JFK never looked back. Royster then assisted on three straight possessions to Regine Tugade and center Alison Bowman via pick-and-roll to go up 13-7 after one.
Bowman was in foul trouble and had to sit out majority of the 2nd and 3rd quarter, but her impact on defense forced a bunch of Cougars to second guess challenging her at the rim due to Bowman's ability to block shots.
"I think [our height] does provide a little intimidation, but we are just going to play to our strengths. I'm more confident in my team than anything else, we have good players all around. I think we really used that today to our advantage and I just had to play my game," said Bowman.
Royster continued to hit Bowman and Tugade two more times with the pick-and-roll to get a 23-11 lead with time winding down the in the first half. Royster then nearly took the roof off of the building as she banked in a deep three-pointer at the halftime buzzer to put JFK up 26-11, getting the entire Islander fans on their feet.
"That shot actually boosted up our ability to play hard," said Royster on the deep bomb. "I saw that they were pressing on me so I looked to our inside which was open, and my team did a great job of cutting and getting open."
The defense continued to stay strong in the second half by keeping the Cougars scoreless in the first three minutes of the 3rd quarter. Benavente would eventually hit the team's first field goal in the quarter, though the Cougars still trailed 32-16 heading into the final period.
JFK only allowed six points in the 4th quarter to close out the Cougars to advance to 6-2 on the season. Academy drops to 5-1 with concerns over their leading lady Benavente and how much time she will miss.
When asked just how big of a win this was for the Islanders Bowman responded saying, "We've been after this since the beginning of the season, but it's just another game of basketball and we have more games ahead of us. We all just have to stay level headed and focused."
Other Scores
Okkodo 61, GW 41
St. Paul 32, Sanchez 9
Guam High 57, Tiyan 18
ND def. Harvest
PHOTO GALLERY:

Foody's 5 Fun Facts
Harvest Eagle Trinity Terlaje
DID U KNOW?
FD senior Matt Fegurgur first dunked a basketball in his freshman year when he was 6'4″. The now 6'9″ center looks to dominate high school hoops.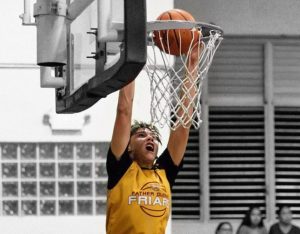 COMING SOON …
– Rizin 21: Aguon and Martinez
– FIBA Asia Cup: Guam vs. New Zealand, Feb 23
– Zach and Larry Return to Guam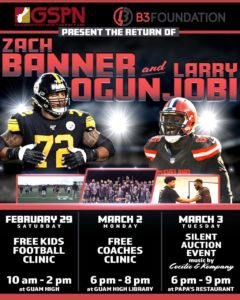 Brawl MMA March 13
QUICK HITS
190 runners took part in the 48th Hafa Marathon (half marathon).
Here are the top 5 finishers:
Ryan Matienzzo 1:13:17
Kris Lawrence 1:24:12
Taiga Sato 1:25:05
Chris Rasmussen 1:26:48
Carlos Leon Guerrero 1:28:46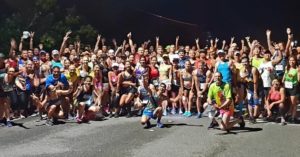 —————————————————-
Guam flags were waving in Clearwater, Florida in support of Bubba Nickles and Team USA in their Pre Olympics Softball Tour.