[useful_banner_manager_banner_rotation banners=49 interval=5 width=120 height=600 orderby=rand]
By Jesse Pinkston Santos
Nothing like starting the homecoming game with an 85-yard touchdown kickoff return by the Islanders' Ivan Quidachay. Although that was not the tempo the entire game, the JFK Islanders improved to 5-1, winning 14-6 in IIAAG football action over the winless Southern Dolphins Saturday night.
In this all-out defensive battle, the second score for the Islanders came in the third quarter as quarterback Quintin Iriarte gracefully handed the ball off to junior fullback Sage Garcia for a 3-yard touchdown run.
"We were having a good drive and my coach called [a play], it was wide open and I just ran into the end zone. A lot of credit to my line and team," stated Garcia.
The only score for the Dolphins came soon after JFK's second touchdown. It began on the 40-yard line with quarterback Keanu Diego completing a long, beautiful pass to Napu Topasna, putting them on JFK's 18-yard line. Tyler Topasna then powered down the left side of the field for the 18-yard touchdown run. Southern attempted a two-point try up the middle but failed to convert.
Once again the Islanders were plagued with penalty after penalty. Each team only had one first down the entire first half of play. Not to mention, in the opening seconds of the fourth quarter, a kickoff return touchdown by Leo Diaz was called back due to an illegal block. Also in the fourth quarter, players from JFK and Southern were ejected due to unsportsmanlike conduct.
Offensive coordinator Mike Pangelinan commented, "Every practice we instill mental training and a lot of times we don't do a lot of drills, we do more mental drills… get them frustrated. You can honestly try your best to prepare the team but what happens on the field we can't control. It always falls to the coaches' responsibilities. I think we just need to better prepare them."
First quarter action, Southern's Derin Duenas was charging up the middle, breaking tackles right up the middle when Islanders safety, senior Jaron Weibacher literally ran up and took the ball away from him, putting JFK back on Southern's 35-yard line.
"Coach always tells us if they are standing up, just run in there. Someone has to strip the ball. I saw [Duenas] holding the ball pretty loose so I went in and took it. Then I just ran. I tried to get a touchdown but I got tackled."
JFK failed to score after a big sack by Ryan Duenas, forcing them to punt. Late in the first quarter, Dolphin Dyllan Tenorio blocked a punt which gave Southern great field advantage however linebacker Garcia was right there, intercepted the ball on their 10-yard line and marched up the field for a 24-yard gain.
"Our coaches always force us that when we see a pass to make sure to drop back to your 45 degree angle and the ball was right there and I just ran. Once I got the interception I was just thinking about scoring a touchdown but of course that doesn't always happen. I tried my best to score," said Garcia.
Nearing the end of the game, Weibacher intercepted once again, this time at midfield and brought the ball down to Southern's 21. Weilbacher commented, "Coaches always tell me to get at the high point because they have pretty good verticals so I just saw it in the air and went up and got it. I tried to break one [tackle] to take it to the house but people kept missing their blocks but that's alright."
Although JFK got the ball back, it was short lived as Napu Topasna grabbed a beautiful spiraling ball from Iriarte. Southern moved the ball quickly down the field with under a minute to play but was not able to get in the endzone. Even though they remain winless, they are a hard-hitting, aggressive team who should not be taken for granted.
Coach Pangelinan said, "It's a good win for the guys. Southern is a really strong team, we knew they were going to come out strong, we never took them lightly. It's a good turnaround for the guys but it's not the win we want but we will take it.
JFK has a bye next week and Southern will host Guam High on Saturday at 3 pm.
Other Game
PHOTO GALLERY BROUGHT TO YOU BY:

Athletes Birthdays by W5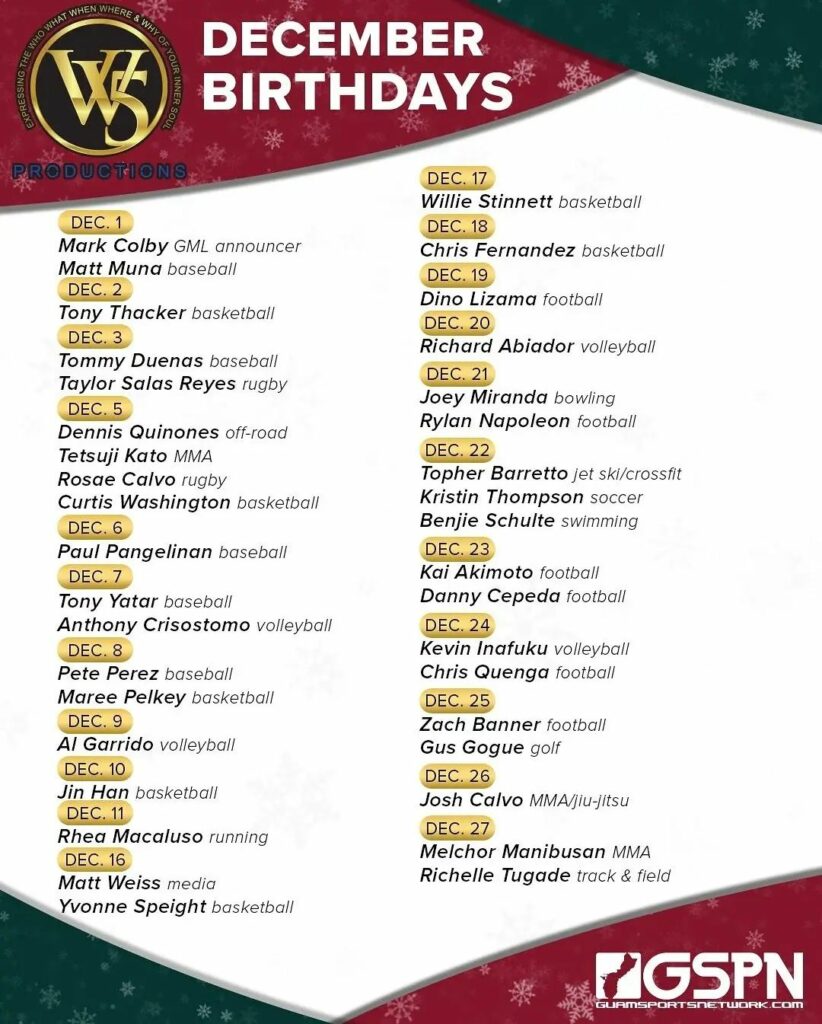 GPS Sports Calendar
SU

MO

TU

WE

TH

FR

SA
Events for December
5th
No Events
Events for December
6th
Events for December
7th
Events for December
8th
No Events
Events for December
9th
Events for December
10th
Events for December
11th
06:00 AM - 08:00 AM
Umatac
Events for December
12th
No Events
Events for December
13th
No Events
Events for December
14th
No Events
Events for December
15th
No Events
Events for December
16th
Events for December
17th
Events for December
18th
19

20

21

22

23

24

25
Events for December
19th
No Events
Events for December
20th
No Events
Events for December
21st
No Events
Events for December
22nd
No Events
Events for December
23rd
No Events
Events for December
24th
No Events
Events for December
25th
No Events
26

27

28

29

30

31

1
Events for December
26th
No Events
Events for December
27th
No Events
Events for December
28th
No Events
Events for December
29th
No Events
Events for December
30th
No Events
Events for December
31st
No Events
National Guard Athletes
Scott Eclavea
Scott Eclavea is a jiu-jitsu black belt and an accomplished MMA fighter. The Guard has given him an outlet in combatives to display his martial art skills, where he's become a head instructor for that program. Eclavea has served since coming out of high school and the Guard has only changed his life for the better.
COMING SOON …
LIVE FOOTBALL ON GSPN
Semifinals: #1 FD vs. #4 Southern (Friday 7 pm)
GSPN Preseason Basketball Tournament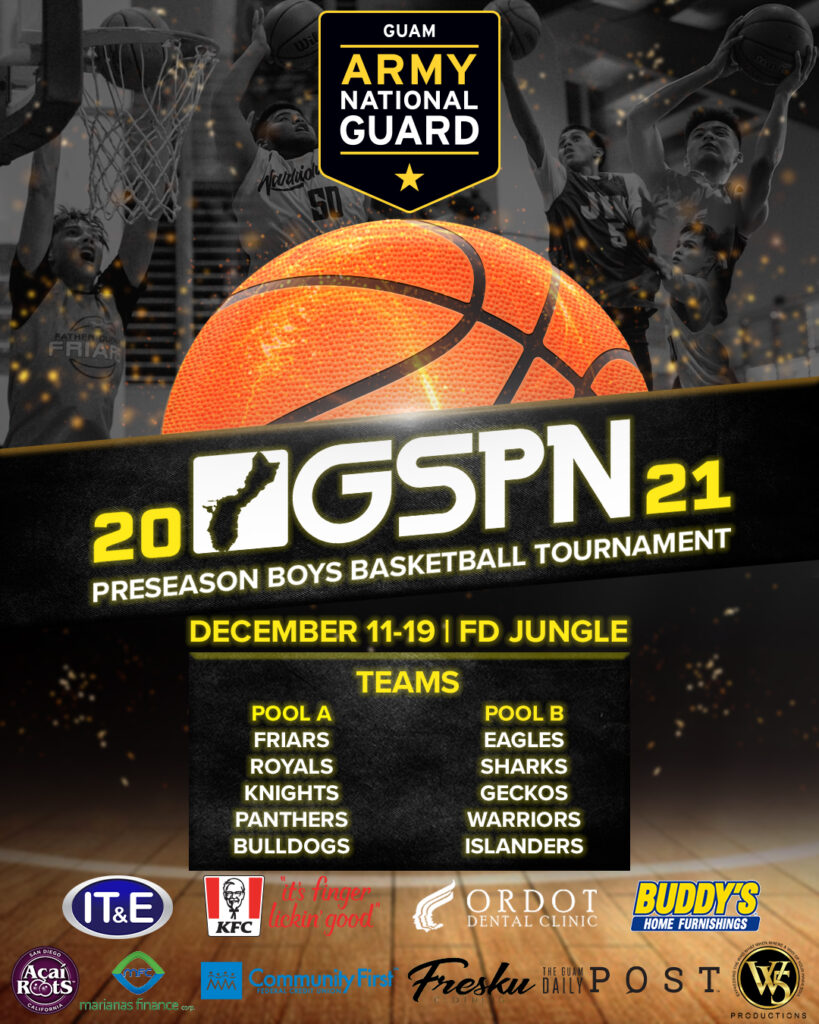 QUICK HITS
Robert Artero Maley recently captured the 182-lb. division of the Costa Mesa Classic, winning via pin in 4 out of 5 matches. Robert is a 4-year varsity wrestler at San Clemente HS (Tritons) and is currently ranked 15th in California's high school scene. He is the son of Jacque Artero Maley (AOLG 1991).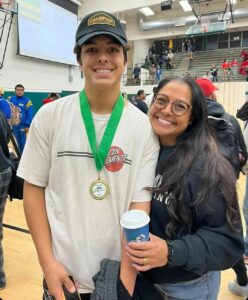 ——————————————–
Pat Taitano and Rich Abiador, teammates on the 1995 SPG volleyball team, have led their high school girls volleyball teams to the Washington State Championships in Yakima, Wa.
Taitano coaches Mt. Rainier High while Abiador leads North Creek High.
There for support is Dr. Mark Perez, a health professor at Central Washington University and a former UOG volleyball player.