[useful_banner_manager_banner_rotation banners=9,17 interval=8 width=120 height=600 orderby=rand]
By Robert Balajadia
The St. John's Knights rolled through the San Vicente Braves Monday evening in a huge 67-20 win at the Knights home court in boys middle school basketball action.
Knights' Michael Min led all scorers with 20 points and had a big first quarter where the Knights blew the game wide open. Min scored 11 points in the opening quarter, while also grabbing three steals that led to easy fast break points. Dylan Franquez also had a great start to the game scoring nine points to help put the game out of reach early.
Braves' Tatum Aflague scored the Braves second bucket that broke a 13-0 run by the Knights as St. John's ended the first quarter with a double-digit lead 29-6.
The Knights were hot from three point range hitting seven three pointers for the game. Majority of their damage was done in the first half after going into the break leading 44-9 after a buzzer beater from Min off a pull up midrange jump shot.
The Braves were in danger of not scoring in the third quarter, but managed to get a bucket from Jake Carbullido with 10 seconds remaining to avoid the quarter shutout.
San Vicente nearly scored more points in the fourth quarter (nine) than they did in the first three quarters (11) after getting a lift from leading scorer Raine Delos Reyes who finished with eight points.
Knights' Takumi Simon had a big second half and ended the game with 15 points.
Winner Takes All
With the middle school basketball champion being decided by the league's best record, three teams are currently chasing a first place spot in the St. Anthony Raiders, St. John's Knights, and Harvest Eagles.
The Knights only loss came against the Harvest Eagles and will only be able to claim the top seed if the Eagles lose for the second time this season.
The St. Anthony Raiders took down the unbeaten Eagles last week and now control their own destiny. A loss from the Raiders will forgo their chances of being the league champions.
The Raiders and Knights challenge each other in the season finale Thursday where, if the Raiders win, they take the top seed. The Knights will be playing the spoiler role if the Eagles come out of Thursday night's game with just one loss.
PHOTO GALLERY:

QUICK HITS
The Guam Smokin' Hot women's softball team captured first place in the Asia Cup Softball Championships 2023 in Bangkok, Thailand.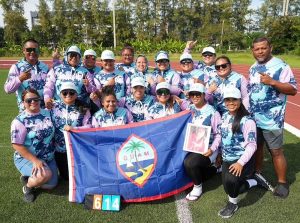 ——————————————————-
Roque Martinez gets the unanimous decision win Saturday night in his debut fight in South Korea's Black Combat promotions.
The 37-year-old controlled the tempo all three rounds and bloodied his opponent with some 3rd round ground and pound.