By Jeff Ochavillo
After suffering their first loss in a long fought battle against the Lady Raiders last weekend, Team Legacy came back in a big way by getting a big 42-­8 win over the Lady Spartans in Women's Tackle Football League action at the UOG football field of football Sunday.
"We did good and had a lot better showing than last week. There were some issues that need to be addressed but the girls came out and responded very well to the assignments they were given," stated Legacy's head coach Kin Salas on his team's overall performance.
With great contributions from many of the Team Legacy's players, they were rolling all game long getting many defensive stops and running all their plays according to plan. It was also a great effort by the Spartans who made a late push in the 4th quarter, but Legacy's insurmountable lead had the game out of reach.
"Entirely the biggest factor for us was teamwork," said Legacy's Rayonna Quitugua on how they achieved Sunday's big win. "Especially coming off a big loss, we stepped up the intensity and realized that we work harder."
Legacy had set the tone early in the 1st half by coming up big on offense and defense. Lining up at the 10-­yd line on 4th down, Legacy's quarterback, Morgan Reyes, handed it off to her running back Ciera Arriola, who found space on the sideline to get the first touchdown of the game. A play later, Reyes tossed the ball to teammate Gianna Sarusal, at the left side corner where she completed the 2-point conversion making the score 8-­0.
The Spartans responded well by slowly getting close to the end zone with the help of their quarterback Shondelle Ah Kuoi leading the way, but  as Ah Kuoi tried getting the ball to a teammate at the deep end instead it was intercepted by Legacy's Sarusal who then ran the entire field with no defender able to catch getting her the easy 90-­yd interception return. The incomplete conversion made the score 14-­0.
Legacy was not finished yet. By retaining possession again after a strong defensive outing, Reyes ran a handoff to Quitugua as she ran and maneuvered past the Spartans defense getting the 21-­yard run to give Legacy another touchdown. To follow up the play, left alone was Lorraine Santos who caught the ball from Reyes to complete the conversion to extend the lead to 22-­0.
The Spartans struggled in receiving punts, which pushed them further away from pay dirt. Legacy capitalized on a muffed punt as they ran the same play handing for Quitugua as she took off running with no one able to touch her giving her and Legacy another touchdown which increased the lead to 28-­0 after Sarusal caught another ball to complete the conversion.
In the second half, Legacy did not let up as they kept adding more to the scoreboard. They played with the same intensity coming out of first and started to play more.
Quitugua took aother handoff from Reyes at the start of the 3rd quarter and ran the sideline where no defender could catch her, reaching the end zone for another one of her touchdowns.
"In my head I was thinking that I am so close to the end zone and need to push more and that it's all up to me," stated Quitugua after her impressive scoring game.
The defense of Legacy had the Spartans stumped as the Spartans could convert a first down forcing them to lose another possession. Again, Reyes used a fake handoff off to Quitigua again and gave it Sarusal who followed behind as she ran off from the 35-­yd line all the way to the end zone extending the lead to 40-­0. After the completed conversion by Lorraine Santos the lead was extended to 42-0.
However despite the score, the will of the Lady Spartans was still present in the game as they gave a final push in the last two minutes to get something on the scoreboard preventing the shutout.
Leading the way was their quarterback, Ah Kuoi, who showed no fear and took it right to the Legacy defense. At the 47-­yard line, Ah Kuoi took the snap and faked the handoff and went straight running to get the 13-­yd dash for the first down. On the following play, she rammed into a group defenders but with the push and support of her teammates, she was able to get another down closer to the end zone.
With a series of catches from Stephanie Bushnell and runs by Denelle Hilliard, they were finally able reach the 10-­yd line. Al Kuoi took the ball and rushed towards the end zone to give them their only score of the game. Al Kuoi was not finished as she ended the game by completing the conversion, thus making the score 42-­8.
"Bottom line it was understanding everybody's role from both the offensive line, understanding the strategy, and execution and getting it done," concluded Kin Salas on the win.
Team Legacy improved their record to 6-­1 and the late effort of the Spartans was not enough dropping them to 1-­5.

Athletes Birthdays by W5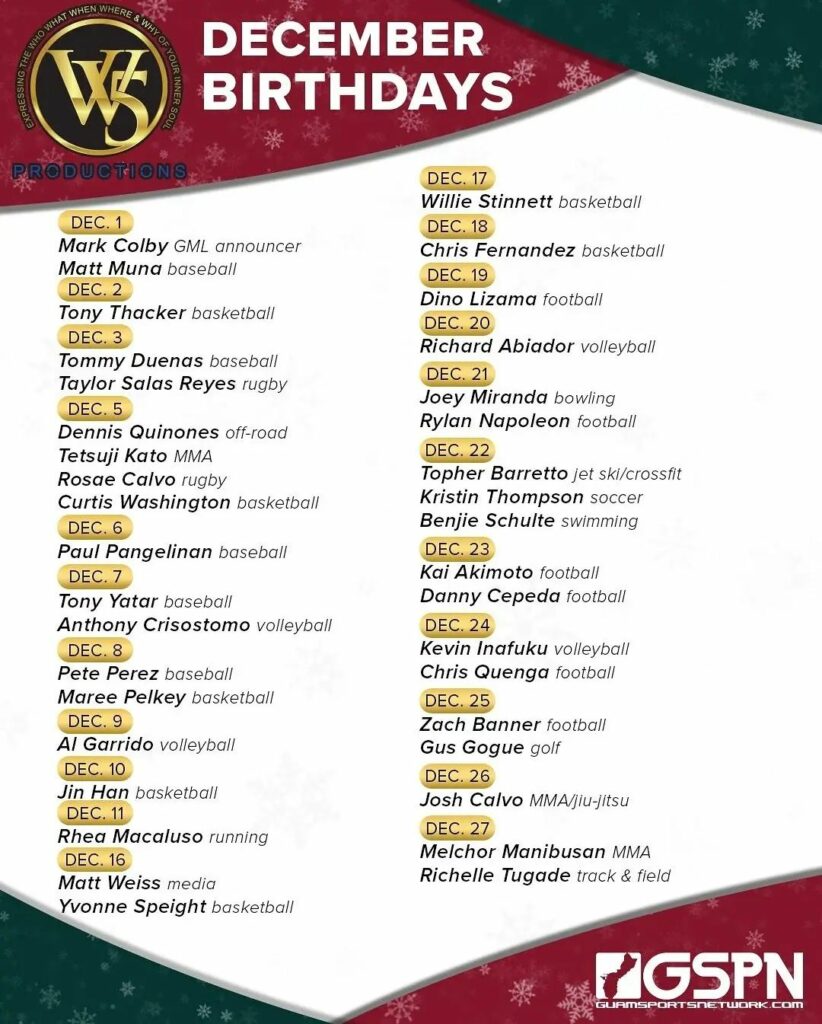 GPS Sports Calendar
SU

MO

TU

WE

TH

FR

SA
Events for December
5th
No Events
Events for December
6th
Events for December
7th
Events for December
8th
No Events
Events for December
9th
Events for December
10th
Events for December
11th
06:00 AM - 08:00 AM
Umatac
Events for December
12th
No Events
Events for December
13th
No Events
Events for December
14th
No Events
Events for December
15th
No Events
Events for December
16th
Events for December
17th
Events for December
18th
19

20

21

22

23

24

25
Events for December
19th
No Events
Events for December
20th
No Events
Events for December
21st
No Events
Events for December
22nd
No Events
Events for December
23rd
No Events
Events for December
24th
No Events
Events for December
25th
No Events
26

27

28

29

30

31

1
Events for December
26th
No Events
Events for December
27th
No Events
Events for December
28th
No Events
Events for December
29th
No Events
Events for December
30th
No Events
Events for December
31st
No Events
National Guard Athletes
Scott Eclavea
Scott Eclavea is a jiu-jitsu black belt and an accomplished MMA fighter. The Guard has given him an outlet in combatives to display his martial art skills, where he's become a head instructor for that program. Eclavea has served since coming out of high school and the Guard has only changed his life for the better.
COMING SOON …
LIVE FOOTBALL ON GSPN
Championship Game – FD vs Guam High @ 7 pm
GSPN Preseason Basketball Tournament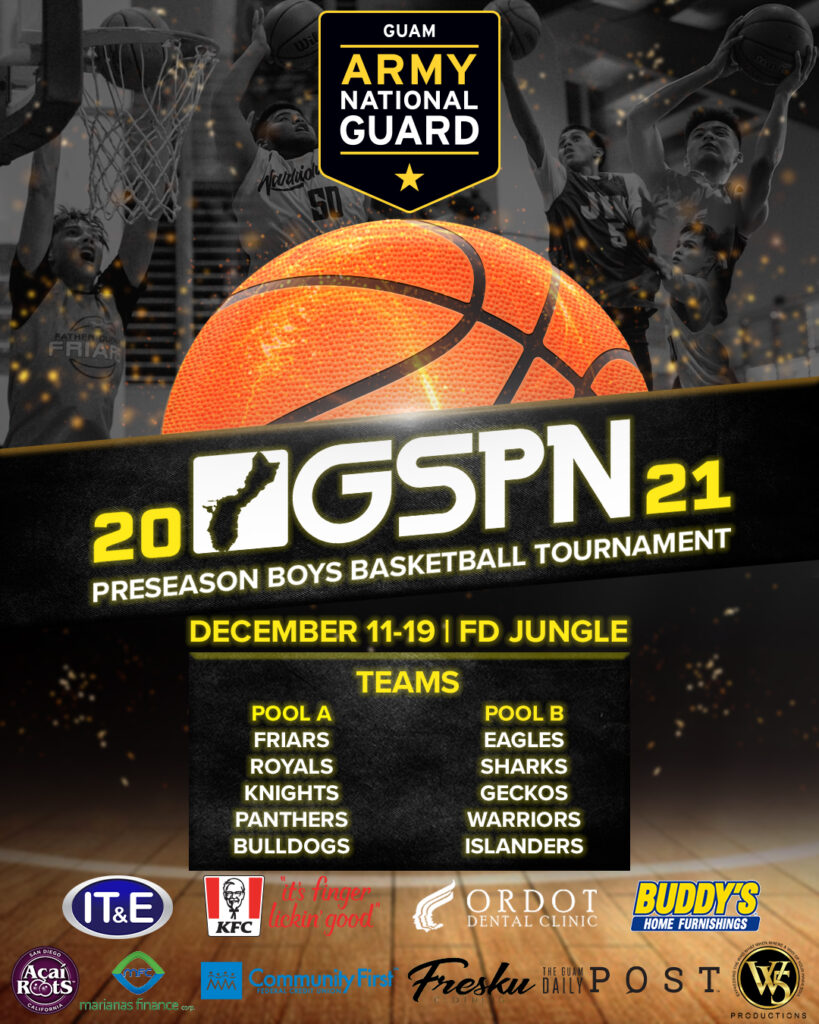 QUICK HITS
Robert Artero Maley recently captured the 182-lb. division of the Costa Mesa Classic, winning via pin in 4 out of 5 matches. Robert is a 4-year varsity wrestler at San Clemente HS (Tritons) and is currently ranked 15th in California's high school scene. He is the son of Jacque Artero Maley (AOLG 1991).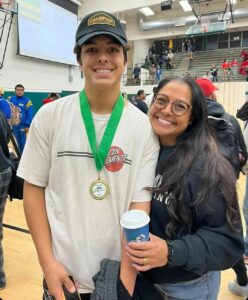 ——————————————–
Pat Taitano and Rich Abiador, teammates on the 1995 SPG volleyball team, have led their high school girls volleyball teams to the Washington State Championships in Yakima, Wa.
Taitano coaches Mt. Rainier High while Abiador leads North Creek High.
There for support is Dr. Mark Perez, a health professor at Central Washington University and a former UOG volleyball player.