By Robert Balajadia
[useful_banner_manager_banner_rotation banners=39,40,42,43,44 interval=5 width=300 height=300 orderby=rand]
POHNPEI – It was a good day on the diamond as all of Guam's teams brought their big bats, the men's volleyball team continue to tear through the ranks winning their game against Palau, Guam's women's basketball team blow past Chuuk, and Guam's women's volleyball team prepare for another late night game against Chuuk.
Balajadia & Muna Homer In Win
Guam's baseball team had their best offensive outing all Micro Games long beating Palau 10-6, including home runs by BJ Balajadia and Matt Muna, while also holding off a late 7th inning comeback.
Balajadia's first at bat was a memorable one as his eyes lit up when a pitch came right down the middle where Balajadia cranked the ball deep left over the fence not only scoring the games first run, but getting just the second home run of the entire games thus far.
Guam then produced three straight hits from Muna, Jared Palomo, Jim Reyes getting RBI's from Muna and Palomo. Kin Fernandez then brought in Reyes with a base hit as Guam quickly went up 4-1 after giving up a run in the first inning off an error.
Starting pitcher John Pangelinan allowed no runs in the top of the second inning capped off by a double play from second baseman Ryan Martinez to first baseman Rico Castro.
Balajadia kept the hits coming with a single allowing Martinez to take third.
Castro then brought both runners in the a shot down the center of the field, but was tagged out at second base as he was unable to beat the throw.
Muna then stepped in and smashed a home run deep down center field putting Guam up 7-1.
Both home runs forced Palau to retire their pitchers.
Palau managed to score a run in the 2nd inning off a ground ball that went in between Fernandez and hometown's Pollycard Luther with Guam still up 7-2.
Balajadia and Muna continued their hot streak in the 3rd inning bringing in two more runs for the team while Palomo got a sac-fly shortly after to score Guam's last run of the game leading 10-2 after three.
Palau took full advantage of errors in the 7th inning committed by Guam, but the hot start did more than enough to get the group past Palau.
The women's volleyball team and members of the softball team, led by the voice of Guam's cheering squad and volleyball's Joneen Terlaje, kept the spirits high for Team Guam singing some of the batters entrance songs while screaming their routine cheers.
Men's Softball Beats RMI via Seven-Run Rule 
Guam was holding on to just a 2-1 lead heading into the 3rd inning but 2RBI doubles from Keith Hattig and Benji Pangelinan allowed Guam to close out RMI after the 5th inning via 7-run mercy rule with a final score of 9-2.
Lawrence Edelbong gave Guam a seven-run lead with his RBI single, but took an awkward fall while tagging the first base
Herbert Hattig was at the mound for Guam allowing just one run while one was scored off an error.
Guam worked the bat well with hits coming in both in the 3rd and 4th inning behind Simon Jones, Pete Guerrero, and Peterson Guerrero which set up Hattig and Pangelinan to stretch the score with the inning RBI's.
Women's Softball Score 10 in First Inning
No team got off to a hotter start than the women's softball team scoring 10 runs in the first inning against Palau.
Tamisha Fejeran is having a great National Team debut and her play continued to flourish as she delivered a three-run shot in the first inning with the bases loaded taking the momentum of the game away from Palau.
Guam closed out Palau in the top of the 4th inning as the team is now 3-0 with including the forfeit from Chuuk. The rained out game between Kosrae is going to be rescheduled for Sunday but the official time of the game has yet to be released.
Women's Team Smash Chuuk
It didn't take long for Guam's girls to get into rhythm against Chuuk while getting good contributions from their bench cruising to a 25-18, 25-19, 25-13 victory.
Guam's most consistent players against Chuuk stood no further than the front line of Mary Gillan and Maria Wahl. Chuuk was able to hang around early in the first set trailing just 11-8 until Wahl got a clean a kill that she sent right through the Chuuk defense to go up 14-9.
The girls from Guam eventually took the set with the final points coming from the Gillan sisters Mary and Emma with Wahl getting the final say killing the first set point intercepting a faulty serve from Chuuk.
Chuuk came close to taking a lead in the second set getting within a single point 17-16 until Wahl smashed another point home. Mary Gillan blocked two shots up the left side of the net as Guam closed the set on a 5-1 run.
The third set belonged to Mary Gillan collecting three kills and four blocks with majority of Chuuk's points coming off Guam's errors.
The Guam women's team is set to play Nauru at 6 pm on Friday.
Men's Volleyball Still Streaking
Nothing is slowing down the men's volleyball team as they swept Palau in three sets in early morning action. The team celebrated the win along with team captain PJ Quintanilla's birthday. Guam is blowing out the candles of every team they face heading into the medals matches over the weekend with a full head of steam.
Guam Women Go 60 Over Chuuk
Another of Guam's teams dominating action are the women's basketball team blowing out everyone in their path. The girls defeated Chuuk 95-30 with Destiny Castro leading the way with 25 points and Felicia Borja chiming in with 18 points. Coach Eddie Pelkey decided to rest starter Alina Bonto after 13 minutes of action while sitting starting center Kat Castro for the whole game as she is still nursing an ankle injury.
Guam will face RMI on Friday with RMI only losing to the home team Pohpei. Guam and Pohnpei are the only two undefeated teams left in women's basketball.

QUICK HITS
The Guam Smokin' Hot women's softball team captured first place in the Asia Cup Softball Championships 2023 in Bangkok, Thailand.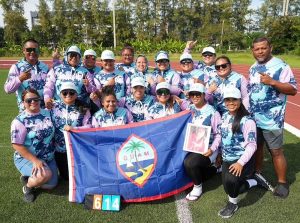 ——————————————————-
Roque Martinez gets the unanimous decision win Saturday night in his debut fight in South Korea's Black Combat promotions.
The 37-year-old controlled the tempo all three rounds and bloodied his opponent with some 3rd round ground and pound.