By Robert Balajadia
[useful_banner_manager_banner_rotation banners=39,40,42,43,44 interval=5 width=300 height=300 orderby=rand]
POHNPEI – Guam took down their biggest rivals of baseball thanks to one fatal error and a bag tagging derby champ, the men's volleyball team handled Yap in three sets to stay unbeaten and unfazed, and the men's softball team lose to Pohnpei after going extra innings.
Balajadia Scores Winner On Error
Guam's BJ Balajadia continues to pull off big time plays and none were bigger than his track style sprint from second base to home plate scoring the game winning run to beat Guam's rivals CNMI 3-2 to capture first place in pool play before the medal rounds begin.
With the game tied at two runs each and Jared Palomo at bat for Guam, CNMI tested BJ Balajadia who was set up at second base and it paid them dearly.
CNMI's relief pitcher threw a dart to second base to try and catch Balajadia but his throw went high and was deflected off the second baseman's glove stopping right in between centerfield and second base where Balajadia took off only intending to tag the bag at third.
Head coach Shon Muna Sr. and the dugout noticed the ball sitting in the outfield and the entire team got up and was signaling Balajadia to bring it home. Balajadia made a slight stumble at third but quickly shifted gears and slid home beating the throw by at least three seconds as the team stormed the plate pumped from the victory.
Guam had a 2-1 lead in the top of the 7th inning with starting pitcher Eric Cepeda cleaning up the innings not allowing a single hit from the 3rd inning. CNMI's batter advanced off a strikeout as catcher John Salas didn't catch the runner at first.
A batter later, a bunt worked it's way to third base as TJ Sarmiento scooped up the ball and didn't get a good stance off his throw with the ball sailing past first baseman Rico Castro allowing runners to advance to second and third.
Guam's catcher John Salas made a heads up play off another bunt to grab the ball just inches away from home plate and turn and tag the incoming run to keep the score at 2-1 with two outs away with runners on first and third.
CNMI decided to keep the bunts coming and their strategy eventually worked bunting a ball midway between the mound and first base forcing first baseman Randy Alcantara to leave his post not only allowing the base to be taken, but the runner to score from third to tie the game.
Shon Muna Jr. stole the show in the 3rd inning getting a solo-homer to tie the game at one run each and a simple but heartwarming celebration was made as Muna Jr. was making his way home giving a big high-five to his dad and coach Shon Muna Sr in the coaching corner.
Guam gave up a run off two errors in the first inning, but an RBI by Rico Castro in the 5th inning bringing in Balajadia gave Guam their first lead of the game.
Men's Volleyball Unbeaten & Unphazed
From the starters to the subs the Men's volleyball team hammer down Yap in three sets with everyone getting into the action beating them 25-19, 25-17, 25-21.
The usual suspects were killing it for Guam in PJ Quintanilla, TJ Balajadia, Derrick Wahl, and Anthony Crisostomo, but the bench came in from the second set on proving Guam is strong from their first to their last player.
With setter Robert Borden still in the game and Quintanilla and libero Kyle Eckert in for insurance, Allander Ebeo, Tristan Tapia, Kevin Perez and Ryan Querimit took over from the second set on.
Guam was holding on to a 20-13 lead in the final set before Ebio got a clean kill right down the middle off a set from Borden to put an end to Yap's 5-1 run with Guam up 22-17.
Ebeo sent forth a clean jump serve that never made it's way back over the net putting Guam up 24-20 eventually closing out the game a play later.
Guam Men's Softball Rally Falls Short
Guam was facing a large deficit and a 5th inning rally appeared to give the team enough momentum to close out the game, but an extra inning was needed where Guam fell to the home team Pohnpei 16-12.
The men's team put forth a furious 5th inning comeback scoring six runs with the hits pouring in. Teddy Conception capped off a five-run spurt bringing in Simon Jones to tie the game at eight runs before the team was able to take a late lead off an error.
Pohnpei and Guam were deadlocked at 10 and the home team exploded for six runs of their own in the top of the 8th inning. Guam only managed to score two runs in the bottom of the 8th in being the home team on the score board as the softball team suffers just their second loss in pool play.
Guam was also on the tough end of some calls in the 5th and 7th inning as the umpires called the runners safe when at hindsight the runners appeared to be out.
Upcoming Action
Women's Softball against RMI @ 3 pm
Women's Basketball against RMI  @ 4 pm
Women's Volleyball against Nauru @ 6 pm

Foody's Fun Facts
Foody's Fun Facts with Makayla Atoigue
ND Royals Rugby Player Makayla Atoigue lays down her Foody's Fun Facts and shares her dream vacation spot
Foody's Fun Facts
Foody's Fun Facts with Makayla Atoigue
ND Royals Rugby Player Makayla Atoigue lays down her Foody's Fun Facts and shares her dream vacation spot
Foody's Fun Facts
Foody's Fun Facts with Makayla Atoigue
ND Royals Rugby Player Makayla Atoigue lays down her Foody's Fun Facts and shares her dream vacation spot
COMING SOON …
YOUTH FOOTBALL LEAGUE KICKOFF June 4
Todd Gurley Football Camp on Andersen
GSPN Boys Volleyball All-Star Game
Pacific Mini-Games in Saipan
QUICK HITS
Pro rugby player Zach Pangelinan was featured in this Rugby Network photo after his Houston SaberCats qualified for the MLR playoffs for the first time ever.
The former Team USA player and 2013 GSPN Athlete of the Year wrote 'MOM' on his wristband for his mother Tina Pangelinan who passed away in 2014.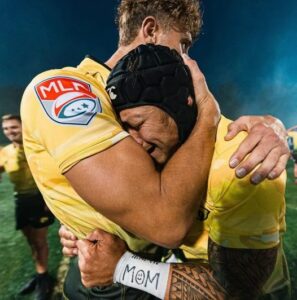 ———————————————–
Sisters CiMara-Lei (10th) and CiHara-Lei (9th) Wessling both made the Academic All-District Team playing for Veterans Memorial High softball team in Converse, TX.
They are the daughters of former star quarterback and pitcher Chris 'Cool Breeze' Wessling and wife Missy.
CiMara-Lei was also named the league's Newcomer of the Year after the family moved from Dallas to San Antonio.