By Asha Robles
SATURDAY
GSM/DLX 73, Calvo's Insurance 57
August Sotelo of GSM/DLX led the way to victory by providing his team with a game high of 28 points. Calvo's Insurances' Jay Casimiro banked in 24 points for his team in the loss.
Hoopnotics 74, Red Music Skippers 65
Leading Hoopnotics was James White as he scored a total of 18 points to win the game. Eugene Lopez of Red Music Skippers provided his team with a game high of 21 points in the losing effort.
Skyy Vodka 53, J-Town 52
In a close match between Skyy Vodka and J-Town, Skyy Vodka's David Santos helped his team by scoring 21 points to get the one point win over J-Town. Eddison Panganiban scored a game high of 23 points for J-Town in the loss.
IT&E  def. Red Horse by forfeit. 
Sticky Bandits def. MVP Stars by forfeit. 
Sunday
36 CES 67, YMO 39
Rolly Manalo led the way with a game high of 24 points to make sure that his team, 36 CES captured the win against YMO. Teammate Vilmer Apale banked in 12 points to help in the winning effort.
GHC Panthers 40, Jim Beam 38
The GHC Panthers closed in on the win with Donny Cepeda's 14 points and Errol Alegre's 10 points. With the loss, Jim Beam's Benny Sabiniano pitched in a game high of 15 points.
LA Painting 77, Dragons 73
In a close match between LA Painting and the Dragons, LA Painting came up with 3 more points for the win. Leading LA Painting was Julius Yu with a game high of 31 points. Dragon's Kalel Delos Santos banked in 25 points for his team in the loss.
Cosla 70, BME & Sons 44
Cosla demolished BME & Sons behind Charlie Bombase's 17 points along with teammate Jericson Turla's 14 points. BME & Sons' Amil Patdu scored 14 point for his team in the losing effort.
ACS Investors 83, Pepsi 14
ACS Investors easily grabbed the win over Pepsi in the most lopsided game of the day. With fast offence and a tight defence, the win was no surprise. Leading ACS Investors was Russel Leodones with his game high of 18 points. Though Pepsi lost, Bedrick Briones helped his team by scoring a total of 6 points.

Foody's 5 Fun Facts
Harvest Eagle Trinity Terlaje
DID U KNOW?
After winning the title with ND in 2019, Tiyan Titan head coach Conrad Kerber has the Lady Titans sitting at 2nd place in the league with one week left in the season, the highest placement the Titans have ever been.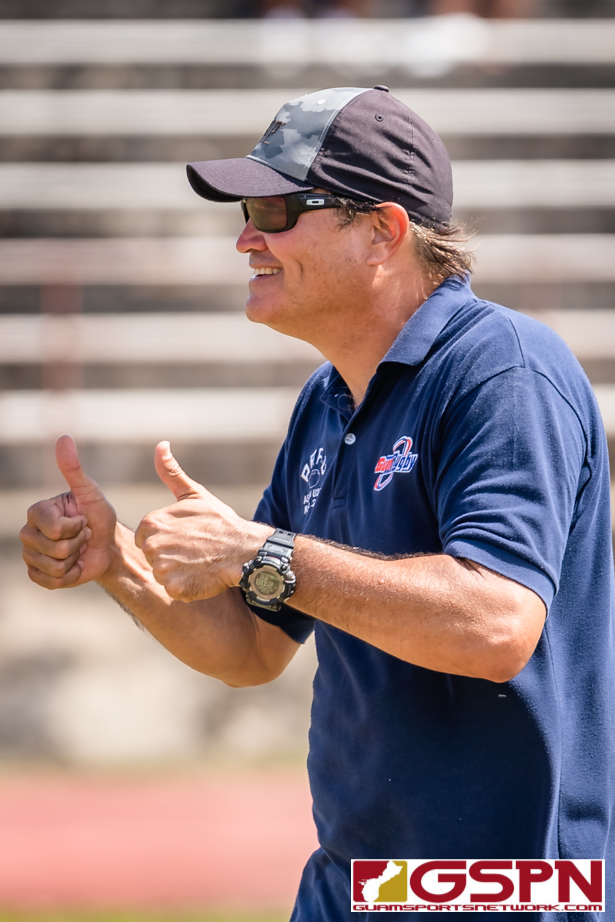 COMING SOON …
– Zach and Larry Return to Guam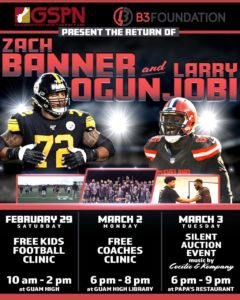 Brawl MMA March 13
QUICK HITS
One FC champion Brandon Vera and ambassador Miesha Tate visited the troops on Guam during a USO Tour.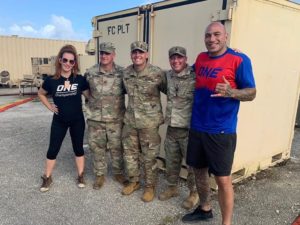 —————————————————-
190 runners took part in the 48th Hafa Marathon (half marathon).
Here are the top 5 finishers:
Ryan Matienzzo 1:13:17
Kris Lawrence 1:24:12
Taiga Sato 1:25:05
Chris Rasmussen 1:26:48
Carlos Leon Guerrero 1:28:46