By Robert Balajadia
The Andersen Bombers used a lofty second half to force the 'if' game against the Tamuning Typhoons II squad in the Golden Hoops Classic men's varsity championship Sunday evening, beating the Typhoons II 62-43.
Brian Cooper led the Bombers in scoring with 16 points and the Bombers neutralized the dangerous Typhoons offense allowing just 14 second half points.
Andersen was trailing 29-28 after the first half off a last second three pointer from Seve Susuico. The Bombers scored quickly in the opening of the second half and the Typhoons appeared to match efforts making it a close game in the first five minutes.
Then, leading 39-32, Bombers Ladgete Glover rose above the Typhoons defense and sank a three pointer in transition to go up 42-32 giving the Bombers control of the game.
The Bombers' offensive explosion ignited their defense as they did not allow a Typhoons basket for a quarter of the half. Typhoons all-star William Stinnett was forced into uncharacteristic turnovers and the Bombers ran away with the game behind the strong scoring output of Cooper, Glover, and big man Ollie Bradley.
The "IF" Game
After losing by a large margin earlier in the day the Typhoons II found themselves in another battle, but they would make more plays down the stretch to beat the Bombers 64-61 winning the 2014 Golden Hoops Classic.
Stinnett took home the MVP award for the night and led the Typhoons II with 20 points also tallying nine assists. Ollie Bradley had 17 points for the Bombers.
The Typhoons were trailing 35-34 at the half but got a big helping from James Stake who scored a much needed 16 points.
Brian Cooper had 15 points for the Bombers in the loss.
PHOTO GALLERY

2022 GSPN I MÅS METGOT COMPETITION
2022 GSPN I Mås Metgot Competition Recap
2022 GSPN I MÅS METGOT COMPETITION
2022 GSPN I Mås Metgot Competition Recap
2022 GSPN I MÅS METGOT COMPETITION
2022 GSPN I Mås Metgot Competition Recap
COMING SOON …
Sat: Origin Power Lifting Meet 
ISA Girls Volleyball/Boys Soccer Finals
QUICK HITS
Guam runners complete London Marathon. Former Guam top runners Charlie Epperson and Aysha Perez Epperson along with Cameron ONeal completed the 42nd London Marathon.
Charlie 2:47:56
Cameron 2:59:49
Aysha 3:51:04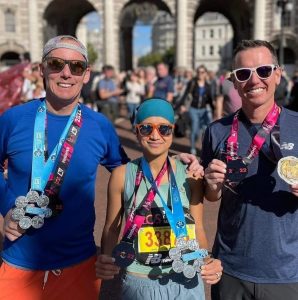 ———————————————–
Trevin Jones drops a unanimous decision 30-25, 30-27, 30-27 to Raoni Barcelos in UFC Fight Night 211 in Las Vegas.