By Zach Thompson
The fastest growing sector in the sports media world is fantasy sports. In fact, The Fantasy Sports Trade Association (FSTA) estimates that there will be 33 million fantasy football players this year in the United States. That total is almost as many people as live in the state of California and 200 times the population of Guam.

With so many people looking for fantasy sports information, the industry has taken off over the past few years with numerous websites starting up and many jobs being created. According to Forbes, in 2013 the fantasy football industry was between 40 and 70 billion dollars.
But the growth in the fantasy sports sector goes far beyond just fantasy football with the NFL. There has been growth as well in fantasy baseball, fantasy basketball, fantasy college football, fantasy hockey, fantasy golf, and even pick-the-winner games that transcend multiple sports. In my fantasy sports journey, I have been able to enjoy covering all of those sports and using a broad base to gain readers and attention as I've moved up the blogosphere from where I started in those early morning hours and trying to catch Monday Night Football on my Tuesday afternoon lunch breaks.

Over the past few years, I have had the privilege of playing a role in the fantasy sports industry after starting to blog from my living room couch in Barrigada at 3 a.m. when I got up for the only-on-Guam early morning NFL kickoffs.

I actually first joined the fantasy sports world as a consumer, joining a fantasy football league when I attended college in Wisconsin. A group of friends and I formed a fantasy football league which we still have running to this day. (I'm 5-5 right now and fighting for playoff position since my keeper was the-trainwreck-that-has-been-Adrian-Peterson).

For that league, I started to write a weekly "power rankings" article giving my opinion on who was good and giving the slackers a hard time. I found that I really enjoyed the analysis and decided to take that to the next level and start my own blog.

Another reason that I started blogging in those early days was I found myself spending a lot of time researching and gathering information for my personal teams in multiple sports from week-to-week. It only made sense to share that research with others and see if I could generate some kind of revenue from the time I was investing in making my teams the best they could be. I loved the conversation around the different teams and players and enjoyed the banter and competition that comes from great fantasy sports leagues.


In July of 2011, I launched what I called Fantasy Sports Bureau. It was a free WordPress blog where I gave my opinions on fantasy sports and started to interact with readers in comment sections and on Twitter. At the time, I was working for Harvest Christian Academy full-time teaching history and as an Audio-Video producer, but I'd spend some time each evening and on weekends writing and posting.
In September of that same year, I was offered a position as an unpaid weekly contributor on a site called FantasyCPR which is part of the Fansided network. Fansided is a group of sites with a fan-led site for each major sports team and different sites featuring the best fan-created content on the internet.
Shortly after I joined FantasyCPR, the editor moved on and I was offered my first paid position in sports writing. At that point, I joined FantasyCPR as the editor where I was able to grow in my coverage of fantasy sports and broaden my horizons to cover the incredibly varied fantasy sports landscape.
My most recent opportunity came my way in August of 2013 as the main Fansided.com page was upgraded to include fantasy content as part of the main "flagship" page. I was able to reach even more readers and have even more exciting interactions as I moved from FantasyCPR to the Fantasy Editor role on Fansided.com which I currently hold. Fansided has taken off and is the fastest growing independent network of fandom-focused sports, entertainment, and lifestyle sites on the internet. The network has grown to over 300 communities where fans can share their common passions and reaches millions of readers each month.
My passion for fantasy sports has enabled me to join this dynamic team and post daily on all things fantasy sports. I also run a twitter feed for the [email protected] where I can interact with readers and give out fantasy advice. You can find all my coverage at http://fansided.com/author/fantasysportsbureau/ The Fansided team has been incredibly supportive of my growth and development as a writer and I've been able to enjoy and experience much more than I ever thought possible.

At this point in my journey, I'm based out of Boston where I work in Video Production for Bright Horizons Family Solutions, which offers educational and childcare support to companies across the country. At the same time, I'm also able to pursue my sports writing dreams on the side as part of this exciting network.

My passion for sports in general and playing fantasy sports really started in those early-morning hours in Guam which I will always consider my home in so many ways. I'm excited to see what the future holds, and would love to have you as a reader on my journey!

Come on over to Fansided.com and check us out and find me on Twitter @FansidedFantasy where I'd be more than happy to help out any of my Guam Che'lu's on your way to claiming your ultimate fantasy prize!
NOTE: The Thompson family moved to Guam in 1995 and were very involved in sports on the island during their almost 20 years on the island. All seven children were involved in soccer through GFA and the Orange Crushers while Fred and Lee were always ready and willing to coach, pitch in, and coordinate fiestas whenever necessary. Sister Kristin has been on the women's national soccer team for years.  Zach lived on Guam for all of middle and high school before attending college and returning to the island with his new wife in 2004. Zach now has four children all born in Guam.

QUICK HITS
3rd place: Big ups to the Para Todu Rugby Club for finishing 3rd out of 16 teams in the Manila 10's Rugby Tournament today. Biba Guam Rugby!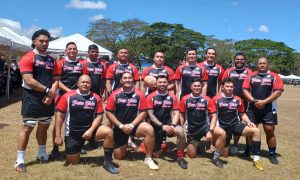 ——————————————
Guam MTB National Championship: Edward Oingerang and Jennifer Camacho are your 2023 MTB national champions. Oingerang finished the course in 1:13:24 while Camacho won her second straight title in 54:08.