By Michael J.A. Nauta Jr.
For the first time in many years, both the public and private middle schools got a chance to square off against one another in volleyball action. In an all day Saturday event, 17 teams made their way to the University of Guam Calvo Field House to partake in the IMS Sports Club First Annual Volleyball Tournament. With start time beginning in the early morning hours, the battle got underway on three courts with teams looking to advance into the playoffs.
After more than ten hours of play, the championship match eventually got underway pitting a public and private school respectively. Both the Astumbo Middle School Dragons and Saint Francis Crusaders set up their date after fighting through a grueling day. However, only one team would prevail as queens of the court. With the score sheets reflecting 25-15, 25-21 it was the Crusaders who claimed stake to the championship trophy.
"This was a very good tournament for all of us involved," said Crusaders coach John Afaisen. "Making it to the finals and winning against a good Astumbo team brings a great feeling not just to me but to our Crusaders family."
From the start of the match, Saint Francis took quick control and built a sizable 10-4 lead. Brianne Leon Guerrero led the early surge contributing four kills. The Lady Dragons weren't ready to surrender and fought their way back with four straight points trimming their deficit down to 10-8.
Despite coming within striking distance, the Dragons just couldn't get momentum to swing in their direction and eventually allowed the Crusaders to widen the gap. With the score 18-14 late in the opening set, the Crusaders went on a six-point rally to pull within a point of closing out. However, a kill by D'Shanae Cruz stop the bleeding briefly. On the ensuing play, Ella Balajadia responded with a kill of her own to end the set.
"Our girls gave everything they got all day even playing with only eight players," said Astumbo coach Michelle Pineiro. "The Crusaders were great from start to finish and they managed to show great team play."
Astumbo came out in the second set, taking a 3-1 lead after a kill by Amber Apatang. The lead eventually would be lost as Saint Francis responded with seven unanswered points back by four aces from eventual tournament MVP, Kiyoko Afaisen. Later in the set, the Dragons looked to push the game into a third set as back-to-back kills by Cruz equalized the game at 17-17.
Not wanting to take any chances, the Crusaders went right back to work. Turning to the hot-hitting Leon Guerrero, Saint Francis set up championship point after going on a 7-0 run. However, celebration time was delayed as Astumbo scored four points to pull within (24-21) three forcing a Crusadera timeout. After returning to the court, Saint Francis managed to record the final point to claim championship victory.
"From the start of the day, we knew we had to work hard to get to championship," said Kiyoko Afaisen. "We never got a chance to play against the public schools and I think playing tough opponents like Agueda and Untalan gave us an idea of what to prepare for going into the championship match. All the hard work paid off."
At the post tournament awards presentation the Crusaders collected two more pieces of hardware as Afaisen was awarded the MVP trophy and teammate Leon Guerrero was named to the all-tournament team. Joining Leon Guerrero on the all-tournament team were: Johnia Siguenza-Agueda, Zaria Garrido-Astumbo, D'Shanae Cruz-Astumbo, Tammy Lee-St. John's, and Hanna Fernandez-St. John's.
PHOTO GALLERY:

QUICK HITS
3rd place: Big ups to the Para Todu Rugby Club for finishing 3rd out of 16 teams in the Manila 10's Rugby Tournament today. Biba Guam Rugby!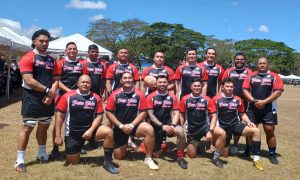 ——————————————
Guam MTB National Championship: Edward Oingerang and Jennifer Camacho are your 2023 MTB national champions. Oingerang finished the course in 1:13:24 while Camacho won her second straight title in 54:08.