By Michael Cruz
Eleven players out of Guam participated in the Gridiron Performance Academy Football's Maximum Exposure Camp at the University of Hawaii on June 5-7.  In front of college coaches they showcased their talent while competing against other players.
The annual camp is for high school freshmen, sophomores, juniors and seniors who have not signed a National Letter of Intent. It is also for junior college players to display their athletic abilities. There were 80 different Division I, II and III colleges and universities as well as junior colleges from the mainland that traveled to Hawaii.
Panthers On Prowl
Trip Chauret received interest from North Park University and UNLV. He worked at receiver during the camp. Chauret is on the mainland currently and went to University Oklahoma Skills Camp and University of North Texas Camp. He will attend the UNLV camp June 14 and finish up in Oklahoma at two division two school camps.
Efrain Rivera also worked out at tight end. This was his first camp and it was an eye opener. Rivera received interest from Yale, Dartmouth, and North Park University. Efrain is registered for a tight end skills camp in New Jersey to fine tune some things for upcoming season.
Devon Jacobs did well at the camp also. He has played the last couple years at Golden West Junior College in California. Younger brother Juwan Jacobs returned to the field and performed well too.
Both played wide receiver at the camp. Colleges have showed interest and offers. GSPN will keep you posted on what they decide. Younger players Resean Jacobs, Juan King Jr, JeJuan King, Makoa Bamba, and DeShaun Russell all received valuable experience at this camp.
Bamba stayed behind in Hawaii and will be working with Chad Ikei to become bigger, stronger, and faster.
Islander On The Up
Quintin Iriarte played on Guam up to his junior year of football. He decided to move to Hawaii to improve his chances of playing college. Iriarte has a solid chance of starting at QB for the Radford Rams. He has been working with QB coach Vince Passas and strength/conditioning coach Kenny Patton.
No word yet if Q received any interest or offers. He will have his senior year to make it count.
Friar Starters
Bryton Cepeda made the camp. Not sure if he worked out at WR or DB. Cepeda has made all island on both sides of the ball. He will have his senior year to get more recruiting exposure.
Authors Note: I think this was a major step in Guam football recruiting. Guam High has become a pipeline to the states for college football. Matthew Eaton (Temple Scholarship), Nijee Smith (Jackson State Scholarship), DJ Johnson (Texas Tech walk-on), Chance Horvath (future Diablo Valley JC walk-on), LJ Aguon (future Southwestern JC walk-on), Tegan Brown (future Southwestern JC walk-on), Theatris Eaton (future Southwestern JC walk-on) are all trying to play college football.
Former FD QB Tyler Okiyama is recovering from a leg injury and hopes to play this fall at Santa Rosa JC. Guam could have ten former high school players playing college. A future camp on Guam would be great. However, the camp in Hawaii would provide the best competition for our Guam boys competing with Hawaii and America Samoa's best.

QUICK HITS
3rd place: Big ups to the Para Todu Rugby Club for finishing 3rd out of 16 teams in the Manila 10's Rugby Tournament today. Biba Guam Rugby!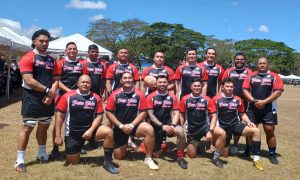 ——————————————
Guam MTB National Championship: Edward Oingerang and Jennifer Camacho are your 2023 MTB national champions. Oingerang finished the course in 1:13:24 while Camacho won her second straight title in 54:08.