By Robert Balajadia
The small Island that wasn't supposed to win any matches in the World Cup Qualifiers are now standing an impressive 2-0 in its early stages. Guams latest victory over India (2-1) on Tuesday comes just days after the Island was celebrating its first win over Turkmenistan last Thursday (1-0).
The win over India Tuesday evening at the GFA Training Facility in Harmon is Guam's biggest yet, topping their previous biggest win over Turkmenistan.
Not phased at all by the higher ranked (#141) FIFA opponents, Guam (#174) played like the better team against India for all 90+ minutes with the visiting team scoring in the final minute of extra time to avoid the shutout.
Guam got their goals from first time scorers of Matao in Brandon McDonald in the 36th minute and Travis Nicklaw in the 61st.
McDonald struck first blood for the Matao getting a header off an inbound pass from Ryan Guy to give Guam a 1-0 lead. AJ DeLaGarza took control of the defense and played the squad right into halftime with the small lead.
Guam came out in the second half just as furious behind the speedy forwards nearly scoring a goal off a trick play between Ryan Guy and Jason Cunliffe, but the refs waved off the goal.
Matao continued their pressure on the India defense when Travis Nicklaw broke free from his defender off a pass from his brother Shawn Nicklaw on  the outside. Travis used a juke move to get free for a right-footed power shot to the right of the India goalie for a 2-0 lead at the 61st minute.
Guam started making substitutions bringing in crowd favorites Ian Mariano and Dylan Naputi, who both came close to putting up more points for Guam.
Guam was the aggressor in both halves, attempting more shots than India while also having more field control. Guam's 11 first half shots outdid India's desperate four attempts and Guam once again brought out more offense attempting nine shots to India's five in the second half.
India's team captain Sunil Chhetri scored the lone goal for the visitors in the last minute of the extra three minutes added to the game.
The home crowd was loud all game long as the small island is standing 2-0 and trying to punch their ticket to the World Cup. There's still a lot more soccer left to be played, but it's safe to say no one is taking Guam for granted from here on out.
The pair of wins from the Matao and Guam's win over China in rugby are turning a new leaf for two of the Island's fastest growing sports.
Fans were treated to some quality time with the athletes after the game for autographs and selfies (presumably under #BibaMatao) that are sure to be all over your social media timeline from over the thousands in attendance. For those who weren't tweeting about Guam's win were at least tuned in to the broadcast as over 23k were viewing the stream live.
Guam is also receiving global recognition with outlets such like ESPN FC and the FIFA World Cup 2018 tweeting about Guam's big win over India. It seems as if the world is shocked by the recent come up of Guam, but the players and fans were confident Guam was capable all along.
PHOTO GALLERY:

2022 GSPN I MÅS METGOT COMPETITION
I Mås Metgot Athlete Spotlight: Tim Nauta
2022 GSPN I MÅS METGOT COMPETITION
I Mås Metgot Athlete Spotlight: Tim Nauta
2022 GSPN I MÅS METGOT COMPETITION
I Mås Metgot Athlete Spotlight: Tim Nauta
QUICK HITS
Guam boys Kekoa Toves and Matias Calvo went head-to-head on the rugby pitch as American International College took on Dartmouth College, both top-ranked men's rugby programs in the country.
Calvo (FD) is the captain of Dartmouth and scored, but Toves (Sanchez) and his AIC squad came away with the win in Springfield, Mass.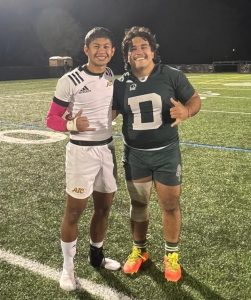 ———————————————–
1LT Belizabeth Nicole V. Rengiil is known to be the first female from Guam and Palau to make the All-Army Women's Rugby Team. She is an active duty Signal Officer with the US Army and is stationed at Joint Base Lewis-McChord in Washington.
Her team won the Armed Forces Women's Rugby Championship with a 4-0 record.
Belizabeth is the daughter of Edwin and Juliana Rengiil with siblings Johanna and Edwin-Isaiah Rengiil from Mangilao.