(excerpts from GSPN Attorney Peter Sgro to GNOC Attorney Pat Civille. This is in response to GNOC's Cease and Desist Order on the use of the GNOC and Pacific Games logo)
First, after review of certain documents, meetings and various other means of gathering information, my client Patrick Lujan (GSPN) has not violated any laws. This includes, but is not limited to, any infringement of intellectual property rights and any false statements. The removal of the GNOC logo was and is not in any manner whatsoever the admission of any allegations made by Rick Blas and GNOC.

I have reviewed the Annual Report, Articles and By-laws of the GNOC and unequivocally, Rick Blas as its President has engaged in a pattern of behavior that violates the purposes of the GNOC. In fact, two initial incorporators of the GNOC have indicated this in public writings with one calling for an audit since his resignation and the resignation of others.

Although there are significantly more details, the following points are ones Rick should consider:

1. The logo of GNOC has been on the GSPN web page since 2012 with no objections by any officer or director of GNOC;

2. Each and every sentence contained in the writing alleged to contain false statements are in fact true. As of this writing, over 14 individuals with intimate knowledge of GNOC and its President Rick will support that each and every sentence is true;

3. One of the initial incorporators has publicly called for an independent audit of GNOC;

4. Numerous actions over the years by Rick Blas as President of GNOC were never approved by a vote of the entire GNOC board of directors;

5. The retention of an attorney by Rick Blas for this matter was not authorized by a vote of the board of directors;

6. The allegations made against Mr. Lujan are those of Rick Blas and never agreed to by a vote of the board of directors;

7. Rick Blas as GNOC President does not maintain the unilateral authority to engage in the initiation of any legal action without board action;

8. We disagree that teams participating in the recent Pacific Games should have engaged in fund raising events to cover the costs covered by such events;

9. We question the position of considerable expenses related to fees GNOC pays as the basis for athletes to engage in the extensive fund raising activities they had to do;

10. Based on just one source of revenue of GNOC, numerous athletes that participated in the recent Pacific Games should not have had to pay for their air fare, uniforms and other expenses. These and other expenses were not only borne by athletes but by their families and friends;

11. GNOC through and by directives of its President Rick Blas , prevented athletes to discuss scores of games at the recent Pacific Games until GNOC released the information;

12. Despite its public purpose, Rick Blas as President of GNOC has engaged in a pattern of lack of transparency. This is evident by his position to limit media access to GNOC activities;

13. GNOC has not spent the degree of funds to foster amateur sports on Guam and development of athlete's skills as intended by its purpose;

14. A significant event held at Leo Palace initiated by GNOC at considerable expense was held in virtual secrecy by directives of its President Rick Blas;

15. Despite the intent and purpose of the media to foster transparency, Rick Blas as President of GNOC has engaged in a pattern of refusing to discuss GNOC activities with the media;

16. The allegations of GNOC against Patrick Lujan and GSPN through its President Rick Blas, are all retaliatory for the call of an audit of GNOC's financials and

17. The call for an audit of GNOC's financials by other credible members of the Guam sports community, is indicative of significant concerns relative to the failure of GNOC to fulfill its purposes.
(Editor's Note: GSPN has and continues to believe that as a media organization, transparency is in the best interest of our followers as well as all Guam sports organizations and athletes. GSPN previously posted for your review, the letter sent to GSPN from the attorney for GNOC. In the interest of transparency and the protections afforded to the media by Freedom of the Press for your best interest, this post is a summary response by GSPN Attorney Peter Sgro to GNOC Attorney Patrick Civille)

Foody's 5 Fun Facts
ND Royals Volleyball Setter Gabrielle Piper
DID U KNOW?
Guam National Track & Field sprinter and St. John's Cross Country/Track Star Madison Packbier is the daughter of former Track Star Tara Steffy granddaughter of GNOC's Bob Steffy.
COMING SOON …
– 1st Quarter High School Sports Kicks Off
– FIFA: Guam vs. Maldives Sept. 5
– Submit VI on Sept. 6
QUICK HITS
Former JFK All-Island lineman Christopher Parker transfers to De Anza College in Cupertino, CA. De Anza finished last season 10-1 and won the American Conference Championship Bowl. Good luck Chris!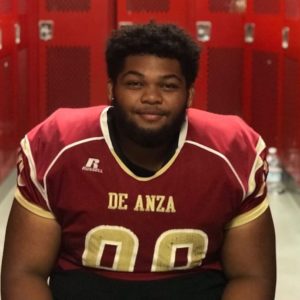 —————————————————-
Die-hard Rams fan Kenny Artero is in Hawaii to catch his beloved team play the Cowboys at Aloha Stadium in a preseason NFL game. Artero got a chance to meet Hall of Fame running back and Rams legend Eric Dickerson.