[useful_banner_manager_banner_rotation banners=72,74,79 interval=10 width=120- height=600 orderby=rand]
By John Wesley Jr.
It was a great day for football at the Mikkel Tan Vy Field in Tiyan Sunday. In the 2015 Budweiser Football League the 76/Circle K Eagles took on the Island Chiefs. The game was a defensive battle and the Eagles escaped with a narrow 10-0 victory.
The lone touchdown of the game was a 48-yard reception by Kelvy Coney from quarterback Daray "Gnarly" Davis in the second quarter.
The Eagles had a great opportunity to score in the first quarter, but fumbled the ball at the Chiefs one-yard line. Chief defender Frank Fernandez was able to recover the loose ball to stop the Eagles drive.
Both teams had their fair share of miscues as they each gave the ball away on costly turnovers. The Eagles should have had a second touchdown, but receiver Andy Hicks fumbled the ball when trying to stretch for the endzone.
The Chiefs redzone defense was fantastic. They forced two fumbles and safety Robert Salas also picked-off a pass at the one-yard line, denying Davis another throwing score in the third quarter.
Also in the third quarter, the Eagles tacked on three points when kicker AJ Aguon launched a 25-yard field goal through the uprights. Aguon was brought on to the team strictly for kicking and has impressed so far.
The Chiefs didn't have enough offense to rally back from the 10-0 deficit. Although they played a good game, the Eagles stout defense proved too hard for the Chiefs to move the ball against.
Player of the Game
Coney was named the Wendy's Player of the Game. He came up huge with five catches for 133 yards including the 48-yard score and also tallied 90 return yards. Gnarly Davis also had a big game, going 11-19 for 213 yards a TD and 2 interceptions.
Saturday Game
In Saturday's BFL matchup the Micronesia Renewable Energy Hal's Angels blanked the Black Raiders 35-0. Steve "SP" Phillips threw for four scores and ran in for another one, leading the Angels to a 2-0 start for the season.
PHOTO GALLERY BROUGHT TO YOU BY:

QUICK HITS
Guam MTB National Championship: Edward Oingerang and Jennifer Camacho are your 2023 MTB national champions. Oingerang finished the course in 1:13:24 while Camacho won her second straight title in 54:08.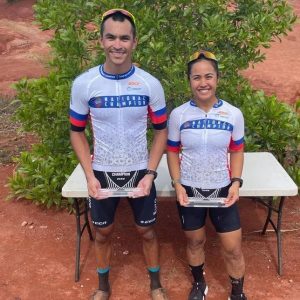 ——————————————
Kobe Miyashita, with St. John's coach Arvin Flores, was named the 2023 IIAAG Middle School Boys Volleyball MVP!