[useful_banner_manager_banner_rotation banners=72,74,79 interval=10 width=120- height=600 orderby=rand]
By Jay Leon Guerrero
The FD Friars wrestling team accomplished their first goal this season; locking up the chance to host the All-Island wrestling meet. The undefeated maroon-and-gold squad faced their toughest challenge of the IIAAG boys wrestling season going up against the second (JFK Islanders) and third (GW Geckos) seeded teams in the league on the same day at their dual meet at JFK.
First, the Friars had to survive the upset against the GW Geckos. The Geckos led early but surrendered the lead late in the match as the Friars improved to 11-0 after the morning meet.
The Friars had to come back two and a half hours later to face the second-seeded JFK Islanders at JFK. The Friars were 11-0, the Islanders were 10-1 going into the contest. At stake, a regular season title and the rights to host the all-island tournament scheduled for later this month. The Friars won their first five matches and never looked back, clinching their first regular season title in more than seven years.
Geckos meet Friars at seasons end
The Friars came into the contest undefeated, defeating an incomplete GW Geckos team in their first meeting last month due to an ongoing football season. The Friars survived the seesaw battle against the Geckos and escaped with a narrow 46-33 victory.
The Geckos got some pins early in the match but surrendered four straight wins via forfeit to give the Friars the advantage. Justin Pangelinan (113 lbs), Giovanni Taitingfong (126 lbs) and Kyle Samonte (152 lbs) from GW each picked up victories before the Friars won via forfeits to even the score.
The Friars pulled away after Matias Calvo (160 lbs) and Noah Flores (220 lbs) secured pin victories and Sean McManus (195 lbs) won via majority decision to extend the Friar lead to double digits with just two matches remaining.
The Geckos are now 8-4 but still have a good shot at winning the All-Island tournament with four wrestlers undefeated. Samonte, who usually wrestles at 145 lbs., is one of the Gecko wrestlers still undefeated. Samonte defeated the Friars' Kai Blas in a narrow 6-2 victory after three rounds. Blas suffered a knee injury during their match and had to leave to urgent care after their match. His availability for the rest of the season is questionable.
"We only lost by 13 points after getting slaughtered in the first round against FD. We basically gave up 24 points because some of us failed to make weight including myself," said Samonte who wrestled up at 152 lbs. "Our strategy is ensure everyone makes weight so we can have as much wrestlers as possible placing so we can win the championship at the All-Island."
FD vs JFK for All-Island Host
The Friars took the mats for the second time on Saturday against the host team JFK Islanders. FD kept momentum rolling, winning their first 5 matches to establish a huge lead early. Palmer Blas (120 lbs), Devon Garrido (126 lbs), Cyril Maravilla (132 lbs), Jaione Villegas (138 lbs) and Lenny Calvo (145 lbs) all defeated their opponents to establish an early 23-0 lead.
The Islanders' finally got on the board with Keoni Taimanglo (152 lbs) winning a thriller against Matias Calvo. Taimanglo's older brother Napu (160 lbs) was scheduled to wrestle next but ending up winning by forfeit after the Friars failed to suit a wrestler.
Napu Taimanglo was bummed that his team lost and that he wasn't able to wrestle but he said his team will be ready for the all-island meet in two weeks.
"We honestly had some key wrestlers missing today because they had other school activities to attend today. We will be complete for the all-island and we expect to do better," said Napu Taimanglo. Taimanglo has only one loss this season, a loss to GW's undefeated J-One Weires.
The Friars closed out the meet with a commanding 53-15 victory to clinch the rights to host the All-Island tournament. Palmer Blas won both of his matches yesterday, one via pin and one by decision to help the Friars claim a long awaited regular season title. FD wins the rights to host the tournament at the FD Phoenix Center.
"It's good to be at our home court because we get to use our own classrooms to relax between matches," said Palmer Blas. The all-island meet is an all-day event and wrestlers wait hours in between matches as they wait to advance to the medal rounds. "It's more of an individual event but each wrestler gets points by placing to contribute to the team. Our goal is to put our strongest wrestlers at each weight and win as much as we can."
Friar team captains Maravilla and Lenny Calvo each contributed to winning the pennant with multiple victories as well. "Again, we have our coaches Terry DeBold, John Lizama, and Jose Cruz (III) to thank for our success. They are responsible for teaching is the right techniques and also for conditioning," said Lenny Calvo.
Maravilla, a senior who remains undefeated for majority of his high school career, said the All-Island tournament is a different ball game that his team will be prepared for.
"From previous years, conditioning prior to the All-Island is the most intense. We all must be able to go beyond the barrier. Most of us have experience from last year and we will be prepared," said Maravilla.
Notes: There is one more regular season meet remaining before the All-Island. The Friars clinched the regular season title after defeating the Islanders twice. Should FD lose its final two matches and JFK wins its final matches, FD will still have rights to host the all-island after defeating JFK twice.
Girl's Scores
Guam High 48, JFK 30
GW 54, Academy 6
GW 35, Guam High 30
JFK defeats Fd/Aolg via forfeit
Boy's Scores:
FD 46, GW 33
JFK 54, Guam High 24
GW 48, Guam High 24
FD 53, JFK 15
Season Records
GW girls 10-2
GW boys 8-4
Guam High boys 0-12
Guam High girls 6-6
FD/AOLG 0-12
FD boys 12-0
JFK boys 10-2
JFK girls (unavailable)

Athletes Birthdays by W5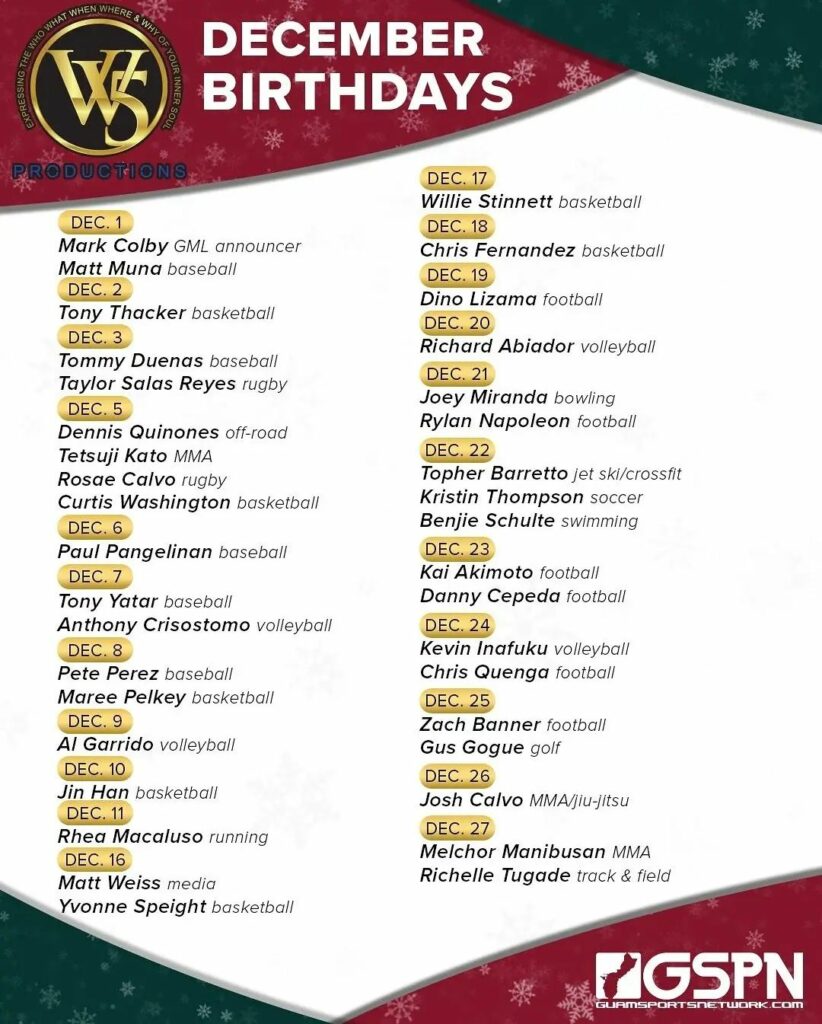 GPS Sports Calendar
SU

MO

TU

WE

TH

FR

SA
Events for December
5th
No Events
Events for December
6th
Events for December
7th
Events for December
8th
No Events
Events for December
9th
Events for December
10th
Events for December
11th
06:00 AM - 08:00 AM
Umatac
Events for December
12th
No Events
Events for December
13th
No Events
Events for December
14th
No Events
Events for December
15th
No Events
Events for December
16th
Events for December
17th
Events for December
18th
19

20

21

22

23

24

25
Events for December
19th
No Events
Events for December
20th
No Events
Events for December
21st
No Events
Events for December
22nd
No Events
Events for December
23rd
No Events
Events for December
24th
No Events
Events for December
25th
No Events
26

27

28

29

30

31

1
Events for December
26th
No Events
Events for December
27th
No Events
Events for December
28th
No Events
Events for December
29th
No Events
Events for December
30th
No Events
Events for December
31st
No Events
National Guard Athletes
Scott Eclavea
Scott Eclavea is a jiu-jitsu black belt and an accomplished MMA fighter. The Guard has given him an outlet in combatives to display his martial art skills, where he's become a head instructor for that program. Eclavea has served since coming out of high school and the Guard has only changed his life for the better.
COMING SOON …
LIVE FOOTBALL ON GSPN
Semifinals: #1 FD vs. #4 Southern (Friday 7 pm)
GSPN Preseason Basketball Tournament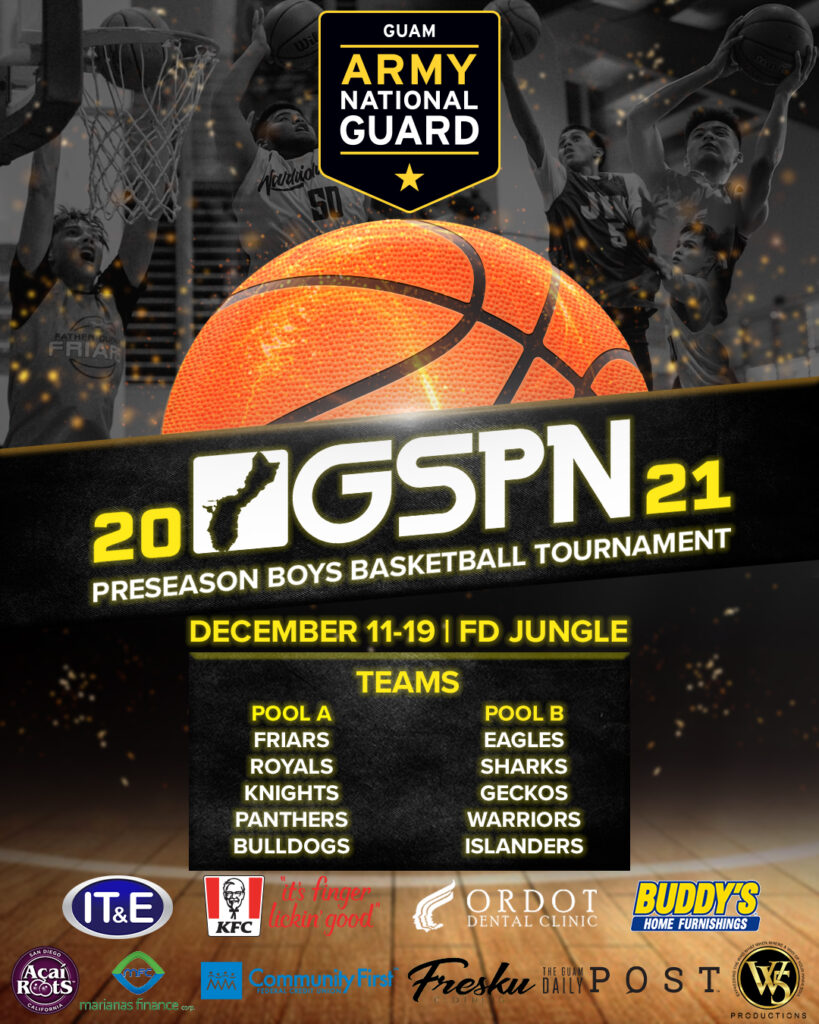 QUICK HITS
Robert Artero Maley recently captured the 182-lb. division of the Costa Mesa Classic, winning via pin in 4 out of 5 matches. Robert is a 4-year varsity wrestler at San Clemente HS (Tritons) and is currently ranked 15th in California's high school scene. He is the son of Jacque Artero Maley (AOLG 1991).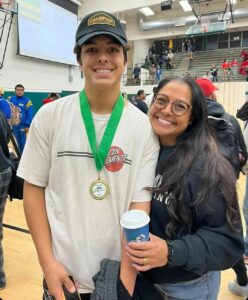 ——————————————–
Pat Taitano and Rich Abiador, teammates on the 1995 SPG volleyball team, have led their high school girls volleyball teams to the Washington State Championships in Yakima, Wa.
Taitano coaches Mt. Rainier High while Abiador leads North Creek High.
There for support is Dr. Mark Perez, a health professor at Central Washington University and a former UOG volleyball player.