[useful_banner_manager_banner_rotation banners=58 interval=5 width=200 height=200 orderby=rand]
By Jay Leon Guerrero
The Okkodo Bulldogs finished their season off with a crucial "W" against the Sanchez Sharks on their home court. The Bulldogs held the home team to just 28 points as they danced off with the 52-28 win and home court advantage for the first round.
The northern matchup was highly anticipated with a all seats taken in the Sharks' gym. John Buan hit a short jumper and Kalvin Vitug hit a 3-pointer to put the home team up 5-2 to start the contest.
The Bulldogs called a quick timeout and they re-grouped to take the lead behind the play of the high-flying Karl Melencio. Melencio cleaned up his own miss with a put back and then passed the ball to Aiden Ferrera on the ensuing possession who converted on a short jumper.
The Bulldogs continued in their 16-0 run in the second period with guard Vern "#theVern" Gustilo hitting two shots from downtown to force Shark coach to call another timeout with 5:35 remaining in the first half.
The Sharks stuck to their game plan and remained patient on offense but missed easy lay-ups and open jumpers as the Bulldogs ran their lead to 30-9 by halftime. Ferrera and Melencio combined for four blocks in the first half and the Sharks committed five unforced turnovers which contributed to the 21 point lead in favor of the visiting team.
Melencio said that the Bulldogs won by just three points in the first meeting at Okkodo. "We honestly didn't expect to win by this much," said Melencio.
The Sharks were riding a five game win streak and an undefeated home record before getting bit by the Bulldogs. The Sharks tried to mount a comeback but a few injuries to key players in the first and third quarters stopped any momentum.
Gustilo said that he is glad that his team clinched the home playoff game and that they will continue to their strategy. "Defense, Defense, Defense! Since day one, we worked on playing good defense and that's our game plan going into every game," said Gustilo.
Gustilo, who came off the bench, had an immediate impact on offense. "We've been working on hitting open shots in practice as well. I just saw an opening and took the shots," said Gustilo.
Gustilo went 5-for-10 from the 3-point line for 15 points to go along with his seven assists. Melencio scored 12 points and had nine rebounds, Ferrera made 6 of his 7 shot attempts for 12 points and 8 rebounds.
Sixth man Ralph Devera led the Sharks with 12 points, top scorer John Buan was limited after suffering an injury in the first quarter. Buan attempted to get back into the game but was sat in the final period with a large deficit.
In the junior varsity game, Evander De Guzman sent the game into overtime with less than 10 seconds remaining for the 43-43 deadlock score. In overtime, De Guzman made all six of his free throw attempts for the 49-46 win. De Guzman scored a game high 28 points, a than Arizanga 12 points for the Bulldogs.
Sharks Anthony Castro took a nasty spill in the 3rd quarter and had to be carried off in a stretcher after hitting his head on the court ground. Upon later reports, Castro was doing well in hospital care aside from a pounding headache.
Stats
Bulldogs:
Karl Melencio – 12 PTS, 9 REB, 3 BLK
Vern Gustilo – 15 PTS, 7 AST
Aiden Ferrera – 12 PTS, 8 REB, 2 BLK
Nate Lorenzo – 6 PTS, 3 REB
Sharks:
Ralph Devera – 11 PTS, 2 STL
Anthony Castro – 6 PTS, 2 AST
John Garcia – 6 REB, 2 BLK
Team stats:
Rebounds – Okkodo 35, Sanchez 21
Field goal percentage – Okkodo 53.3%, Sanchez 14.8%
Turnovers – Okkodo 12, Sanchez 14
Assists – Okkodo 19, Sanchez 6
Other Scores
JFK 91, St. John's 53
FD 84, GW 76
ND 50, Tiyan 41
PHOTO GALLERY:

Foody's 5 Fun Facts
Harvest Eagle Trinity Terlaje
DID U KNOW?
After winning the title with ND in 2019, Tiyan Titan head coach Conrad Kerber has the Lady Titans sitting at 2nd place in the league with one week left in the season, the highest placement the Titans have ever been.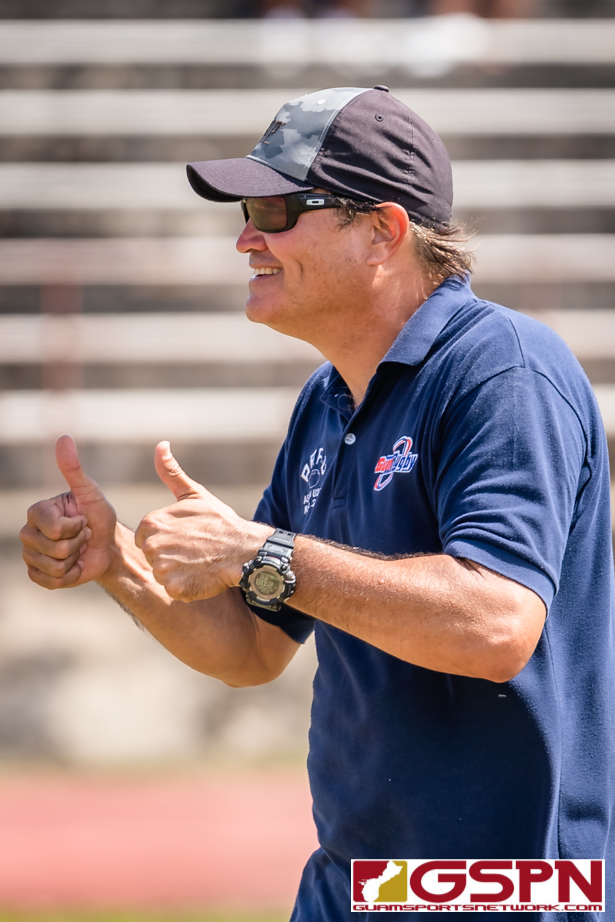 COMING SOON …
– FIBA Asia Cup: Guam vs. New Zealand, Feb 23
– Zach and Larry Return to Guam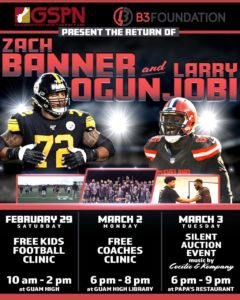 Brawl MMA March 13
QUICK HITS
190 runners took part in the 48th Hafa Marathon (half marathon).
Here are the top 5 finishers:
Ryan Matienzzo 1:13:17
Kris Lawrence 1:24:12
Taiga Sato 1:25:05
Chris Rasmussen 1:26:48
Carlos Leon Guerrero 1:28:46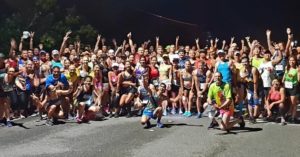 —————————————————-
Guam flags were waving in Clearwater, Florida in support of Bubba Nickles and Team USA in their Pre Olympics Softball Tour.