[useful_banner_manager_banner_rotation banners=72,74 interval=10 width=120- height=600 orderby=rand]
By Michael Cruz
Guam High Panther Keith 'Trip' Chauret is in his last year of high school football but his football story is just beginning. After four years of the high school grid iron, Chauret has received an offer from FCS Bucknell University. Here's the timeline and history behind some of Guams other top recruits.
Senior Season and first offer
Chauret returned to Guam in time for football practice. He was still positive even without an offer. His HUDL account did have 1000-plus views. Guam High started off with 32-0 win over newcomer Tiyan High. Next followed a forfeit win over Sanchez. The next four weeks were a challenge. Guam High lost their most valuable offensive piece in Juan King Jr. The QB rotations didn't help and the offense sputtered. The defense once dominant started to look more vulnerable against FD, Okkodo, JFK and GW. In spite of the challenges, Trip continued to record his best highlights of each game into one complete video.
http://www.hudl.com/athlete/4538177/highlights/285958510/v2
On September 29, I noticed Heather Chauret on Facebook posting on Jacob Dowdell's page to contact her ASAP. I had a feeling that Trip had his first offer. It brought back memories of seeing Lewis Harris offer on Facebook and learning about it before Coach Dowdell.
On Thursday, Keith Chauret messaged me that Trip had received his first offer from FCS Bucknell University. There may still be more offers for Trip and he even asked me advice on what to do. I told him he has done enough. So there you have it. For any player wanting to get recruited for football while on Guam. Feel free to ask the Chauret's for some free advice.
Writer's notes: Chauret has it least one game left depending on what happens in the playoffs. He is also on the watch list for HFC Bowl and should be in GSPN's inaugural All-Star Game. I will keep everyone posted on Quintin Iriarte at Radford High School in Hawaii and of course my cousin Jared Tajalle on their quests to play college football.
Getting recruited off Guam for football
The 2010 Guam High Panthers won their first football title beating GW 6-0. After, being the whipping post for GW for better part of 10-plus years, the Panthers finally had the team to win.
Devon Jacobs was the offensive MVP for that team. He even played in an all-star game stateside. However, after 42 years most colleges were not aware of potential recruits in Guam. Four years later Jacobs has played at the junior college level and is still hoping to play at a four year program.
Nijee Smith and Theatris Eaton graduated a year after Jacobs in 2011. Smith had a recruiting video on YouTube with some decent highlights. However, it didn't draw any attention from colleges. Smith, Eaton and Jacobs in 2014 were all on the same team at Golden West JC. Smith, after four years out of high school, signed an FCS scholarship from Jackson State on February 4, 2015. However, he is not currently on the roster and I'm not sure if he is redshirting or still in the program.
The Class of 2014 team included LJ Aguon and Tegan Brown. Brown used the National Collegiate Scouting Association (NCSA) recruiting website to get more exposure. However, he had no offers. Brown decided to walk-on for the football team after being accepted academically to Nebraska. His time on campus was short lived after not making it as a fall walk-on.
By spring, he transferred to Southwestern JC in Chula Vista, California. He was joined by Aguon who was working retail on Guam and decided to move stateside to rejoin his teammate. Eaton is also on the team and is hoping to make one last run at playing football at a four-year college.
The Class of 2015 had Lewis Harris. Harris at the end of his football season had no offers let alone interest from schools. He had a handful of HUDL highlights, but nothing really detailing his season as a whole. An invitation to the HFC Bowl game yielded an offer from Pima Community College. Harris had interest from other schools, however, with no SAT score or being registered with the NCAA, the college interests faded. Luckily, though the Pima offer was still on the table and he signed on February 4, 2015.
Now comes the interesting journey for Trip Chauret.
Chauret arrived on Guam from New Mexico. He sprinted and placed first in the high school track & field 200m and third in the 100m his sophomore year 2014. Chauret returned home to Oklahoma and participated in the OU football summer camp.
Returning for his junior year, Chauret and Guam High recorded a disappointing 0-7 season. He did record team highs in tackles and interceptions. Track season came around and in his first race he ran an unofficial 10.9 seconds 100 meters. Unfortunately, the meet was scrapped due to officiating errors, but Guam High did allow the record to stand.
Chauret rallied and placed second in the 100m and 200m with times of 11.58 and 23.21 at the All-Island Meet. The previous January, Chauret also started considering playing college football.
With the support of family and coaches, he went full-speed ahead. Keith Chauret Sr. (Trip's dad) seeked guidance first with NCSA and eventually PIAA which is based out of Hawaii. Trip used the website gobigrecruiting.com and applied to 176 schools from January 2014 to now. All the schools were able to view his highlights. This past summer he returned home to Oklahoma and attended his last OU camp and a handful of other camps trying to get his name out there. He even brought his business card which had his GPA 3.2 and ACT score of 27. Chauret showed the diligence of a young college graduate looking for a job.
Football Recruiting on Guam Past and Present
The 1970s was Guam's first full high school football league played for the entire decade.
Great players emerged though the high school ranks. The list included:  Art Rabon, Ron Camacho, Greg Baza, Terry Brooks, Art Merlan, The Shiroma's, Benny Diaz, Angel Calugay, Mark Wesling, Chris Mesa, Benny Cariaso, Joe Mafnas, Tony Posadas, Kenny Lujan, Rodney Camacho, Tony Green, Joe Duenas and many others.
Joe Duenas was the first player out of Guam to walk-on at a Division I program (Nebraska) and played one year of freshman football. Tony Posadas also played freshman ball at a D2 school in Colorado. This is considered Guam's golden age of football. JFK, GW, Votech/FD were part of that great era.
The 1980s brought Guam's first dynasty with the GW Geckos winning six titles which included standout players Ryan Rios, Danny Cepeda and Michael Hocog. JFK's Rob Rodgers was the first back-to-back 1000-plus yard season rusher. He also had one of the earliest recruiting videos. Snow Junior College in Utah noticed and he received a partial scholarship. 80's teams included GW, JFK, FD, GCC, Oceanview, Sanchez, and Inarajan.
The 1990's was FD's dynasty run with three straight titles from 93-95. EJ Calvo went on to play football at Menlo College. Brandon Knapp walked on to San Jose State and eventually became a scholarship tight end for the Spartans. GCC, Oceanview, Inarajan closed as high schools. Southern and Guam High joined in 1997.
GW started with another dynasty 04-07 and 08 with FD, JFK, and Sanchez winning at least one title.
Okkodo joined the league in 2009. This decade may not be the best compared to others. However, it does have the most players in college out of Guam in recent memory. This decade can also claim a Guam high school first. A Guam player has a Division I FCS offer before national signing day.

QUICK HITS
Guam MTB National Championship: Edward Oingerang and Jennifer Camacho are your 2023 MTB national champions. Oingerang finished the course in 1:13:24 while Camacho won her second straight title in 54:08.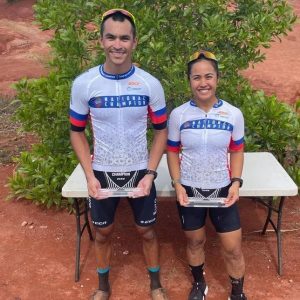 ——————————————
Kobe Miyashita, with St. John's coach Arvin Flores, was named the 2023 IIAAG Middle School Boys Volleyball MVP!