PRESS RELEASE – CrossFit Gof Metgot athletes qualify as one of the top ten affiliate teams in Asia to participate in the Pacific Regional of the CrossFit Games in Wollongong, Australia.
From the CrossFit Games website, "The CrossFit Games are the world's premier test to find the Fittest on Earth. They are world-renowned as a grueling test for the world's toughest athletes and a thrilling experience for spectators. Since its inception in 2007, the CrossFit Games have become "one of the fastest growing sports in America," according to Forbes.
"The CrossFit Games events are made up of a broad range of functional movements. Functional movements move large loads, long distances, quickly. These movements also form the basis of our exercise program. Make no mistake—the CrossFit Games are designed to test, not train, fitness. The goal is to find the fittest athletes, not to produce an easily replicable workout program.
"The Games season is broken up into three stages. The first stage is the Open. This five-week, five-workout competition is held in the early spring in CrossFit affiliates and garage gyms around the world. The top athletes from each of the 17 regions qualify for the second stage of the competition—regionals. The regionals are live, three-day competitions that are held over three weekends in May. The top athletes from two or three regions combine, and compete for the five qualifying spots for the CrossFit Games."
For the first time, Guam will send a team to the CrossFit Regionals. Only 10 teams from the Asia Region advance to this round, the "Pacific Regionals," in the CrossFit Games, and we are proud that our athletes have been invited to participate in the competition. The CrossFit Gof Metgot team is made up of three males (Justin Kohn, Brian Quigley, and Shane Concepcion) and three females (Amy Reyes, Angela Rosario, and Kimberly Taguacta) who will not only represent CrossFit Gof Metgot, but our island on the worldwide stage. The CrossFit Gof Metgot Lions finished 7th in Asia out of 59 teams in the CrossFit Open, thus guaranteeing their spot on the international stage.
In addition to qualifying at team for Regionals, two Gof Metgot Lions, Justin Kohn and Amy Reyes, were named the fittest male and female, respectively, on Guam, by the CrossFit Games.
The Pacific Regional Events are being held in Wollongong, Australia, from May 22-24, 2015. For more information on how to support these athletes or become a Lion please contact Custom Fitness at 989-0436 or [email protected]

QUICK HITS
3rd place: Big ups to the Para Todu Rugby Club for finishing 3rd out of 16 teams in the Manila 10's Rugby Tournament today. Biba Guam Rugby!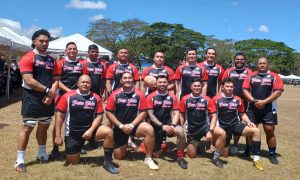 ——————————————
Guam MTB National Championship: Edward Oingerang and Jennifer Camacho are your 2023 MTB national champions. Oingerang finished the course in 1:13:24 while Camacho won her second straight title in 54:08.