By Robert Balajadia
The crown that comes with being a two-time IIAAG volleyball champion is already an accomplishment that not many athletes can achieve. For the likes of Erin Wong, the sport had brought out the best in her and being a two-time champion Academy Cougar was more than enough for her but she still wanted to challenge herself.
A year after high school, Wong challenged herself to step into a different kind of spotlight, taking center stage in the 2014 Ms. Earth Guam pageant competition.
Not only did she compete, she won! The dedication to the sport of volleyball had only benefited her to pageant competition standards, and the discipline paid off.
"I did the pageant because I wanted to step out of my comfort zone, which was sports. I had no idea that I would win. The pageant opened doors and gave me new experiences that I'm really grateful for," said Wong on deciding to compete for Ms. Guam Earth.
The title of Ms. Guam Earth can serve as a title for carrying all of Guam's on your eco-friendly responsibilities on your shoulders, but Wong has since embraced it and is enjoying the ride.
Although, most important thing that the pageant taught her was how much she actually loved playing sports and the camaraderie that comes along with it.
"As time went on, the pageant made me realize what I really enjoy doing, and that's playing sports. I realized how much I missed the court, how much I missed the sweating and being a part of something that didn't just depend on me," admitted Wong.
So now, Wong has decided to take her talents to the 2015 Women's National Volleyball Team that will be competing in the Pacific Games this summer. She is reunited with a bunch of her Academy Cougar champion teammates, namely setter Leah Castro.
Castro spoke of her on-court chemistry with Wong and how that's only going to benefit the young squad earlier in a preview of the 2015 team who will compete in Papua New Guinea
Nerves On Two Fronts
The likes of competing for Ms. Guam Earth is an obvious pressure situation since the spotlight won't miss anything you do. Though being on a team of six in volleyball, the spotlight won't be as bright which could make competing for Guam this summer less of a nervous situation. Neither of the two are easy, but Wong admitted that being center stage in an unfamiliar setting was harder to psych herself up for.
"The pageant was nerve wrecking for me because it was just me and I couldn't rely on any teammates. Being on stage when all eyes were on me was just scary!"
In Papua New Guinea, Wong will have a support system on-court which can only translate well for the psyche of the National Team newcomer.
"It's going to help having my teammates out there with me which eases my anxiety a lot," said Wong on the pressure of her first Pacific Games. "I may have won some championships in high school, but this is a whole other level of play and I'm stoked to be a part of the team."

BFF Bonto
Wong's teammates are going to have her back through out the course of the games, but one of her bigger supporting cast members will be busy also trying to win gold as a member of the Women's National Basketball team in Alina Bonto.
Bonto and Wong have been friends since middle school and they have helped bring two volleyball titles and two basketball titles to Academy during their high school tenure.
Now, the two will be competing for medals for Guam in the Pacific Games, Guam's most sought after medals in all of its yearly competitions aside from the Olympics.
"We're both just really excited to be a part of the games and represent the island. Personally, I'm super stoked to share this experience with her. I'm glad we're both going because it's more time I get to spend with her since she's back home for the summer from attending college in Cali," said Wong.
Bonto is on a basketball scholarship attending Whittier College and is back just in time for the games. She too is ecstatic about the opportunity to see one her long time friends shine in a sport she has proven herself in.
"We both have a lot of pride for our island and It's awesome knowing that one of my closest friends will be representing Guam right along side me. I'll definitely be out there supporting her games and I know she'll be doing the same for me," said Bonto on her buddy Erin.
Simply Erin
The balancing act of being Ms. Guam Earth and national team volleyball player may not leave a lot of room for other personalities, but don't think you've figured out who Erin Wong is just yet.
"Ever since I won the 'Ms. Guam Earth' title people always acknowledge me by it, which I don't always like because it doesn't entirely define who I am. I'm more than pageant and sports. I like simple, I'm a typical island girl who loves the sun and reading on the beach," admitted Wong.
Wong's off-court ambition is just as high as she is currently in schooling to pursue a degree in Special Education.
"I can't wait to be a teacher. I know it's not the easiest job but I feel like it's the most rewarding," she added.
Spiritually, Wong is also at peace with herself and her faith.
"I try to put God before the pageant and sports, that's just the way I was raised and it's given me so many fruits in my life. My brother is one of them, he gave up his senior year of basketball to be in the seminar which was a huge sign for me since I though he was crazy for doing so. It made me realize that these things pass, God doesn't."
Erin's brother Ashton Wong made this decision in 2010, giving up his spot as the FD Friars starting center to commit to a life of religious dedication.
It wasn't easy for the little sister growing up in the shadow of one of Guam's basketball giants, knowing that she was going to be compared to him and his accomplishments.
"I wanted to be like him. My brother is the one who got me into sports. It was a struggle most times because I was being compared to him and he was the standard my coaches expected me to reach. It really taught me to put my team ahead of everything," said Erin.
Here To Stay
Though the veterans of Guam women's volleyball opted to sit the Pacific Games out, Erin has assured that her stint in 2015 is a long-term relationship and she plans to be a part of Guam's teams whether it be volleyball, basketball, or beach volleyball.
"I'm always open to try new things. The team we have now may be young but there is going to be a big chance to gain experience whether we win or lose. I think it's better that we're young because it'll help shape us and prepare us better for future situations," added Wong.
Wong will be playing hard this summer to add another crown to her growing collection, setting new heights for the young 19-year-old. She's already doing a lot more than most her age and she's got a lot of time to decide her future. Her immediate goals are achievable and her long term goals are what she works towards everyday.
Whether it be a volleyball court, a pageant spotlight, or even a classroom, don't only expect Erin Wong to succeed, expect her to excel.

QUICK HITS
3rd place: Big ups to the Para Todu Rugby Club for finishing 3rd out of 16 teams in the Manila 10's Rugby Tournament today. Biba Guam Rugby!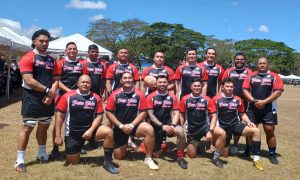 ——————————————
Guam MTB National Championship: Edward Oingerang and Jennifer Camacho are your 2023 MTB national champions. Oingerang finished the course in 1:13:24 while Camacho won her second straight title in 54:08.