By Robert Balajadia
The FD Friars knew their defense would win them football games and they proved plenty during Saturday's opener against the JFK Islanders where they stifled the Islander attack for a 14-6 win.
The Islanders only accumulated 80 yards of net offense for the game, which is an average of just 20 yards a quarter. Needless to say, the Friar defense made a statement after shutting down one of the leagues best teams, all be it the first game of the season.
Friars lead tackler, and co-player of the game, Joaquin Mesa racked up nine tackles and explained that the cohesiveness of the Friar defense comes from good chemistry.
"Our team started playing young and we still have that cohesion since we've been playing together for so long. We all work hard for each other. We showed a lot of strengths, but we also showed a lot of our flaws. We did good, but we did make a lot of mistakes tonight and it gives us a chance to go back and correct those errors," said Mesa.
The Friar defense had 'extra' motivation to face the Islander offense since former Friar quarterback/receiver Ricky Brown decided to trade in maroon and gold for green and gold. Mesa explained there's no hard feelings or bad blood between the team and Brown, but instead a friendly spirit of competition.
"We couldn't hit [Brown] in practice last year, since you can't hit the quarterback in practice, so we just wanted to show him what we're made of," joked Mesa. "We may be enemies on the field, but off the field we're still brothers because we did go to school together for two years."
FD forced one turnover and sacked Brown three times. Safety Bryton Cepeda picked off Brown's second pass attempt in the 1st quarter and nearly had another right before the half, but a defensive pass interference on the play overturned the call.
First-Half Scoring
Friars rookie quarterback Daniel Phillips completed just five passes in his high school debut and none were bigger than a pretty looking 54-yard bomb to receiver Devin Sudo for FD's first score of the game.
"Coach just told me to go long and Phillips just made it happen," said Sudo.
Sudo, a basketball player, is only in his second year of football and credited his speed and footwork to his football coaches and basketball coach Eddie Pelkey.
"All those suicides coach made me do helped me get faster," laughed Sudo.
FD kicker Jerome Artero knocked in the extra point to go up 7-0.
FD's second score almost didn't come at all after running back De'Aundre Cruz fumbled three yards away from the end zone. Before the JFK defense could react, Friar John Thomas Fergurgur pounced on the ball in the end zone for the score to go up 14-0 midway through the 2nd quarter.
The Islanders were in danger of heading into a two-score deficit until the Friar defense was tagged with a pass interference that moved the JFK offense from the 40-yard line to the five. The Islanders used a series of run plays until halfback Marcus Manglona punched in the 1-yard score.
FD's Mesa blocked the extra point attempt to keep the score 14-6 in the half.
Neither team were able to put anymore points on the scoreboard for in the second half with FD turning the ball over three times off two fumbles and one interception. The JFK defense was anchored by strong linebacker play from Sage Garcia and Sean Gomez, who combined for 12 tackles, six each.
The Islanders didn't turn the ball over, but the FD defense forced JFK into four plays of negative yardage along with five incomplete passes.
The Friars accumulated 219 total yards of offense, 107 in the air and 112 on the ground. Newcomers to the Friar backfield Leon Shimizu and Jake Benito were responsible for a bulk of the Friar ground attack with Shimizu taking 15 carries for 48 yards and Benito taking 5 carries for 36.
JFK's feature back Sean Gomez took 12 carries for 38 yards in the loss, but did accumulate six tackles and a forced fumble on defense.
On fixing their offensive woes in the second half, Sudo believes that Week 1 presented a lot of opportunities for the Friars to get better.
"We just need to communicate better and we can't make silly mistakes, like getting into conversations with the other team. We need to just let it go when the other team starts talking."
Other Score
PHOTO GALLERY:

QUICK HITS
Guam MTB National Championship: Edward Oingerang and Jennifer Camacho are your 2023 MTB national champions. Oingerang finished the course in 1:13:24 while Camacho won her second straight title in 54:08.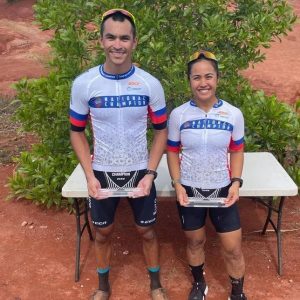 ——————————————
Kobe Miyashita, with St. John's coach Arvin Flores, was named the 2023 IIAAG Middle School Boys Volleyball MVP!