By Robert Balajadia
The former Falcons of the Triple J GNYFF have pledged a new allegiance and have turned in the black and red grabs for a bright green and yellow.
The now Northern Packers are out to change their standing amongst the GNYFF's top teams and show their new-look game as well as their literal new look.
Coach Andrew Apatang is the overall head coach of the Packers and his assessment of the team has proven to function like a well oiled machine.
Mandikiki
Coach: Leeray Zapatos
First year coach Zapatos knows that teaching football to the first generation of football players is challenging, but he's embraced each hurdle and has taken true joy in seeing the GNYFF's youngest division at work.
"I'm enjoying my time coaching these kids. They have a lot of energy and it takes time for them to understand the sport. I try and make this practice as fun as possible and just work on fundamentals. They have been responding well and just need more time to practice to get better," said Zapatos.
The kids appeared to respond well to the former quarterback of the Okkodo Bulldogs Zapatos and his group has impressed him on their natural football skills.
Running back and linebacker Brock Aguon will be a busy body this season playing the teams more skilled positions.
Brock Aguon has proven in the drills that he can juke away from defenders to keep his flags safe, but the two-year veteran would more often want to play defense.
"I love juking out people," said Aguon on his favorite part of being a running back. "I like playing defense more and I'm 100% excited to play this weekend."
Manha
Coach: Leonard Tedtaotao
The Packers young talent have put in the hard work over the past three months despite this year being a first year for a lot of the team. Coach Tedtaotao believes his group has enough talent to keep up with the leagues other Manha divisions.
"We're a good team and these guys have put in a lot of hard work and they continue to gain experience. Win or lose, these kids will play their hardest so this weeks practice is really going to count. We'll see if they have been paying attention come game time," said Tedtaotao.
Starting running back Jaysean Cruz loves running the ball through his offense line since they give him such big holes to run through. He also plays linebacker and is the teams top tackling man.
"I like to play both," said Jaysean on what position he likes playing the most. "I scored two touchdowns last year and hopefully I score more this year."
Safety is key for the Packers and Tedtaotao has had his team well prepped to ensure safe tackling.
"Before we even put them in pads we show them the proper techniques of tackling. We had about a 10-day prep before we had them start hitting," said Tedtaotao.
Metgot
Coach: Andrew Apatang
The ever competitive Metgot division will have hard fought competition every weekend and the Packers team will be no different. With a sizeable group made up of former Falcon veterans, coach Apatang believes success is right around the corner.
"I think we're skilled in different levels and well balanced so it's all about chemistry now. It's a new season and we have a new team so it's about plugging these kids in with good chemistry. The standard is we are as strong as our weakest link. We look out for our new guys and try and evolve them into the veteran players that we do have."
Apatang is the overall head coach so he has to work the seams of all four teams.
"It's not about managing but instead about being embedded into the system. I make sure to distribute my time and attention to each division."
Seven year veteran Emilio Aguon has moved around the GNYFF and has found a home in the Packers. He's a safety and receiver so he had to develop good hands.
"I started developing good hands my Manha year. My coaches are the ones who moved me to saftey because they know I could catch the ball if it gets far," said Aguon.
Aguon had his share of offensive touchdowns last season though he's ready to score on defense for the first time.
Matua
Coach: Dave Delgado
KUAM's sports anchor 'DD' is back in coaching form and ready to prove the Packers are no pushovers in the competitive Matua Division.
"We lack the numbers but we can make that up with our football smarts and hard play. Our team's skilled position players can play multiple positions so we're planning on keeping our best 11 players on the field as much as we can and I feel these kids are ready to hang in there all game if needed," said Delgado.
5 "10 and still growing Johnny Aldon is a freshman at Okkodo and may just be the biggest player in the GNYFF. He grew into the wide receiver position and elected to play out his final year of the GNYFF after a seven-year stint.
"I just want to win a championship and have fun this season," said Aldon, who also had some good things to say about coach. "I've been with [Dave] for four years and he's taught me a lot."
Most teams in the GNYFF have a girl or two that can hang with the rest of the boys in the league but the Packers will feature four dynamic female athletes in vital starting positions.
"These girls are big contributors and will be all season long. They are playing skill positions like running back and tight end so look for these girls to make plays."
One of the fatal-four females, hard-hitting nose guard Jackie Brub, has football in her bloodline being the niece of former Guam standout Chris Brubb. The other girls who will be shining in Packer colors will be defensive back Katrina Penaflor, tight end/receiver Shermia Cruz, and running back Tiara Fernandez.

QUICK HITS
Guam MTB National Championship: Edward Oingerang and Jennifer Camacho are your 2023 MTB national champions. Oingerang finished the course in 1:13:24 while Camacho won her second straight title in 54:08.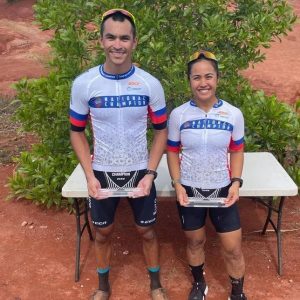 ——————————————
Kobe Miyashita, with St. John's coach Arvin Flores, was named the 2023 IIAAG Middle School Boys Volleyball MVP!