By Robert Balajadia
After going undefeated all season, the FD Friars boys junior varsity basketball team had one final chance to cement their memorable 2015 run in the JV Boys Basketball post-season. The Friars were faced with their toughest challenge in the semifinals, needing an overtime to get the win over a scrappy JFK Islanders squad.
FD got back on track in the finals on Saturday after blowing by the Okkodo Bulldogs 57-35 after a very slow start. Leading the way for the Friars was Tomas Calvo with 18 points and forward De'Aundre Cruz with 17.
The Friars went down 9-0 in the first three minutes of the game, but instead of calling a timeout, Friars head coach Jimmy Yi let the boys figure it out.
"They've been practicing more than enough to know what they need to do and the player-coach trust is there. They just did what they had to do," said Yi on the slow start.
Calvo gave FD their first lead to begin the second quarter by hitting a layup in the lane to go up 14-13, and from then on the Friars never looked back. Forward Leon Shimizu hit a bucket in the lane and a three-pointer from Rudy Gaza to go up 19-13.
The Friars used a 20-2 second quarter run to blow open the game 30-15 heading into the half.
"We just didn't want to lose. A few of our guys just kept making shots and that seemed to spark us on offense. We used that spark and kept going, even after we had the lead, we just kept going," said Shimizu on the in-game turnaround.
Calvo scored on back-to-back fast break buckets to open the 3rd period with FD winning the quarter 15-9, leading the game 47-24. Both teams emptied their bench in the 4th period with FD way in front.
The Friars hadn't practiced all week leading to the semifinals with exams taking up most of the boys schedule. The semifinals game against the Islanders was a wakeup call for FD, and they mad sure to get in right state of mind for the Bulldogs.
"We felt like we weren't ready yesterday, and it just proved to us that we needed to work harder. Yesterday's game was sort of a 'welcome back game' and today was when we regroup and played as a team," said Shimizu.
"Yesterday's game was awesome, these kids deserve it, they pulled it off. Hats off to JFK and Okkodo, they are both good teams and are well coached," said Yi.
The Friars and coach Yi have set a milestone for the school after winning the first ever JV post-season tournament, and this first one will always be special.
"It's amazing, I'm glad they're doing something for the younger JV squads and I just hope that more teams will be able to participate next year. All the thanks goes out to the sponsors (IP&E Shell), staff, supporters, and of course the family and friends."
PHOTO GALLERY:

Foody's 5 Fun Facts
Harvest Eagle Trinity Terlaje
DID U KNOW?
FD senior Matt Fegurgur first dunked a basketball in his freshman year when he was 6'4″. The now 6'9″ center looks to dominate high school hoops.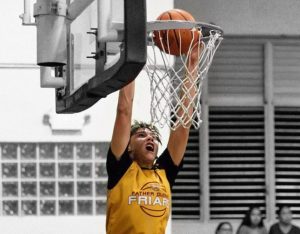 COMING SOON …
– FIBA Asia Cup: Guam vs. New Zealand, Feb 23
– Rizin 21: Aguon and Martinez
– Zach and Larry Return to Guam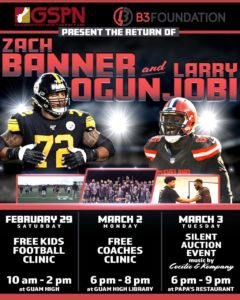 Brawl MMA March 13
QUICK HITS
190 runners took part in the 48th Hafa Marathon (half marathon).
Here are the top 5 finishers:
Ryan Matienzzo 1:13:17
Kris Lawrence 1:24:12
Taiga Sato 1:25:05
Chris Rasmussen 1:26:48
Carlos Leon Guerrero 1:28:46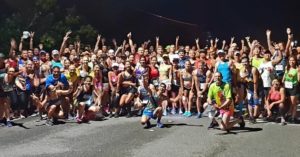 —————————————————-
Guam flags were waving in Clearwater, Florida in support of Bubba Nickles and Team USA in their Pre Olympics Softball Tour.