[useful_banner_manager_banner_rotation banners=72,74 interval=10 width=120- height=600 orderby=rand]
By Robert Balajadia
The rainy weather didn't dampen the high spirits of the FD Friars on their homecoming night as they shutout the Sanchez Sharks 29-0 at the GW Geckos field in Mangilao.
The weather did emit a slow start for both teams, but the Friars got a big lift from running back Jake Benito on the ground where Benito gained 218 yards off 11 carries to go along with two touchdowns.
Benito's first burst was an 88-yard score with just under two minutes left in the second quarter. In danger of heading into the halftime scoreless, Bentio used his blockers and broke free from the Sanchez defense to give FD the much needed lift.
"I think the first touchdown raised the teams spirits and got us all really pumped up. The rest is history," said Benito.
A botched snap on the extra point allowed holder Bryton Cepeda the chance at a two-point conversion to go up 8-0.
Benito scored his second touchdown on his second carry in the 3rd quarter going 64 yards to give FD a 15-0 lead. It was senior night for Benito and the Friars even though this is a rookie year for the first time footballer.
"I never expected the brotherhood and camaraderie to be this great, but I'm proud I joined," added Benito.
Friar running back Leon Shimizu scored on the Friars next offensive series after Friars linebacker RJ Rokop stripped the ball away from the Sanchez ball carrier Jonathan Cepeda, nearly scoring on the fumbled return.
Shimizu earned back 15 yards of penalties before breaking free for a nine-yard score to the left of the Shark defense.
FD quickly went up 22-0 in the 3rd quarter after searching for their offense early on. The slow start can be attributed to mentally preparing for their homecoming, but Benito assured it won't be a consistent problem.
"There was a lot on our minds and not just football tonight. Maybe a lot of us were busy thinking who was going to be homecoming king or something, but that won't be the case next weekend."
FD added more points in the 4th quarter after sophomore quarterback Daniel Phillips hit big-play receiver Devin Sudo for a 28-yard touchdown score to go up 29-0.
Friar RJ Rokop ended up winning the homecoming king, the only of the 22 seniors to have two escorts.
Defensive Shutout
The FD Friar defense has not allowed an opposing offense to score a touchdown since opening week against the JFK Islanders. Their only other points came off a defensive touchdown given to the Guam High Panthers, but the 'Maroon Wall' has been stout all season.
"We always know we can do better and we set a bar for ourselves based on our last weeks performance. That means that during practice it's high intensity all the time so we barley get any rest," said Mesa.
Mesa led the team with nine tackles and a pass deflection as they managed to keep the Sharks out of the end zone. Although, the Friars did allow the Shark offense to gain over 100 yards on the ground, via a steady flow of runs out of the wishbone formation, the first time FD had allowed a team to cross the century mark this season.
"Most of our defense is comprised of seniors and we set our pace off of them. Today we came out a little off focus, but we still managed to get the job done," added Mesa.
The junior Mesa will be experiencing his senior night next season after watching his previous senior teammates move on from their final year for the past three years.
"It's a bittersweet moment and I can see it our seniors eyes that this is their last year, but they also know they are moving on to another chapter in their lives. I just hope that when it's my turn I'll have that same feeling."
FD extends their unbeaten streak to five while the Sharks are still in search of their first win this season.
PHOTO GALLERY BROUGHT TO YOU BY:

QUICK HITS
3rd place: Big ups to the Para Todu Rugby Club for finishing 3rd out of 16 teams in the Manila 10's Rugby Tournament today. Biba Guam Rugby!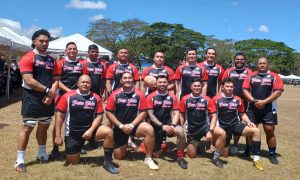 ——————————————
Guam MTB National Championship: Edward Oingerang and Jennifer Camacho are your 2023 MTB national champions. Oingerang finished the course in 1:13:24 while Camacho won her second straight title in 54:08.