[useful_banner_manager_banner_rotation banners=72 interval=5 width=120- height=600 orderby=rand]
By Jay Leon Guerrero
The GW Geckos defeated the JFK Islanders 27-12 under Friday Night lights at Ramsey Field to improve to 5-0 in the IIAAG boys football league. It was a collective team effort in their victory as the Geckos executed in both offense and defense to drop the Islanders to a 3-2 record.
If there was one Achilles heel to the Geckos game it was in special teams with GW surrendering punt and kickoff returns of 30-plus yards on three occasions. The Geckos also surrendered possession from an onside kick late in the fourth quarter.
Despite the special teams mishaps, GW head coach Ryan Rios said there is still a long road ahead of accomplishing their goals of repeating as champions.
"We had some errors in the game, but we can fix it. The important thing is to be at our peak when playoff time comes," said Rios.
Gecko senior Damon Hocog earned the Wendy's Player of the Game honors after he made two big plays that led to points on the board. Hocog recorded a hard-hitting sack on JFK quarterback Ricky Brown that led to a fumble in the second quarter. GW's Mason Pangelinan picked up the fumble and dashed 20 yards into the end zone for the touchdown.
Hocog's number was called in the third quarter on a goal line situation just a yard shy of the end zone. Hocog punched his way in the end zone to put the Geckos up comfortably, 27-6. Despite the win, Hocog said that his team is still not at its peak and he hopes for improvement come playoff time.
"There's still some room for improvement, we are just going to continue to do our best. If we keep playing with a lot of heart and put in the hard work, we will get to where we want to be," said Hocog. "I'm just going to continue to listen to my coaches, they want to push me to the best of my abilities."
First Half
Both teams were fired up to begin the contest. After both teams ended with three-and-outs on their first possessions, the Geckos were on offense and converted on three straight first downs to set up a 7-yard touchdown reception by receiver Noah Blas from quarterback Brendan Santos.
GW's Isaiah Macias caught a pass from Santos for 14 yards, Ryan Quitugua broke tackles for a 15-yard gain and Hocog bulldozed his way into the red zone rushing for 19 yards to set up the Blas touchdown which had the Geckos up 7-0.
The Islanders' Sage Garcia answered on the ensuing kickoff with a 42-yard return to put the green and gold deep in GW territory. Unfortunately for the Islanders, a fumble on a bad pitch gave possession back to the Geckos. GW's Danilo Pocaigue recovered the fumble to silence the home team crowd as the first quarter came to a close.
JFK had an opportunity to score in the second quarter with Garcia and Brown making plays on offense to find themselves deep in Gecko territory. But Geckos' defense, notably Elijah Quichocho and Hocog, contained the JFK running backs in the red zone to force a field goal attempt that was missed.
JFK got the ball back but was unable to get a first down and was forced to punt later in the second quarter. GW's Quitugua received the punt and followed his blockers for the 35-yard score to go up 13-0.
The Islanders had good position again after a good kickoff return by Marcus Manglona and looked to move the chains and momentum. But Mr. Hocog had other plans and forced the fumble that led to the Pangelinan touchdown to go up 20-0 at halftime.
The Islanders came out of the break determined to find their groove. Backup quarterback Nolan Chamberlain provided the lift on offense, scoring from 10 yards out on a broken play to cut the deficit to 20-6 after a failed PAT.
Chamberlain later caught a pass from 8 yards out from Brown in the fourth quarter but the Islanders ran out of time settling for a final score of 26-13 at the end of regulation.
"We did good tonight, but we are aware that all the teams in the league are improving and anything can happen on game nights. JFK did a really solid job in their run game but I have to give props to our offensive line- they deserve a lot of the credit," said Blas.
"The offensive line is finally playing as one, Coach (Mark) Mesgnon is doing a good job at improving their blocking skills," said Rios.
"JFK is definitely a team to watch out for, they have breakaway guys that can take off on a dime and they play with a lot of heart," said Rios. "They are going to be a dangerous matchup for anyone in the playoffs."
Chamberlain scored two touchdowns and also had an interception for the Islanders. Manglona rushed for 38 yards, Garcia had 32 yards on the ground. Wonjoon Han had an interception for the Islanders.
The Gecko running backs had an even distribution of rushing with Quitugua leading the way with 31 yards, Ethan Naputi had 30 yards, Hocog had 28 yards which included a touchdown, and J-One Weires rushed for 25 yards. Quitugua also converted three-of-four extra point attempts. Santos threw for one touchdown and rushed three times for 27 yards.
The Geckos will be tested next week as they take on the Sanchez Sharks on Friday. The Islanders will take on Southern next Saturday.
PHOTO GALLERY BROUGHT TO YOU BY:

QUICK HITS
3rd place: Big ups to the Para Todu Rugby Club for finishing 3rd out of 16 teams in the Manila 10's Rugby Tournament today. Biba Guam Rugby!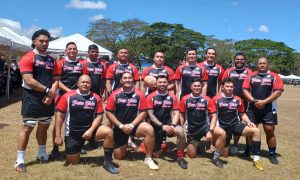 ——————————————
Guam MTB National Championship: Edward Oingerang and Jennifer Camacho are your 2023 MTB national champions. Oingerang finished the course in 1:13:24 while Camacho won her second straight title in 54:08.