[useful_banner_manager_banner_rotation banners=58 interval=5 width=200 height=200 orderby=rand]
By Jay Leon Guerrero
After a near upset in their first meeting in the GSPN pre-season boys basketball tournament, the FD Friars adjusted and took care of business against the St. John's Knights winning convincingly, 70-42, to improve to 9-2 for the season.
Jeno Aquino and Tristan Jose scored 11 and 10 points, respectively, to lead the Friars. Jose also had five assists while playing just 10 minutes. The Friars did a good job in spreading out the scoring with 13 different Friars scoring against the Knights. David Sakazaki contributed eight points and six rebounds for the top-seeded Friars.
Michael Min led the Knights offensively with 12 points and four assists, and teammate Arvin Flores scored eight. Tony Hsieh scored six points and grabbed eight rebounds for the Knights who fall to 4-5 for the season.
With the Knights only suiting seven players for the game, the Friars did the "five-in, five-out" subbing technique to show five fresh defenders at the Knights throughout the game.
"We had really good team work today, we also executed in our defense," said the Friars' Juan King Jr. King Jr. was the recipient of three open lay-ups from steals that helped the Friars run away in the third period. The Friars opened up the second half forcing six turnovers to open up a 20-point lead. Tristan Jose, Josh Paulino, and Devin Sudo combined for six steals in the third period which led to easy lay-ups.
The Friar guards constantly pestered Min and Flores of the Knights, who played heavy minutes. Takumi "Curry" Simon also had a hard time getting a clear shot off with the Friar guards chasing him off the three-point line.
Simon attempted only seven shots for the game and managed to make two 3-pointers after scoring 26 points in their pre-season game against the Friars. The Friar power forwards also had their way in the paint grabbing rebounds with Sakazaki, Aquino, and Jujuan King helping the Friars out-rebound the Knights 40-19. The Knights' Isaac Sim had a good game with eight points and nine rebounds despite being confronted with five different Friar defenders.
"We've actually been rotating five players all season and tonight we had a chance to use it," said Troy Corpuz, who had six points and two assists. Corpuz said that his team will continue to work hard in practice and keep up the momentum going into the playoffs. "We just need to stay focused and take it one game at a time." The Friars, the defending champions, have four games remaining before the playoffs.
They will have one more matchup against the Geckos to determine the top seed in the Gadao Division.
Other Scores
Okkodo 59, Southern 51
JFK 75, ND 45
GW 76, Harvest 70
St. Paul 59, Tiyan 21

PHOTO GALLERY BROUGHT TO YOU BY:

2022 GSPN I MÅS METGOT COMPETITION
2022 GSPN I Mås Metgot Competition Recap
2022 GSPN I MÅS METGOT COMPETITION
2022 GSPN I Mås Metgot Competition Recap
2022 GSPN I MÅS METGOT COMPETITION
2022 GSPN I Mås Metgot Competition Recap
COMING SOON …
Sat: Origin Power Lifting Meet 
ISA Girls Volleyball/Boys Soccer Finals
QUICK HITS
Guam runners complete London Marathon. Former Guam top runners Charlie Epperson and Aysha Perez Epperson along with Cameron ONeal completed the 42nd London Marathon.
Charlie 2:47:56
Cameron 2:59:49
Aysha 3:51:04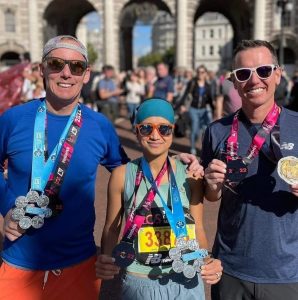 ———————————————–
Trevin Jones drops a unanimous decision 30-25, 30-27, 30-27 to Raoni Barcelos in UFC Fight Night 211 in Las Vegas.